Whistler has long been known as a world-class ski destination, but there is so much more to Whistler than just skiing. Whether you're looking for family fun in the snow, an indoor retreat from the cold or a once in a lifetime experience – check out our top off slopes activities in Whistler.
Action Packed Outdoor Fun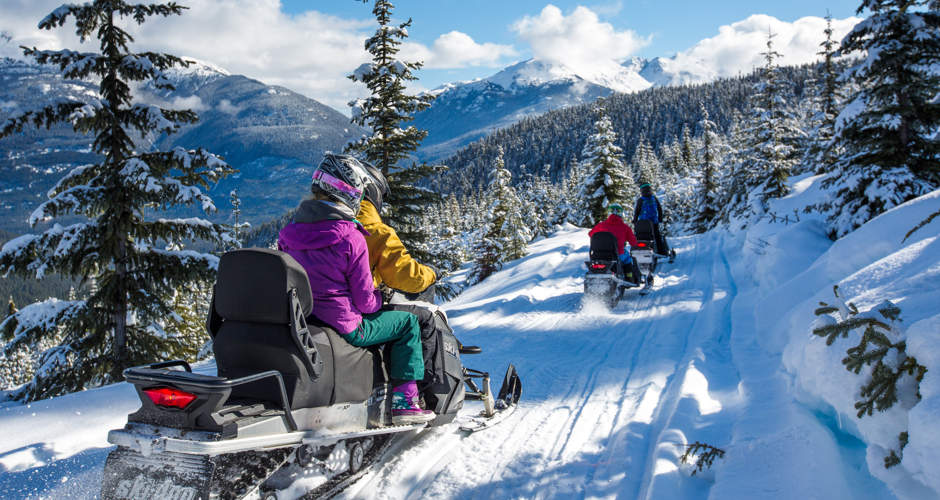 Photo: The Adventure Group
Experience one of the unique winter activities in Whistler and enjoy the thrill of a snowmobile ride through the pristine backcountry. Whistler's snowmobile adventures range from gentle family cruising to advanced backcountry powder riding. Choose between three custom packages including the Family Tour, Wilderness Tour and BC Tour.
Fly amongst the trees and over the valley floor during a Whistler zipline adventure. The outdoor adventure is suitable for ages 6 years and older, making this a great family-friendly activity. Whistler offers plenty of zipline options but if you're really looking to feel a rush check out The Sasquatch Tour or the Superfly Experience. Stap-in and fly along some of the longest ziplines in North America while reaching speeds of 100km/hr (60mph).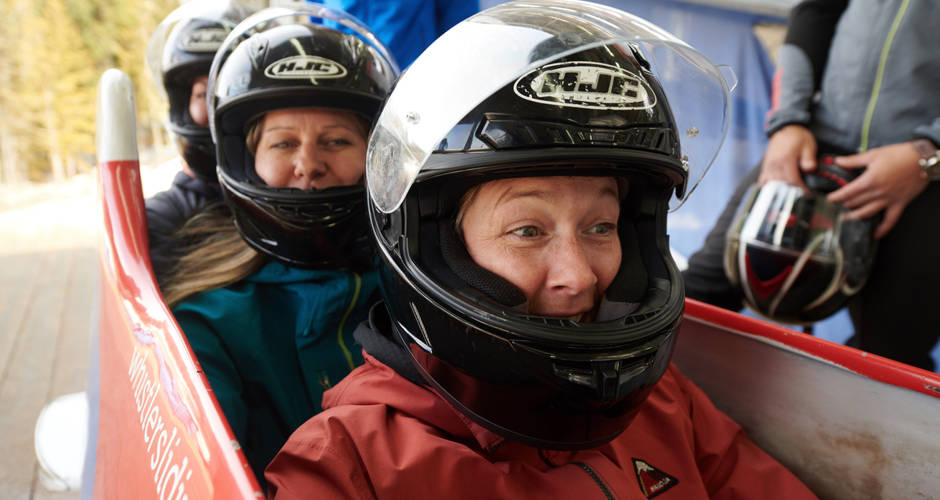 Photo: Blake Jorgenson
Did you know you can share the same track as previous Olympic athletes during a bobsled and skeleton experience? Ride as a three-person team plus professional pilot during a bobsled experience. Perfect for small groups participants can reach speeds of up to 125km/hr (78mph)! Ready for the ultimate solo trip? Then check out a skeleton experience. Participants will go through an orientation and mock run, then you'll be positioned 1/3 of the way up the track for a solo mission. During the run, you'll navigate your way down the track's six corners with the potential to reach speeds of 100 km/hr (60mph).
Specialty Outdoor Adventure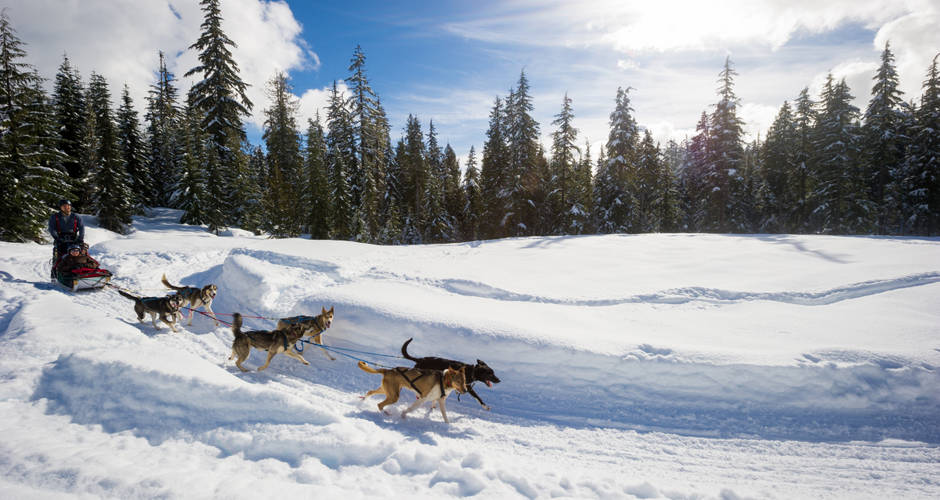 Photo: Mike Crane
Step onto a traditional dog sled behind a team of energetic and loveable Alaskan Racing Huskies, and get ready for a unique backcountry journey. Learn the basics of driving a dog sled, or just sit back and enjoy the ride in your two-person sled. Glide through the beautiful Callaghan Valley taking in spectacular views of mountain ranges, lakes and old-growth forest.
A true Canadian adventure awaits you when you book a horse-drawn sleigh ride on Blackcomb Mountain. The 'olde fashion bob-sleighs' are designed for comfort with padded bench seats, canopies and warm blankets to cozy under. Sleigh tours wind their way along Blackcomb Mountain offering beautiful views of the mountains and Whistler Village lights below. Stop at a cozy cabin halfway through and warm up by a crackling wood fire with a cup of coffee or hot chocolate.
Family Fun Activities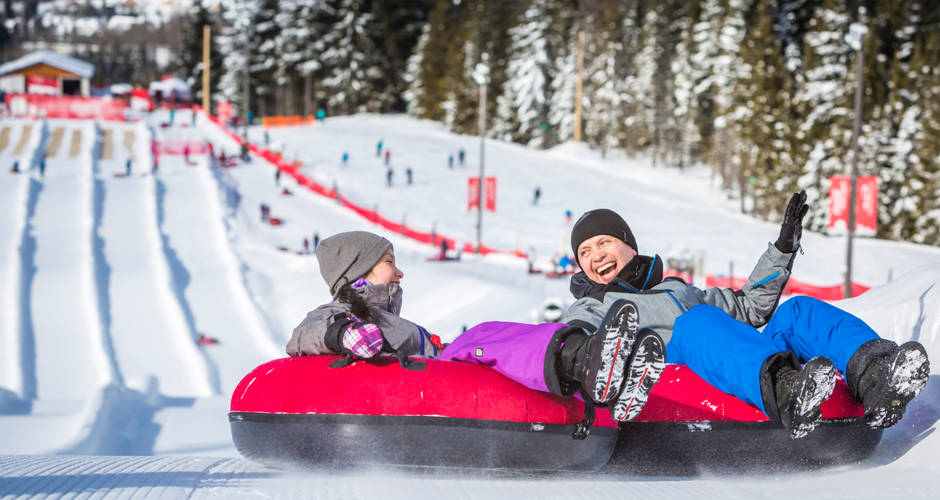 Photo: Justa Jeskova
No special skills are required to experience outdoor fun at the Coca Cola Tube Park. The park offers great fun for the young and the young at heart. A magic carpet ride transports you to a series of runs suitable for all ages. Once you get to the top of the hill hop on your tube and get ready for a thrilling slide down your run of choice.
Vallea Lumina is a visual feast for the senses. This interactive walking tour takes place in an old-growth forest, decorated with an optical array of lights, holograms, and accompanying soundtrack. This is the first year the tour has been offered in the wintertime, making the journey even more dramatic as the lights bounce off a magical white winter backdrop.
Whistler Olympic Park is your destination for outdoor activity fun. Choose from a range of activities including cross-country skiing, snowshoeing, tobogganing and sightseeing. Play outside then retreat to the Olympic Park Day Lodge for a refreshing warm beverage and snacks.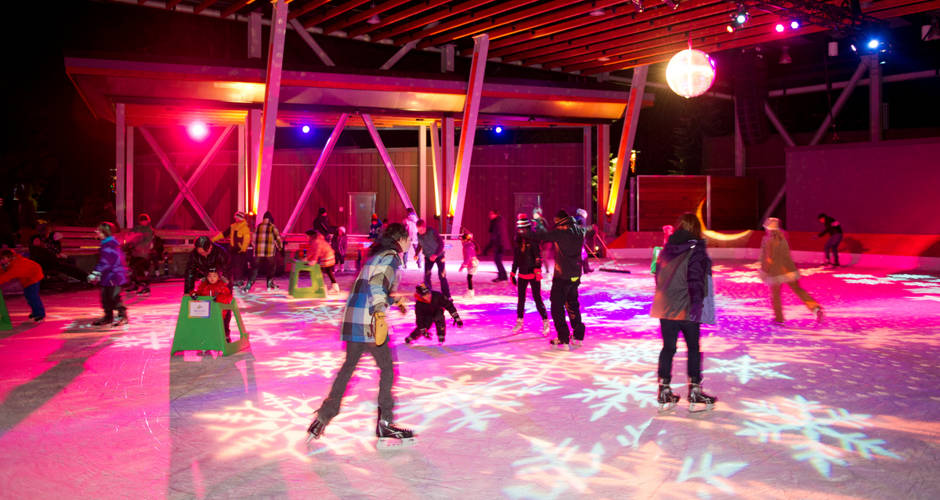 Photo: Mike Crane
Take your family for an outdoor skating adventure at Whistler Olympic Plaza. The skating rink is open daily from 11 am – 1:30 pm, 2:30 pm – 5 pm, 6 pm – 8:30 pm. Bring your skates or rent a pair for $7.
Enjoy a FREE kid-friendly experience during Whistler Family Apres on select Mondays and Wednesdays throughout the winter season. Each week features different off slopes outdoor activities including skating, family entertainers, snow maze and a tobogganing hill. The event runs Mondays and Wednesdays, from 3 pm to 6 pm at Whistler Olympic Plaza.
Indoor Activities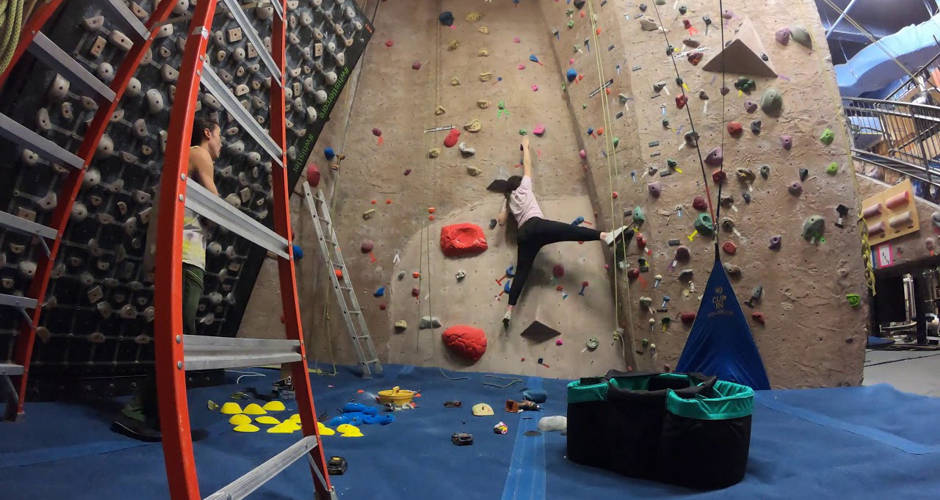 Photo: The Core Whistler
Blow off some energy at the Core Whistler, an indoor climbing facility in the heart of Whistler Village. If you're a climbing novice sign up for an introduction to climbing. Meanwhile, kids can take part in bouldering or kid-friendly climbing classes. If you're a seasoned pro just pay a drop-in rate and the wall is yours!
Your first stop for off slopes indoor fun in Whistler is the Meadow Park Sports Centre. Enjoy skating, swimming, squash, and a fitness centre under one roof. Adults will also love the chance to rest and recover in the sauna, steam room and hot tub area.
Escape! Whistler challenges groups to get out of a room using a series of clues and challenges. This team activity requires participants to test their minds and rely on teamwork to get them out of a sticky situation. Teams must navigate through four different themed rooms, increasing in difficulty as you go.
Dust off your best flannel and embrace your inner lumberjack during a trip to Forged Axe Throwing. This high octane version of darts involves participants tossing an axe overhand at a series of wooden targets. Staff will lead you in a number of axe throwing games, including team events and solo competitions.
---
Related Topics
Accommodation Accommodation local guide activities Alta Vista axe throwing Bears bobsled campout contest children christmas christmas activities christmas in whistler climbing Creekside dining In Whistler dog sled tour escape room fall activities Fall in Whistler family family activities family apres family fun holiday guide holidays kid friendly dining local guide neighbourhood neighbourhood guide Nicklaus North romantic getaway skiing Spring Activities Summer in Whistler Thanksgiving Thanksgiving activities Thanksgiving in Whistler Upper Village Whistler Bike Park whistler sliding centre winter activities winter family fun Winter in Whistler zipline ziplining