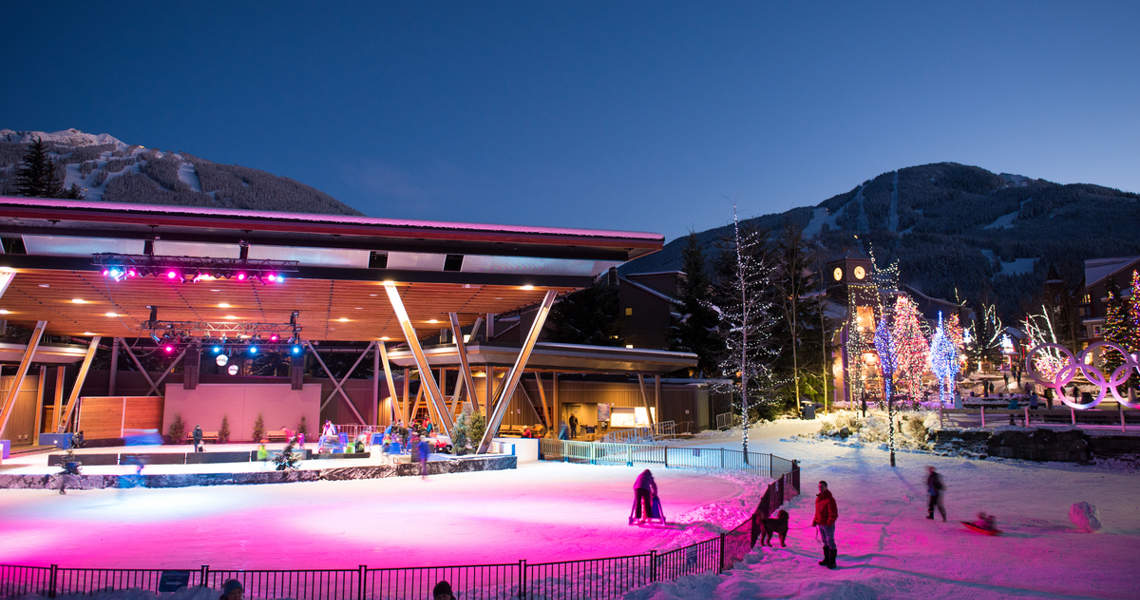 Skating in Whistler, BC
Whistler offers guests a number of opportunities to enjoy indoor and outdoor skating.
Whistler Olympic Plaza
During the winter months, a very special outdoor skating rink opens in the heart of Whistler Village. Outdoor skating at Whistler Olympic Plaza is open to the public seven day a week from November to March (dependent on weather conditions). Admission to the rink is $2, if you bring your own skates. Skate rental is $9 and this includes the admission fee. rentals are available for $9 at the concession. Helmets and skate aids are available for no charge.
The Olympic Plaza skating rink is open from 11 am – 1:30 pm, 2:30 pm – 5 pm, 6 pm – 8:30 pm with regular maintenance scheduled in between.
*Please note outdoor skating may close due to weather conditions, no hockey or figure skating is permitted at Olympic Plaza.
Public Skating at Meadow Park
The Meadow Park Sports Centre offers daily public skating on a full-sized NHL ice surface. Public skating is offered select hours per day, seven days a week. A rental shop and concession stand are usually open for skate rental and snacks. Public skating hours are subject to change call 604-935-7529 to confirm.
Outdoor Lake Skating
When conditions permit, there are opportunities to skate outdoors on Whistler's many local lakes. Skating outdoors should only be considered when the ice conditions are safe and is undertaken at your own risk. Ice should be at least 4 inches thick before skating is considered safe (Bring a drill or hammer to confirm before you skate). Contact local residents, local fishing operators or the fire department to confirm conditions.