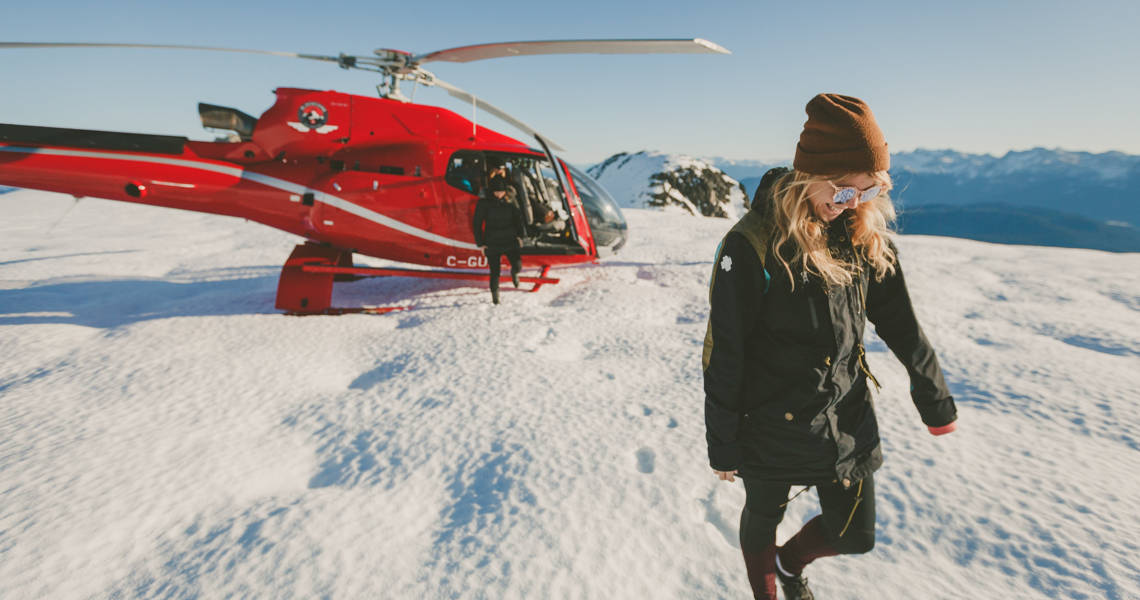 Whistler Luxury Experiences
Guests booking with Whistler Platinum can expect the ultimate Whistler luxury experience. To help you plan your Whistler luxury stay, we've created a list of Whistler's premier luxury activities.
Whether you're ready for an outdoor adventure or looking to be pampered before being wine and dined, our list of Whistler luxury experiences has something for every traveller.
Helicopter Adventures
Arrive at destinations you've only dreamt of visiting and experience the unforgettable with a Whistler heli-sightseeing experience. When you book a heli-sightseeing adventure, you will arrive at a remote destination that few people can access without helicopter assistance.
Winter Adventures
Experience the best Whistler has to offer with a 24 minute sightseeing tour sure to take your breath away. Fly through 12,000 year old glaciers, over the Coastal Mountains and finish with a 15 minute glacier landing.
This stunning 12 minute tour gives you a birdseye view of Whistler Village, or the option to observe the stunning Wede Glacier beside the Coast Range's highest peak.
Heli Skiing
The pinnacle of Whistler's skiing experience. With access to terrain including 173 glaciers and 475 runs in an area that is 50 times the size of Whistler Blackcomb, every skier or snowboarder should experience the adrenaline-packed adventure at least once in their lifetime.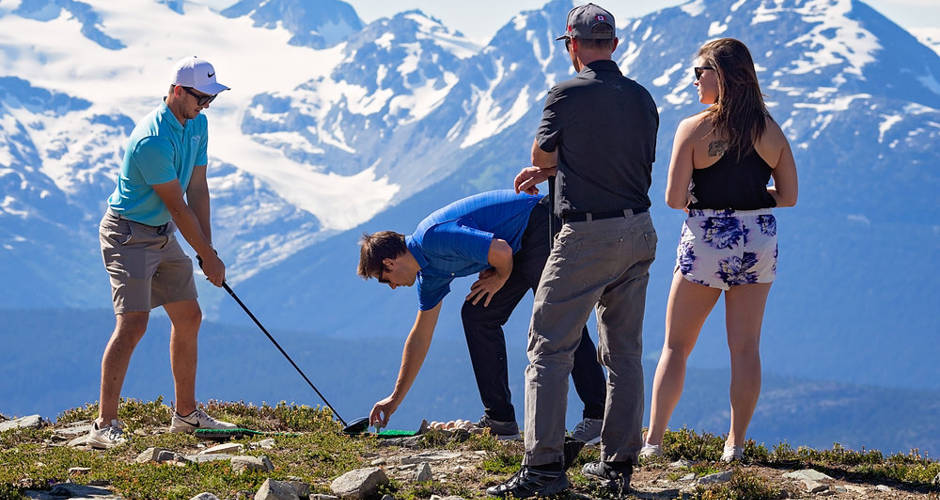 Summer Adventures
Leave the Whistler valley behind and fly deep into the Coastal Mountains for an adventurous picnic. Your flight will take you over sweeping vistas, wildflower patches and timeless glaciers before you land in the beautiful backcountry for a private picnic in the wilderness.
You can even choose to add a paddle-board experience to your summer picnic upon request!
You will fly deep into the Coastal Mountains for personalized hiking trip that suits your personal goals and hiking abilities. Guests can choose between a 3.5 hour or 7 hour guided hiking adventure in beautiful off-trail alpine and sub-alpine settings. Discover regions only accessible by helicopter, while interacting with nature and enjoying a delicious mountainside lunch in this peaceful setting.
Access over 180 remote wilderness lakes and rivers, during a heli-fishing experience. Depending on the time of year, you can expect to catch bull trout, wild rainbows, salmon or steelhead in some of the most pristine waters available. Heli-fishing is available year-round, with ice-fishing being offered during the winter months.
Take your game to new heights, 2,000 meters to be exact, with an exclusive heli-golf experience. Tee it up on the top of Mount Currie, where you'll spend 30 minutes hitting biodegradable golf balls into the Pemberton Valley below.
Whistler Blackcomb
Whistler Blackcomb's most exclusive lesson program pairs you with an Olympic ski or snowboard athlete for a private lesson. Follow in their tracks, learn their techniques and hear their stories. Opt for a private one on one or make it a group lesson with up to four family members or friends – for one price.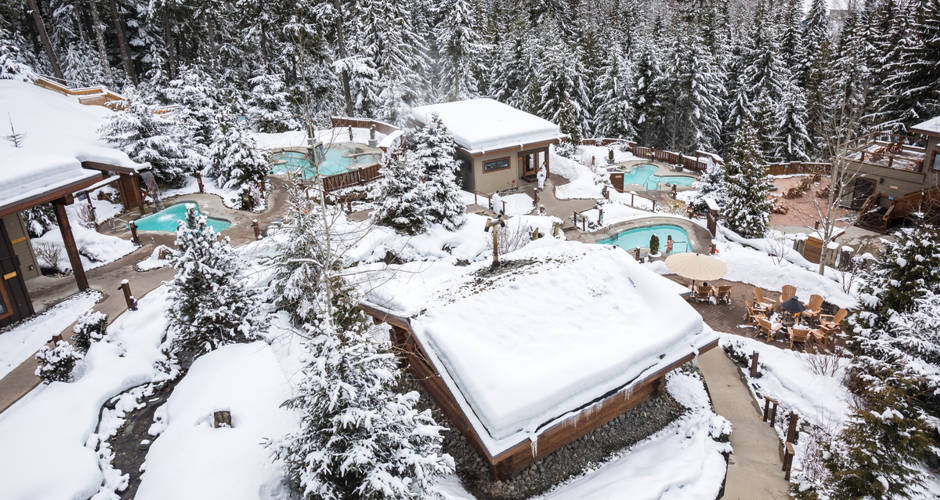 Spa Options
Situated just north of Whistler Village, engulfed in a spruce and cedar forest on the edge of Lost Lake and Spruce Grove parks, this unique spa overlooks incredible mountain vistas and valleys. Guests can book a private massage in the luxurious Scandinave cabins, treatments include Swedish relaxation, restorative, deep tissue, prenatal and couples massage. Afterwards, head out to the Scandinave baths and steam rooms, for a relaxing retreat where you can completely disconnect and enjoy complete silence in the noise-free environment.
Harmony Massage is a mobile massage company offering Registered Massage Therapy service at your convenience. Imagine spending a long day on the slopes or golf course then coming home to a registered massage treatment in the comfort of your housing rental or hotel. Choose from a variety of treatments that combine the comforts of a spa with the knowledge and professionalism of a clinic.
The Spa at Four Seasons Resort is an indoor/outdoor luxurious getaway. The focus is on offering you nature at its best with ingredients for health and renewal. This sanctuary spa offers 12 treatment rooms, two couples' rooms and two zen relaxation lounges. Aside from their signature massage treatments, they also offer body scrubs and wraps.
Set in a tranquil lakeside setting, The Spa at Nita Lake welcomes you to a transcendent wellness experience. From relaxing massages, scrubs and body treatments to the latest beauty treatments such as hydrafacial and body contouring, the spa is retrofitted to relax and restore the senses. After your treatment retreat to the rooftop hot tub and take in the magnificent natural surroundings, or take a visit to the revitalizing eucalyptus steam room or relaxation lounge.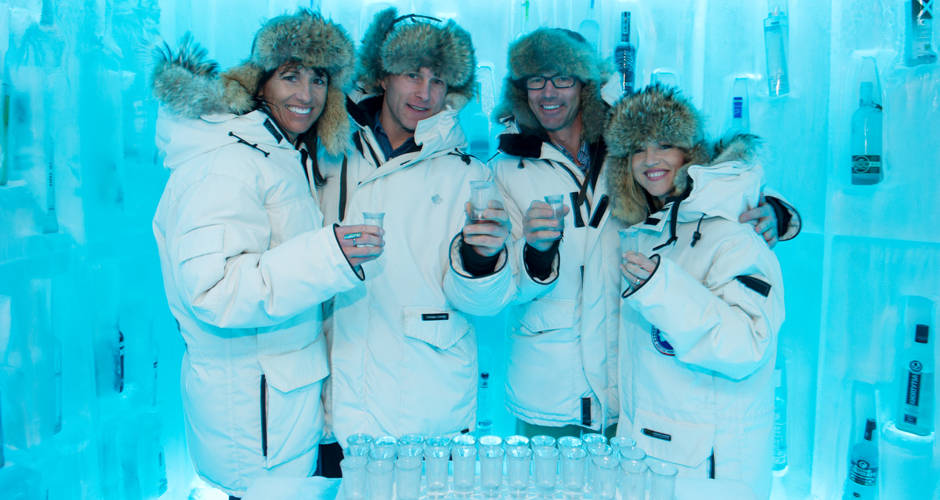 Luxury Dining Experiences
Whistler is home to some of the finest dining in North America. Choose from these unique Whistler luxury dining experiences that go above and beyond your traditional night on the town.
Book a Private Chef
Enjoy a luxury dining experience in the comforts of your own home rental! Let us call in the Collective Kitchen, who provide private catering services for small dinner parties and large gatherings. The team will show up before your event with a hand-selected menu, chef and servers. Best part they cook, clean and leave your kitchen spotless when they're done. Owned and operated by Head Chef John Ferris, this luxury dining experience is on par with any fine dining establishment in Whistler.
Bearfoot Bistro
Experience a tradition that dates back to the Napoleonic era, when you book a wine saber experience at the Bearfoot Bistro. Surrounded by over 20,000 bottles of the world's best vintages, pick your favourite bottle of bubbly and with one hand on the bottle and another on the sabering sword quickly swipe off the top for an impressive uncorking. The Bearfoot will even package your cork in an impressive presentation box for you to take home.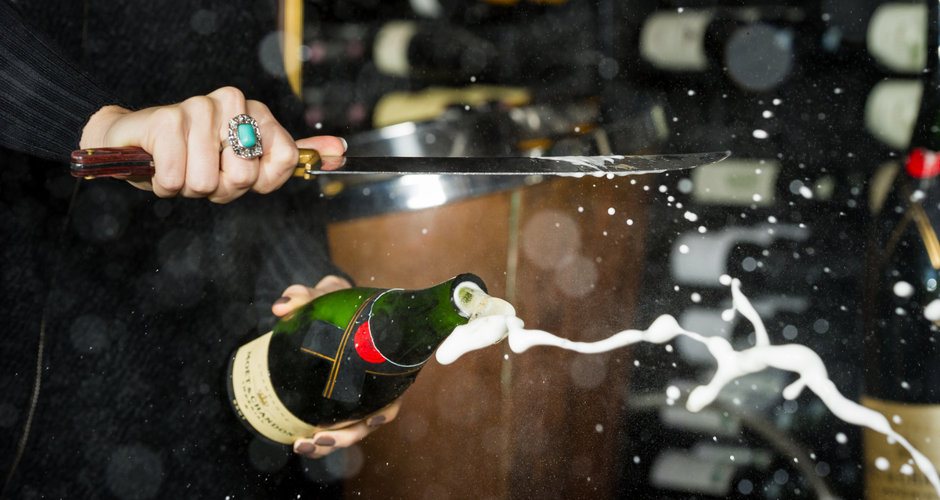 Bundle up and head into the Bearfoot Ice Room for a refreshing flight of sub-zero vodka. They provide the Canadian Goose parkas, just bring your sense of adventure.
At -32C (-25F) the Ketel One Ice Room is the world's coldest vodka tasting room – and the only permanent sub-zero vodka room in Canada. Choose from more than 50 vodkas from across the globe, distilled from everything from rye, wheat and soya to hemp seeds. The tour will be lead by a vodka expert who walks you through the intricacies of vodka distillation, including pallet and flavour compositions.
Choose four vodkas for your flight, and learn how the extreme cold enhances the flavour while minimizing the alcohol burn.
Enjoy a private meal with up to 16 guests as you huddle up in the heart of the Bearfoot kitchen for a cooking experience with Executive Chef Melissa Craig. Sit back and enjoy a theatrical display as chef and team prepare a delicious five-course meal in one of Whistler's most renowned restaurants.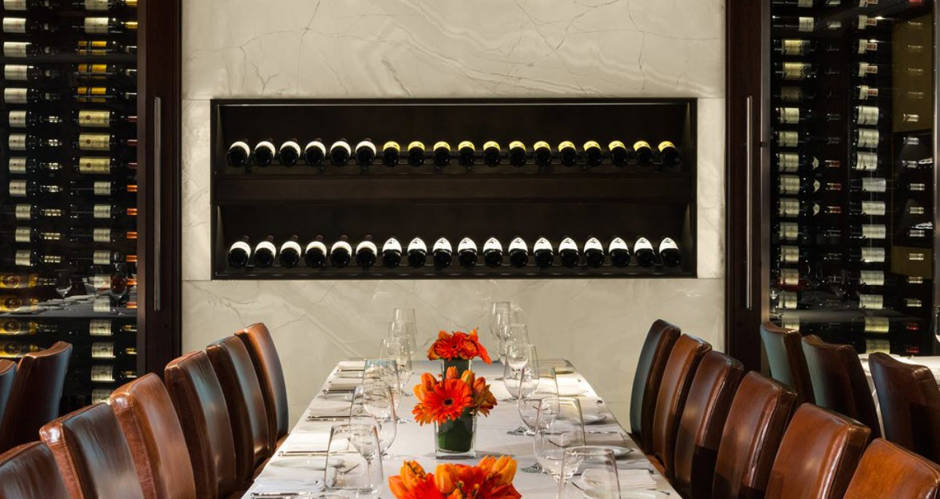 Araxi Restaurant
Owned and operated by the award-winning Araxi Restaurant, the Cellar Room is Whistler's premier luxury space for private dining, meetings and special events.
Beautifully decorated, the room offers guests complete privacy and features a Chef's Table and show kitchen for chef demonstrations, as well as state-of-the-art audiovisual equipment.
Guests can enter from a private entrance, and choose from one of Whistler's most impressive luxury wine lists.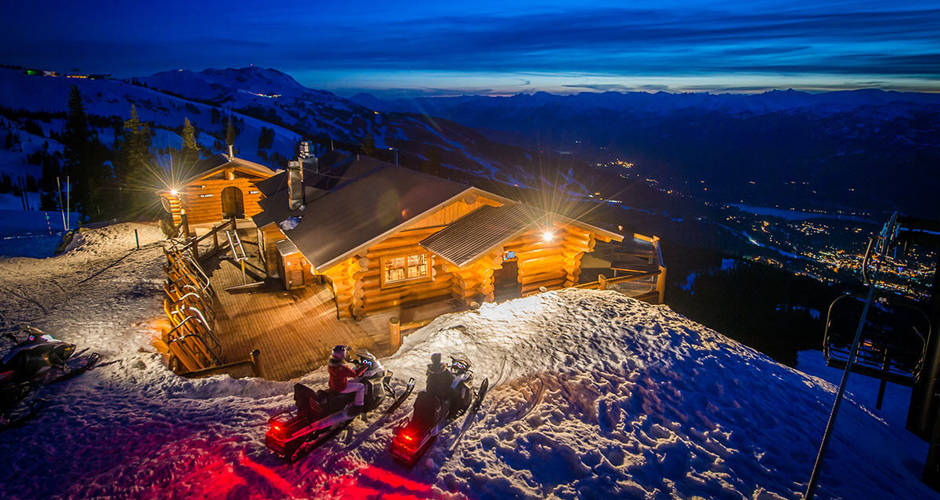 Snowmobile Adventures
Canadian Wilderness Adventures offers a number of luxurious guided snowmobile experiences suitable for the entire family.
Drive your own snowmobile or share with a friend as you sweep across the forested trails of Whistler Blackcomb. Once you arrive at your destination the Crystal Hut, you will enjoy a fondue feast. Enjoy sweeping views of the mountain and the glittering lights of the night sky and Whistler Village down below.
You can also enjoy the Crystal Hut experience without snowmobile assistance by booking a Snowcat entrance instead.
Explore the Whistler's Callaghan at dusk by snowmobile as you venture up to the rustic cabin on Sproatt Mountain. When you arrive a three-course steak dinner will be prepared over a wood stove and grill. This Canadian style meal includes a daily soup, beef sirloin with garlic mashed potatoes, seasonal vegetables and dessert prepared by the Bearfoot Bistro.