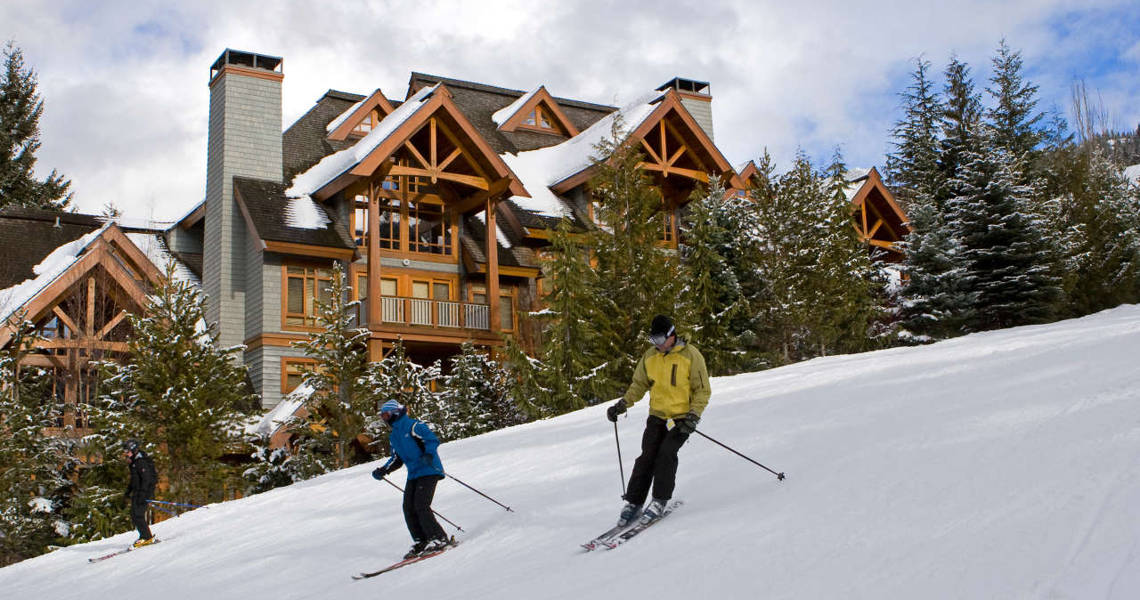 Ski-In Ski-Out Accommodations in Whistler
Whistler is renowned for its winter activities, with skiing being the most sought-after pursuit. The slopes in Whistler are unrivalled and provide an unparalleled skiing experience. To enhance your winter holiday, consider staying in one of our luxurious ski-in, ski-out Whistler vacation rentals. We have carefully curated a collection of the finest ski-in, ski-out properties in town to offer you both convenience and comfort. Our selection of homes ensure that you can indulge in the ultimate ski experience, with the convenience of skiing directly to your doorstep.
Where are located Whistler Platinum's Ski-In, Ski-Out vacation rentals
Whether it's skiing a groomed run or dropping into a bowl full of powder, nothing beats the fresh mountain air in winter. Take your getaway to new heights in a home that lets you experience the very best of mountain living with ski access located just steps from the slopes. Our curated collection of ski homes affords you the time to experience alpine adventure, and most importantly, first tracks on fresh powder or corduroy. After a day on the slopes, relax in your private sanctuary and soak in your hot tub, gather by the fireplace or take in the breathtaking views of the Coastal Mountains. If you seek a hassle-free ski holiday, our ski-in, ski-out rentals are the ideal solution, conveniently located in sought-after neighbourhoods including Kadenwood, Taluswood, Whistler's Upper Village and the Backcomb Benchlands.
Types of Ski-In, Ski-Out Rentals in Whistler
Ski-In, Ski-Out Condos
Our ski-in, ski-out condos are perfect for groups of friends or family alike. With spacious, open-plan living areas, full kitchens, and cozy fireplaces, our condos have everything you need to help you feel right at home. Plus, they're conveniently located right near the slopes so you can ski to your heart's content.
Ski-In, Ski-Out Townhomes
Our ski-in, ski-out townhomes are ideal for larger groups or families who want more space and privacy. With luxurious amenities, and plenty of room to spread out, take advantage of the incredible convenience that skiing right to your doorstep offers.
Ski-In, Ski-Out Chalets
For those looking for a truly luxurious winter vacation experience, our ski-in, ski-out chalets make the perfect backdrop for your dream stay. Whether you're enjoying a glass of fizz in your private jacuzzi,  a meal prepared by a private chef or an in-home massage after a day on the slopes, moments like thise will be hard to beat. With room and rooms for everyone, our ski-in, ski-out chalets guarantee warmth and comfort in even the snowiest of winters.
The Best Ski-In, Ski-Out rentals amenities and features
At Whistler Platinum, we also provide a range of amenities that enhance your ski-in, ski-out vacation rental experience. From heated pools and hot tubs, fitness centers, and game rooms, to catered dinner parties, spa experiences in your vacation home, and shopping at Whistler's finest boutiques – our ski-in, ski-out accommodations offer something for everyone!
When you stay at these properties, you make the most of your winter vacation thanks to these wonderful amenities and features:
Private ski-in, ski-out access
Private balconies
Fireplaces
Pet-friendly accommodation options
Private, secure, underground parking
In-suite Laundry
Heated outdoor pool, year-round
Free shuttles to the ski lifts and villages
Free, private ski lockers
What's more, our concierge can organise in-home rental fittings so you can be fitted and measured for ski or snowboard rentals in the convenience of your vacation home. Our locally-based team know the mountain intimately and are delighted to share a list of their favourite runs with you.
At Whistler Platinum, we're committed to making sure that your ski-in, ski-out vacation rental is nothing short of perfect. Browse our selection of ski-in, ski-out rentals now to find the perfect place for you and your family in beautiful Whistler.
Contact us by phone or email us today; our Whistler-based travel agents are available seven days a week to help you find the right property.