Longer days, warmer nights, and a near endless amount of things to do.
For more than just a few of us, spending part of our summer breaks in Whistler makes for the highlight of the year. Yes, skiing in the winter is the Whistler brand, and for good reason, but it's the warmer months that provide more varied experiences for you and your family.
From June to September, there's no shortage of active adventures to take part in, nor lakes to splash among, trails to hike, and playgrounds to climb. Restaurants spill into the Village, satisfying every hunger, and quenching every thirst. The following is just a sampling of the variety on offer for any age and lifestyle to explore.
Summer Whistler Activities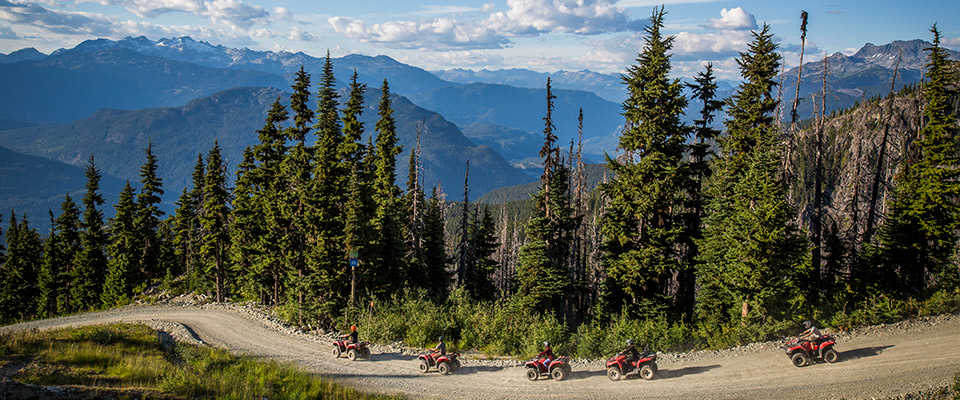 This list may seem endless, with so many options to choose from the dilemma will be how to fit it all in. Let's begin by listing the popular and moving on from there
PEAK 2 PEAK: No visit to Whistler would be complete without a ride on the world famous PEAK 2 PEAK gondola. Connecting the peaks of Whistler Mountain to Blackcomb Mountain and spanning over 4 kilometres (2.7 miles), and at 436 metres high (1427 ft), it is the highest lift of its kind. On a clear day, the views are absolutely breathtaking.
Golf: Whistler boasts four championship golf courses. With glacier fed lakes, towering mountains, ancient cedar trees, winding creeks and majestic views, it is easy to see why Golf Digest named Whistler Canada's Number One Golf Destination.
Whistler's award-winning golf courses provide the perfect backdrop for a unique mountain getaway. Explore our finest golf accommodation located directly on a golf course or within easy walking distance. Convenience doesn't end there. Our team can assist with creating a customized golf experience by securing prime tee times at member reserved time slots, and book golf carts for your players.
Sightseeing and Hiking: Whistler is a network of trails, hikes, and secret pathways that can take you from the Village and into a pristine natural wonderland in minutes. Some routes are steps from the Whistler Village, while others take you up to the peaks of snow-capped mountains and endless vistas. Our Whistler-based team is on hand to provide local-only trail knowledge and show you the secret spots that feel off limits to most.
Whistler Bike Park: The Whistler Mountain Bike Park is the ultimate riding experience with more than 200 kilometres (125 miles) of lift-accessed trails that range from beginner cruisers to more expert and technical options. Not sure if the park is for you? Why not book a lesson with a professional instructor to get the most out of the day and a true taste of the park.
ATV Tours: ATV Tours weave unforgettable natural wilderness and the pleasure of off-roading into one seamless journey, where the scenery at each stop rivals the power of the impressive vehicles.
Bear Viewing Photo Safari: Few things are as iconic to Whistler as our resident bear population. While on the Bear Viewing Photo Safari, you can admire the bears from the safety of a vehicle, and watch as they forage for their meals in spectacular back-country scenery.
Whistler's Lakes and Beaches
This may surprise you but the lake scene at Whistler is incredible. You can play beach volleyball at Rainbow Park, paddleboard on Green Lake, or sunbathe at Lost Lake, the options abound. Whistler's lakes and beaches are perfect on a hot summer day. Work on your tan, play in the water, float on a dingy or enjoy a lakeside BBQ. With 5 lakes to choose from, it's up to you to find your favourite.
Playgrounds
Whistler takes its playgrounds seriously, offering up some pretty awesome spots to let the kids loose. The following listing provides the secret gems, along with the most popular located throughout Whistler.
Olympic Plaza Playground – Village North
Tangled Tree playground in Creekside
Skate park and mini bike park
Alpha Lake Playground with 'Owl's Nest' Playhouse
Dining
Whistler is home to some of the finest dining in North America. With over 100 restaurants and bars, Whistler has a wonderful variety of restaurants to suit every palate and budget. Here is a short sampling of our favourite restaurant choices!
Araxi
Araxi restaurant and oyster bar holds an international reputation for excellence in food, wine and hospitality, including award for 'Best Restaurant in Whistler' by Vancouver magazine for an unprecedented nine consecutive years.
Bearfoot Bistro
Offerings from the Bearfoot Bistro kitchen are best defined as 'Modern Canadian Cuisine'. In 2008, Executive Chef Melissa Craig was crowned as the country's top chef at the 2008 Canadian Culinary Championships, and since then Bearfoot Bistro has been named in Canada's 100 Best Restaurants numerous times. But, what really sets them apart from any other restaurant in Whistler is their unmatched wine and champagne selection. The Bearfoot Bistro is one of only 150 places in the world that house Dom Perignon.
Rim Rock Café
Whistler's place for fish and game' the Rim Rock is well known for it's pleasant atmosphere, excellent service and amazing eating experience. The Rim Rock is constantly receiving awards, from 'best of' in the local paper to international recognition.
Creekbread
Come in and renew your spirit at Creekbread. Relax and enjoy a natural pizza baked in a primitive wood fired oven. This is a great option for families.
Dubh Linn Gate
Enjoy warm-hearted Irish hospitality, delicious pub fare and a heated, outdoor patio and firepit. Dubh LinnGate a favourite of locals and visitors alike.
Peaked Pies
Craving a meat pie? This is the place to go! Peaked Pies offers a wide selection of savoury gourmet Australian meat pies that can be peaked with mashed potatoes and mushy peas. Enjoy a sweet treat and coffee afterwards.
Whistler Presents FREE Outdoor Concerts
Each summer and under normal pre-Covid (and hopefully post-Covid) circumstances, the Resort Municipality of Whistler organizes free outdoor concert series' where a full slate of celebrated Canadian and international artists perform in the heart of the village at the Great Lawn at Olympic Plaza. To stay on top of who, what, where and when, visit whistler.ca
Whistler Platinum has been providing homeowners and guests with unrivaled property management, vacation planning, and personalised concierge services for almost two decades. Our mission is to go above and beyond, making homeownership easy and your vacation memorable. We invite you to search our vacation home listings or call us at 1.604.932.0100 to speak with our Whistler based travel consultants today.
---
Related Topics
Accommodation Accommodation local guide activities Alta Vista axe throwing Bears bobsled campout contest children christmas christmas activities christmas in whistler climbing Creekside dining In Whistler dog sled tour escape room fall activities Fall in Whistler family family activities family apres family fun holiday guide holidays kid friendly dining local guide neighbourhood neighbourhood guide Nicklaus North romantic getaway skiing Spring Activities Summer in Whistler Thanksgiving Thanksgiving activities Thanksgiving in Whistler Upper Village Whistler Bike Park whistler sliding centre winter activities winter family fun Winter in Whistler zipline ziplining