Whistler, that charming village tucked away into the beautiful mountains of British Columbia, is a popular tourist destination known for its skiing and winter sports. However, it also offers a range of unique cultural activities, destinations and events throughout the year. From art museums with interesting exhibits, to film and music festivals, Whistler has a bustling cultural scene waiting to be explored. Here are some of our recommended things to do and see when you need a little culture in your stay in Whistler.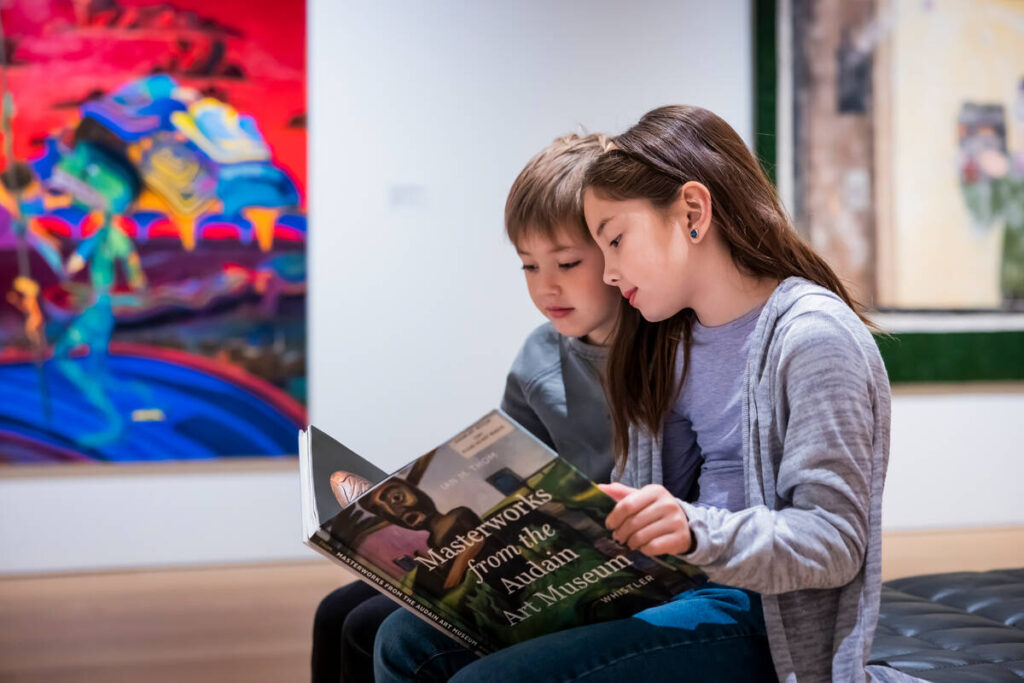 For Art Lovers
Whether you're an artist yourself, an admirer of art, or in the market to invest in some great pieces, you have to explore Whistler's art scene. Your first stop should be the Audain Art Museum, where you'll find a permanent collection of British Columbia art, as well as rotating exhibits of contemporary and historical art from around the world. The museum also hosts a variety of events from talks and walk around tours with the artists themselves, to yoga classes.
To get a deeper look into Whistler's local art scene, take a self-guided tour along the Whistler Village Art Walk. Along this walk you'll explore public art installations and sculptures created by local and international artists.
It's good to get the kids involved with the festivities, and for that there is the Whistler Children's Festival. This is an annual event that features arts and crafts, live performances, and workshops for children of all ages. Perfect for keeping children entertained on your trip to Whistler, even if it's to give parents a break!
If you're looking to purchase some art as a reminder of your epic trip to Whistler, there are several art exhibitions and galleries to choose from to browse at your leisure. A few notable ones are Adele Campbell Fine Art Gallery, Black Tusk Gallery, Fathom Stone Art Gallery and the Mountain Galleries located inside the Fairmont Chateau Whistler.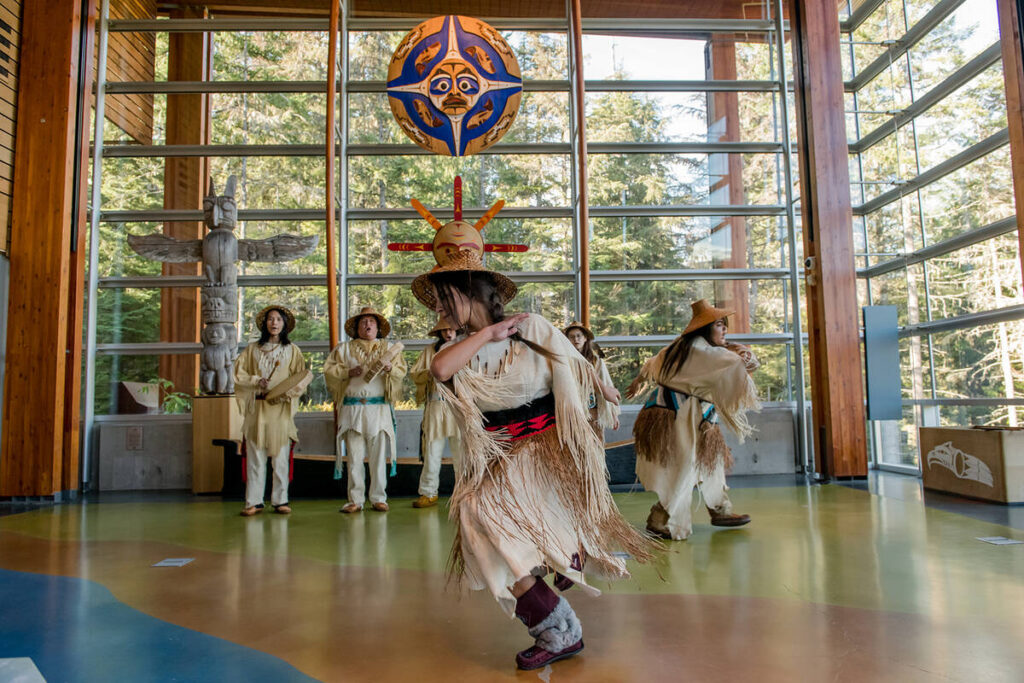 For the Budding Historians
Whistler is steeped in history and has great exhibits and events for you to immerse yourself in and learn more about the area. Visit the Whistler Museum, where you can learn about the history of Whistler and its impressive development from a small ski resort to a world-class destination through exhibits, artifacts and multimedia presentations. The museum also holds lots of fun events from bicycle building classes, to kids lego building competitions.
The Squamish Lil'wat Cultural Centre is an absolute must-visit attraction for your trip to Whistler. The center is a cultural hotspot, with everything from history exhibits, a wide selection of artifacts, interactive displays and exciting events and workshops. They have some great arts and crafts workshops where you can make interesting items like Hide Rattles, Medicine Bags and Dreamcatchers.
Established as a collaborative effort between these two indigenous communities, The Squamish Lil'wat Cultural center aims to foster understanding, respect, and appreciation for their distinct yet interconnected heritages. Visitors to the center can enjoy different educational programs, workshops, and events that further enrich the cultural exchange and promote the revitalization of the first nation's traditions. They are also designed to provide a glimpse into the Squamish and Lil'wat peoples' ancestral ways of life.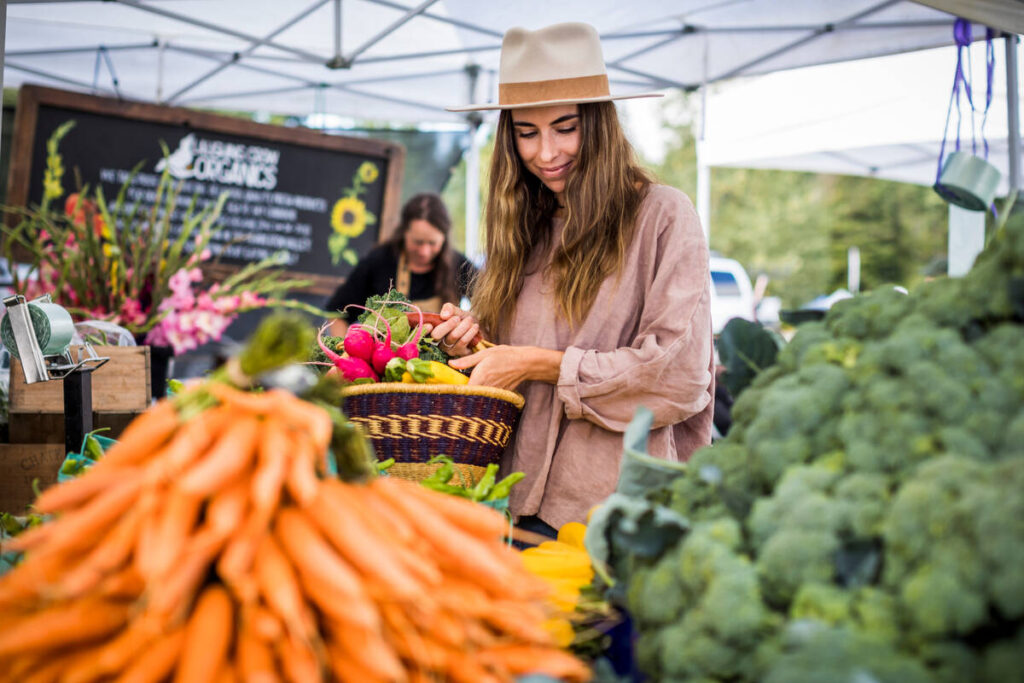 For the Foodies
When you're finished browsing the exhibits or arts and crafts workshop, enjoy some tasty traditional food at the First Nations Feast at the Squamish Lil'wat Cultural Centre. Enjoy a traditional feast prepared by local indigenous chefs, accompanied by storytelling and performances showcasing the cultural heritage of the Squamish and Lil'wat Nations. You'll dine in the traditional Istken Hall and learn about indigenous culture through cultural ambassadors, songs, dances and a short film.
Give your tastebuds a real treat at Cornucopia, Whistler's annual fall festival of food and drink. Made for real food and drink connoisseurs, Cornucopia offers many opportunities to experiment with your palate, expand your knowledge, and celebrate Whistler's world-class food and drink scene. Join us for food and drink tastings, culinary demonstrations, chef luncheons, drink seminars, winemaker dinners and more.
Head to Whistlers' Farmers' Market to experience real local flavors. Starting May 21st to October 8th, the market is open every Sunday, and Saturdays on long weekends, from 11am to 4pm. Browse and purchase locally grown produce, artisanal foods, and handmade crafts by a range of local vendors. The market is a registered non-profit society that is dedicated to the promotion of regionally sourced food, crafts and services. So head on down early one Sunday morning and pick yourself up some tasty pastries!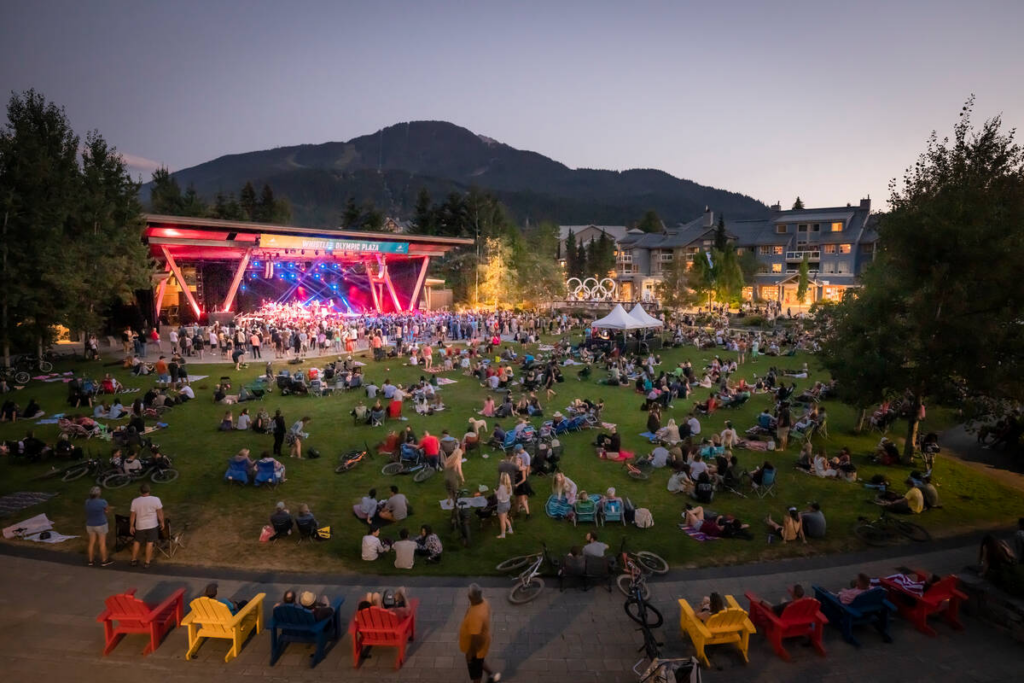 Festivals for Everyone
Whistler has a range of festivals each year that everyone can enjoy, from film and music, to even writing festivals. Firstly there is the Whistler Film Festival, which is an annual event that showcases both Canadian and international films. As well as screenings, discussion panels and exciting events held throughout Whistler Village. You might even come across some famous actors attending the festival.
Known to locals as WSSF, the World Ski & Snowboard Festival combines spring energy with Whistler's unique mountain culture for a week of non-stop events and action on and off the slopes. Six days of fun-packed events like Après Yoga, dance parties and, of course, lots of great music acts, this festival is not to be missed.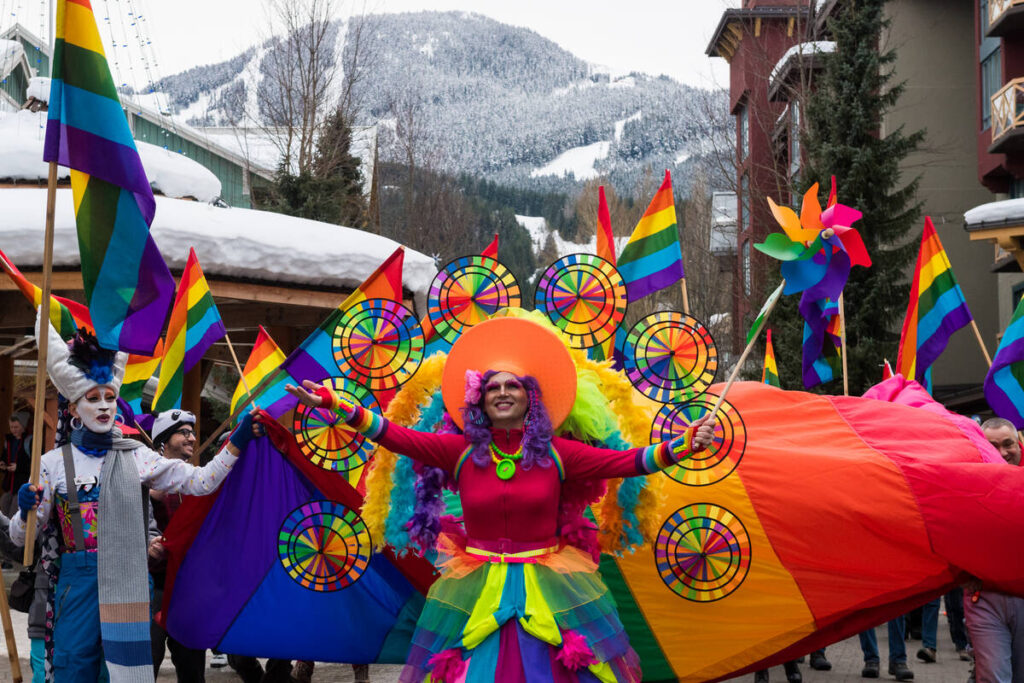 Get your pride flags ready for the annual Whistler Pride and Ski Festival, which celebrated its 30th year in 2023. It is one of the biggest and best, queer-focused ski weeks in North America, the 2SLGBTQIA+ pride week features a packed events schedule of skiing, snowboarding, celebrations, arts and culture and social events.
For more music, head to Whistler Olympic Plaza where they host a variety of concerts and festivals throughout the year – especially the Whistler Summer Concert Series. This free, open-air concert showcases a diversity of genres to suit everyone's musical tastes.
Are you a writer in the making, or just a real bookworm? If so, the Whistler Writers Festival is the perfect event for you. This annual festival celebrates the art of writing, storytelling and all things literature. Starting October 12th to 15th, you can attend readings and exciting panel discussions featuring renowned authors and literary figures. You can even sign up for writing retreats, where you can go and hone your writing skills and learn from the best. All the while you'll be surrounded by the beautiful nature of British Columbia – that will definitely cure any writer's block!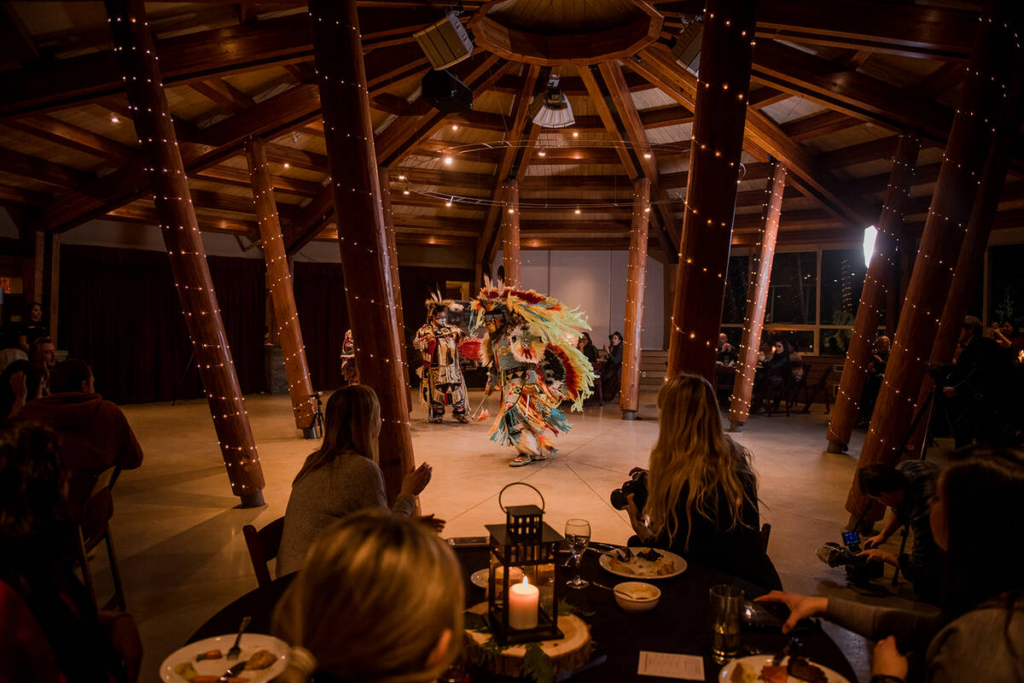 Head to Whistler for a Cultural Awakening
Whistler is filled with plenty of cultural events for you and your friends and family to enjoy. Whether it's an educational, history-filled day out, browsing art exhibits or enjoying some live music with a cold beer in hand, Whistler has it all. Learn about the First Nations and taste their traditional dishes using local ingredients, an experience you're not soon to forget. With so many events to choose from, your trip to Whistler is bound to be anything but boring!
A few commonly asked questions about museums, galleries and culture in Whistler, BC.
1. What are some of the most popular art galleries and museums in Whistler?
Some of the most popular art galleries and museums in Whistler include the Audain Art Museum, Squamish Lil'wat Cultural Centre, Whistler Museum, Adele Campbell Fine Art Gallery, and the Mark Richards Gallery.
2. What types of artwork can I expect to see at the Audain Art Museum?
The Audain Art Museum features a diverse collection of British Columbia art, with a focus on the work of First Nations artists and contemporary art. The museum also showcases the works of notable Canadian artists such as Emily Carr and E.J. Hughes.
3. Are there any opportunities to experience local Indigenous culture in Whistler's art galleries and museums?
Yes, the Squamish Lil'wat Cultural Centre offers a unique opportunity to learn about and experience the cultures of the Squamish and Lil'wat First Nations. The center features exhibits, guided tours, traditional performances, and hands-on workshops that showcase the history, culture, and art of these two Indigenous communities.
4. How can I learn more about Whistler's history and the development of the resort town?
The Whistler Museum offers exhibits and displays that delve into the history of Whistler, from its early days as a logging and mining community to its transformation into a world-renowned ski resort. You can learn about the people, events, and milestones that have shaped the town's development over time.
5. Are there any art galleries in Whistler that feature local and emerging artists?
Yes, the Adele Campbell Fine Art Gallery and the Mark Richards Gallery both showcase a variety of works from local and emerging artists, as well as established Canadian and international talents. These galleries offer a diverse selection of paintings, sculptures, and mixed-media pieces, providing visitors with a glimpse into the vibrant art scene in Whistler and the surrounding region.
---
Related Topics
Accommodation Accommodation local guide activities Alta Vista axe throwing Bears bobsled campout contest children christmas christmas activities christmas in whistler climbing Creekside dining In Whistler dog sled tour escape room fall activities Fall in Whistler family family activities family apres family fun holiday guide holidays kid friendly dining local guide neighbourhood neighbourhood guide Nicklaus North romantic getaway skiing Spring Activities Summer in Whistler Thanksgiving Thanksgiving activities Thanksgiving in Whistler Upper Village Whistler Bike Park whistler sliding centre winter activities winter family fun Winter in Whistler zipline ziplining