Escape to the breathtaking Coast Mountains of British Columbia, just a short 2-hour drive north of Vancouver, and you'll discover the ultimate golfing destination – Whistler. Here, the greens are as contrasting as the snow-capped peaks that tower above them, creating an awe-inspiring backdrop that will leave any golfer speechless.
Prepare to cross creeks, dodge ponds, and navigate through ancient Douglas fir stands and granite rock formations. All the while keeping an eye out for the occasional bear sighting – a common occurrence especially during spring.
Let nature slow you down and take a moment to soak it all in as you tee off with a majestic bear wandering across the fairway. With four pristine courses that were designed by the world's top architects, golfing in Whistler promises a unique mountain experience that will stay with you long after you've left the 18th hole.
The Best Whistler Golf Courses
The top Whistler golf courses offer an exceptional experience for golfers at any level. From the Whistler Golf Course, conveniently located near the Village, to the luxury of the Fairmont Chateau Whistler course, each one provides uniquely challenging holes with breathtaking views.
For those not minding a drive, Nicklaus North is a short five-minute trip north of the Village. While Big Sky Golf Club is a a scenic 30-minute ride north from Whistler to Pemberton.
Fairmont Chateau Whistler Golf Club
Indulge in a day of pristine golfing at the Fairmont Chateau Whistler, where players of all levels can enjoy the challenge of an extraordinary 18-hole course. Designed by the masterful Robert Trent Jones, Jr. and opened in 1993, this course offers a par 72 and a stunning mountainous backdrop that will take your breath away.
But what sets this course apart is its dedication to environmental sustainability, earning it the prestigious Audubon certification for its commitment to preserving and promoting natural habitats. You can feel good knowing that your golfing experience is not only fun and challenging, but also environmentally conscious.
When you're ready to take a break from perfecting your swing, head over to the Fairmont Chateau Whistler Golf Clubhouse for a well-deserved respite. The casual patio setting offers the perfect ambiance to combine sport and scenery in true Whistler style.
Green fees: view them on the Fairmont website
Club rental: Available from the fully-equipped Golf Shop.
Golf cart required (yes/no): yes
Season: May to October
Parking: Complimentary parking is provided at the Fairmont with a free shuttle to the clubhouse
Nicklaus North Golf Course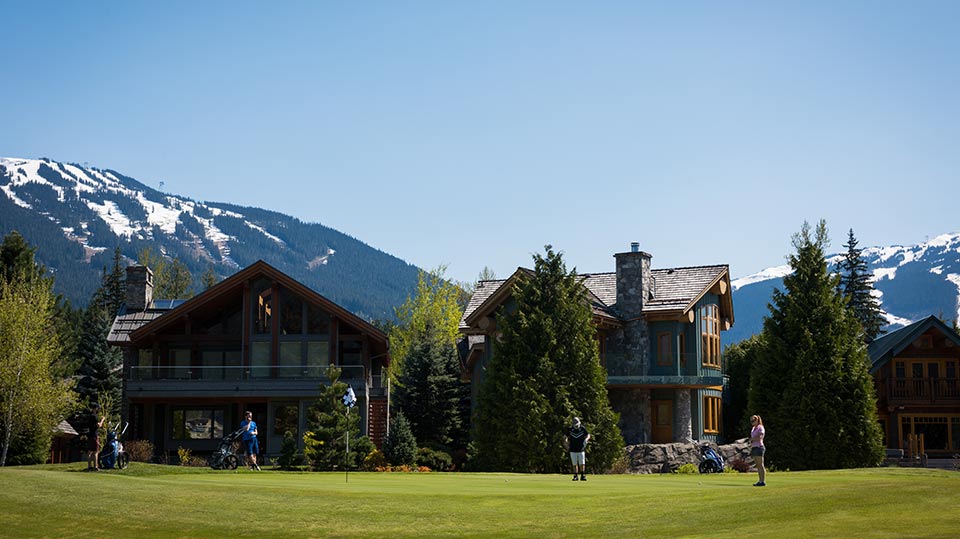 Step onto the green at Nicklaus North, a renowned 18-hole course with a par of 71 that crosses through a serene valley, presenting awe-inspiring vistas at every turn.
Recognized with multiple awards since its inauguration in 1996, Nicklaus North has been home to prestigious tournaments, including the Skins Game and the Shell's Wonderful World of Golf. It has attracted some of the biggest names in golf like Jack Nicklaus, Nick Faldo, Ernie Els, Greg Norman, Fred Couples, John Daly, Vijay Singh, and Stephen Ames, just to name a few.
Come take a swing at one of the most coveted golf courses in the world and experience the legacy of golfing legends in a truly remarkable setting. Elevate your golf game to the next level with Nicklaus North's exclusive golf academy, featuring The Cabin, Whistler's premier indoor facility for personalized instruction, state-of-the-art simulators, and club fitting services.
Green fees: view them on the Nicklaus North website
Club rental: Available from the fully-equipped Golf Shop.
Golf cart required (yes/no): No, but available.
Season: May to October
Parking: Free onsite parking
Whistler Golf Club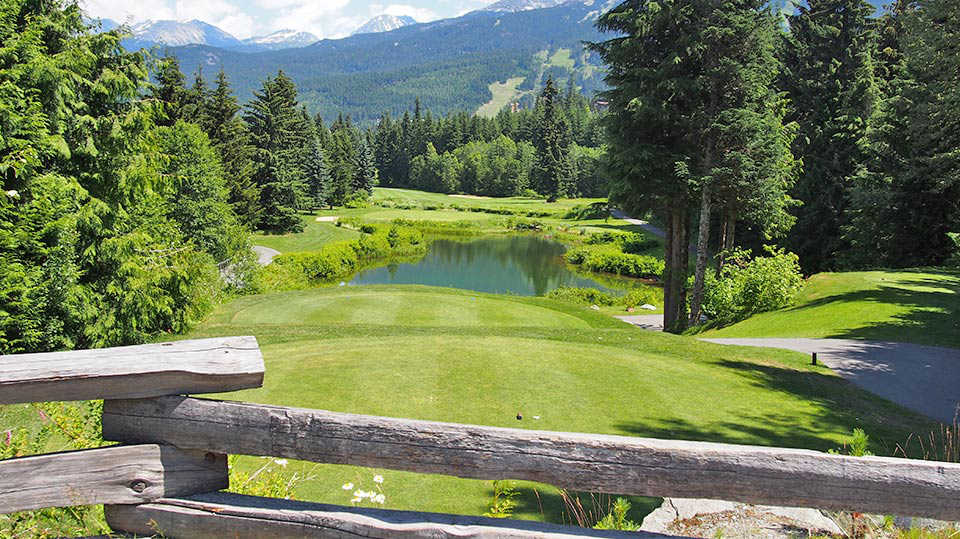 Arnold Palmer's first Canadian design, home to a truly "Whistler" brand of golf. While the spectacular snow capped mountain views, signature design and uncompromising course conditions are standard fare, it is the friendly, relaxed and helpful personality of the course staff that makes a Whistler Golf Club experience uniquely Whistler.
Green fees: Whistler Golf Course
Club rental: Available from the fully-equipped Golf Shop.
Golf cart required (yes/no): No, but available.
Season: May to October
Parking: Free parking at clubhouse.
Big Sky Golf Club
Tucked away just a short drive from Whistler, nestled beneath the stunning Mount Currie, lies Big Sky. This remarkable 18-hole public golf course was crafted by none other than the legendary Robert Cupp. Recognized as one of Canada's elite public golf courses in 2015/16, there's no denying that Big Sky offers a golfing experience unlike any other. But don't take our word for it, you'll have to tee off at Big Sky to fully grasp the magic of this magnificent course.
Not only does Big Sky boast an incredible 18-hole course, but their practice facility is equally impressive. Golfers have access to a double-ended driving range, perfect for warming up before a round or working on your swing with a professional instructor.
The bunker setup is designed to mimic the course, giving players an opportunity to practice their sand shots just as they would on the fairways. But that's not all, Big Sky's 5-hole, par-3 course is a golfer's dream come true. With its challenging layout and pristine greens, this course is ideal for beginners and junior golfers looking to improve their game, as well as seasoned players seeking a fun practice round.
Green fees: view them on the Big Sky Golf Club website
Club rental: Available from the fully-equipped Golf Shop.
Golf cart required (yes/no): No, but available.
Season: May to October
Parking: free onsite parking
Golfing in Whistler offers an unparalleled experience for golf enthusiasts looking to elevate their game to new heights. With breathtaking views of the mountain ranges and lush forests, coupled with world-class facilities and championship courses, it's no wonder why Whistler has become a golfer's paradise.
If you're looking to take your golfing experience to the next level, then book your Whistler golf course accommodation today and get ready to tee off in one of the most beautiful destinations in the world.
Commonly Asked Questions About Golfing in Whistler
What is the best time of year to go golfing in Whistler?
The golf season in Whistler typically runs from May to October, but the peak season is from June to September. The best time to go golfing in Whistler is during the summer months when the weather is warm, and the days are long.
What are some of the best golf courses in Whistler?
Fairmont Chateau Whistler Golf Club, and the Nicklaus North Golf Course. Each course offers a unique experience, from stunning mountain views to challenging courses.
Is it necessary to book tee times in advance?
Yes, it is highly recommended to book tee times in advance, especially during the peak season. Many of the golf courses in Whistler are very popular and can book up quickly. You can book online or call the course directly to make a reservation.
What should I wear when golfing in Whistler?
Golf attire is typically required at most courses in Whistler, including collared shirts and golf shoes. Some courses have specific dress codes, so it is best to check with the course before you go. Additionally, it is a good idea to dress in layers as the weather can change quickly in the mountains.
---
Related Topics
Accommodation Accommodation local guide activities Alta Vista axe throwing Bears bobsled campout contest children christmas christmas activities christmas in whistler climbing Creekside dining In Whistler dog sled tour escape room fall activities Fall in Whistler family family activities family apres family fun holiday guide holidays kid friendly dining local guide neighbourhood neighbourhood guide Nicklaus North romantic getaway skiing Spring Activities Summer in Whistler Thanksgiving Thanksgiving activities Thanksgiving in Whistler Upper Village Whistler Bike Park whistler sliding centre winter activities winter family fun Winter in Whistler zipline ziplining