The snow is falling, the Christmas lights have been hung in the Village and the holiday season is about to begin in Whistler, BC. To help get you prepared for your Whistler Christmas vacation, we've prepared a list of the most anticipated Christmas events and activities of the 2019 holiday season. All of the activities on the list are family-friendly and either FREE of charge or entry by donation.
Family Après
Where: Whistler Olympic Plaza
When: Mondays and Thursdays from December 9, 2019 – January 2, 2020
Time: 3 – 6 PM
Surrounded by snow and the sparkling lights of Olympic Plaza, Family Après is the perfect place to bring the family for some holiday fun. Family Après is open to the public for FREE on select evenings throughout the winter season, with a focus on kid-friendly activities and entertainment. Families can enjoy an evening of ice skating, tobogganing, ice maze, snowman building, games and children's entertainers. While the kids are playing parents can sit around the Olympic Plaza fire with a hot beverage. Please note, this is an outdoor event and unfavourable conditions can lead to events changes or cancellation. Check-in with the Village hosts (info desks located throughout the Village) to confirm event details.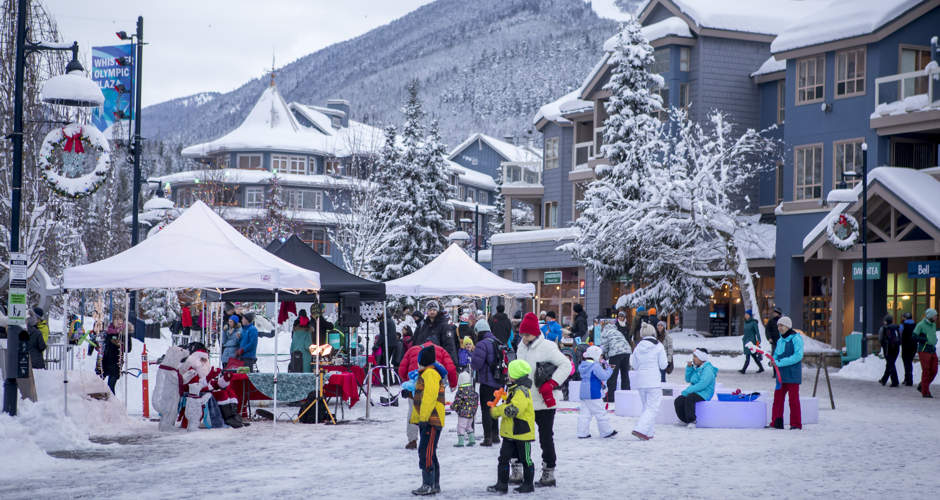 Family Après | Photo Credit: Justa Jeskova
Christmas Holiday Experience
Where: Whistler Conference Centre
When: December 21 – January 5
Time: 10 AM – 6 PM
The Whistler Christmas Holiday Experience is an entirely indoor event and activities centre for kids and families. The Holiday Experience is open to the public from December 31 to January 5th. This is the perfect Christmas activity to bring the kids to burn off some energy during your Whistler stay. Kids can head to the indoor family fun zone and enjoy a mini-putt course, table games, bouncy castles, crafts and video games. The event is supervised allowing parents to sneak off for a coffee or hot cocoa in the front lounge area. Please note the Holiday Experience will be closed December 25 and open December 31 from noon to 7 PM.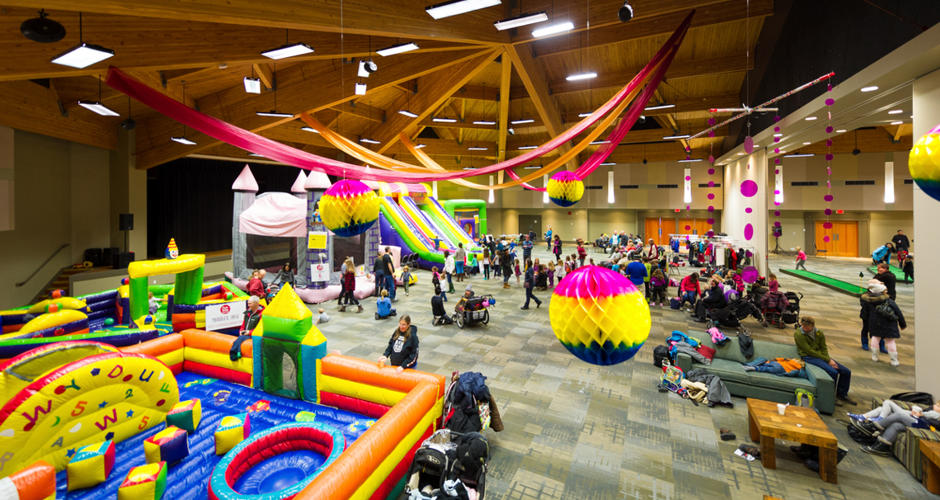 Whistler Holiday Experience | Photo Credit: Mike Crane
Whistler Blackcomb's Fire & Ice Show
Where: Skier's Plaza in Whistler Village (Base of Whistler Gondola)
When: Sundays from December 22, 2019 – March 29, 2020
Time: 6:30 PM Practice / 7 PM Show (7:30 PM Practice / 8 PM Show from March 8 onwards)
Enjoy a FREE show from Whistler Blackcomb's aerial elite during the Fire and Ice Show. Whistler's best skiers and riders jump and flip through a blazing ring of fire accompanied by fire spinners, a DJ and fireworks display. Bundle up and enjoy the show from Skiers Plaza (Base of Whistler Mountain) or get there early and secure a spot on the GLC balcony with heaters.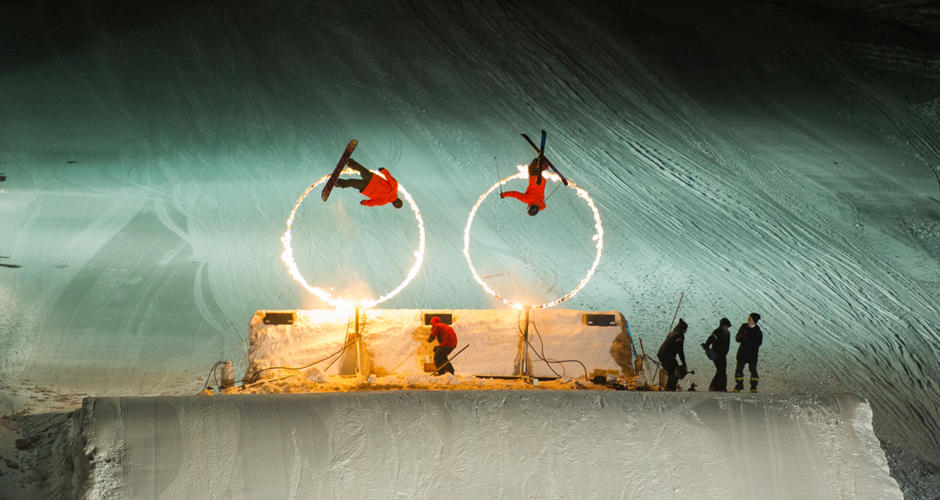 Fire and Ice | Photo Credit: Mike Crane
Santa Appearances in Whistler
Santa will be making a number of appearances in Whistler over the holidays, check out his entire schedule below 😉
Coca-Cola Holiday Activation with Santa Claus
When: December 14 & 15th
Where: Roundhouse Lodge on Whisler Mountain
Santa will appear at the top of Whistler Mountain. A professional photographer will be on-site to capture holiday photos.
Pet Photos with Santa
When: December 15
Where: Race & Co. Law Office, 4370 Lorimer Rd #332
Time: 12 – 5 PM
Grab a photo with Santa and your pet on December 15. Professional digital photography is provided with a sneak peek photo printed on-site. Human-friendly and dog-friendly refreshments will be available, along with carolers and WAG 2020 calendars. Entry to the event is by donation with all proceeds going towards WAG – Whistler Animals Galore animal shelter.
Santa at Nesters
When: December 15
Where: Nesters Market
Time: All Day
Catch Santa Claus and his elves at Nesters Market on December 15th for holiday photos.
Santa's Sleigh and Boot Drive with Whistler's Firefighters
When: December 15 & 23 (Two Appearances)
Where: Location: Whistler Village Square
Time: 2 – 5 PM
Visit Santa in his sleigh high atop a vintage 1974 Thibault Fire Truck for a free photo opportunity. Donations are appreciated with all monies raised going directly to the BC Professional Firefighters Burn Fund.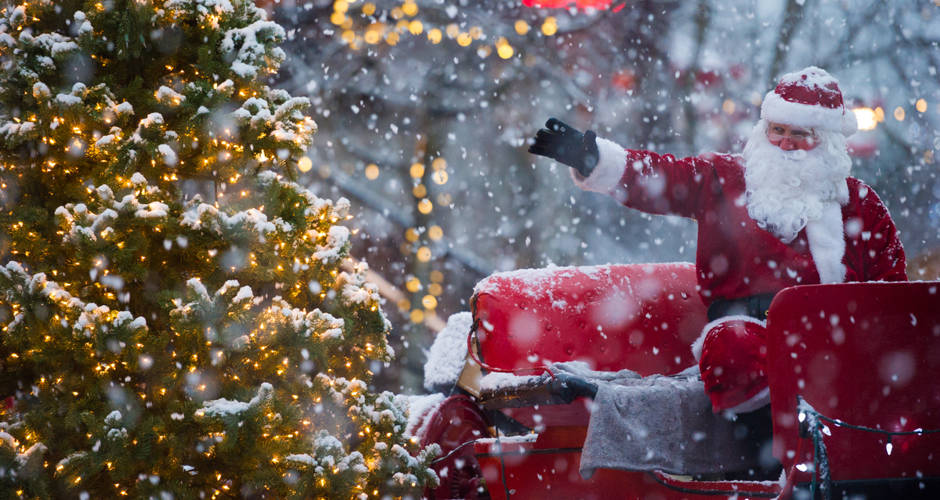 Santa's Sleigh & Boot Drive | Photo Credit: Mike Crane
Christmas Carolers in Whistler
Get into the Christmas spirit and sing along to your favourite holiday classics when you attend one of Whistler's Christmas carol services.
Holiday Singapalooza with Barbed Choir
When: December 12
Where: Maury Young Arts Centre
Time: 7 PM
The Barbed Choir will host a community sing-along on Thursday, December 12. The service will be led by Jeanette Bruce, who has prepared a number of festive holiday pop songs and Christmas classics. Entry by food or cash donation to the Whistler Community Services Food Bank.
Whistler Children's Chorus Holiday Concert
When: December 15
Where: Whistler Public Library
Time: 5 – 6 PM
The Whistler Public Library will host an evening of festive music on Sunday, December 15. The Whistler Children's Chorus will lead the event and have prepared a number of Christmas, Hannukkah and winter tunes. The event is FREE to attend.
Winter Lights with the Whistler Singers
When: December 15
Where: Our Lady of the Mountains Catholic Chur
Time: 7 PM
Join the Whistler Singers as they celebrate the holidays through song. Entry by donation, all visitors are welcome.
Christmas Eve Service of Lessons and Carols
When: December 24
Where: Westin Resort & Spa
Time: 6:30 PM
The Whistler Children's Chorus and Whistler Singers host the 36th edition of the Christmas Eve Carol Service at the Westin Resort & Spa. The evening features traditional carols, choral music and Christmas readings by community members.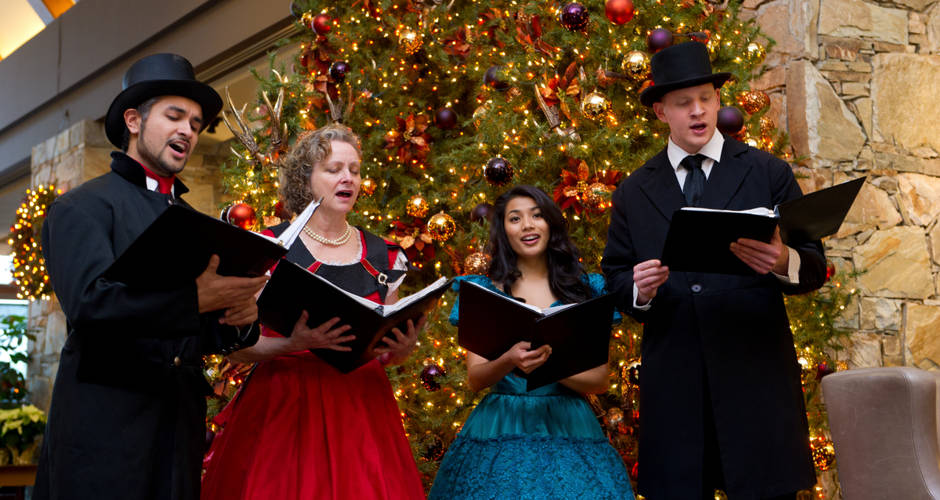 Christmas Eve Service | Photo Credit: Mike Crane
Tree Lighting Events in Whistler
Festival of Trees
When: November 30, 2019 – January 8, 2020
Where: Four Seasons Resort Whistler
Get into the spirit of Christmas as you wander through the 'Festival of Trees' display at the Four Seasons Resort Whistler. This popular tree display serves as sponsorship event for the BC Children's Hospital Foundation and features dozens of large Christmas trees decked out in their holiday best. The display is open to the public from November 30 to January 8.
Trees of Hope
When: December 1, 2019 – January 6, 2020
Where: Fairmont Chateau Whistler
In collaboration with Mountain Galleries, the 'Trees of Hope' features artwork from ten amazing Canadian artists, available to view in the Chateau Whistler lobby. Each painting features a Christmas theme and will be auctioned off at the end of the event with proceeds going to Canuck Place Children's Hospice. The display is open to the public from December 1 to January 6.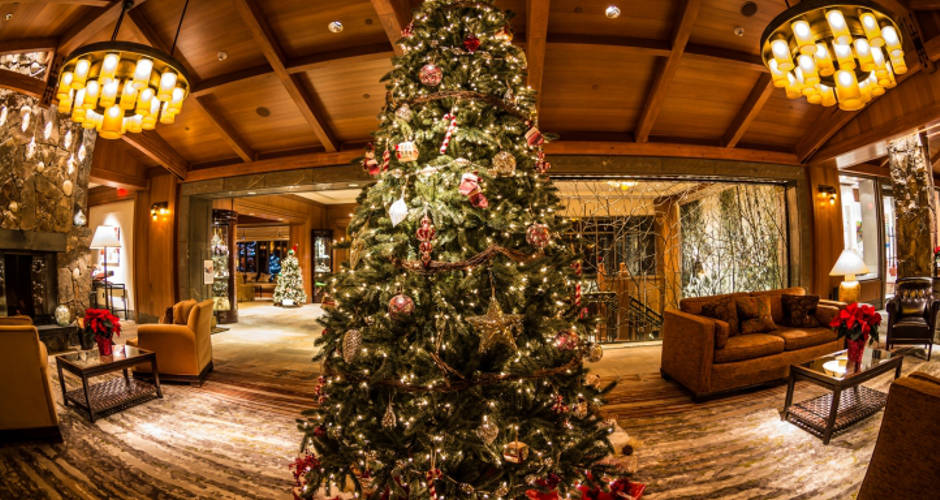 Festival of Trees | Photo Credit: Four Seasons Whistler
Book Your Whistler Christmas Accommodation
Book your Christmas stay with Whistler Platinum and choose from a selection of home rentals, townhomes, chalets and apartments. We offer accommodation rentals in Whistler's most desired neighbourhoods, whether you're looking for ski-in ski-out home rentals or direct Whistler Village access. Yes, we still have limited Christmas accommodation rentals available, visit our Whistler Christmas Accommodations page to find your holiday rental.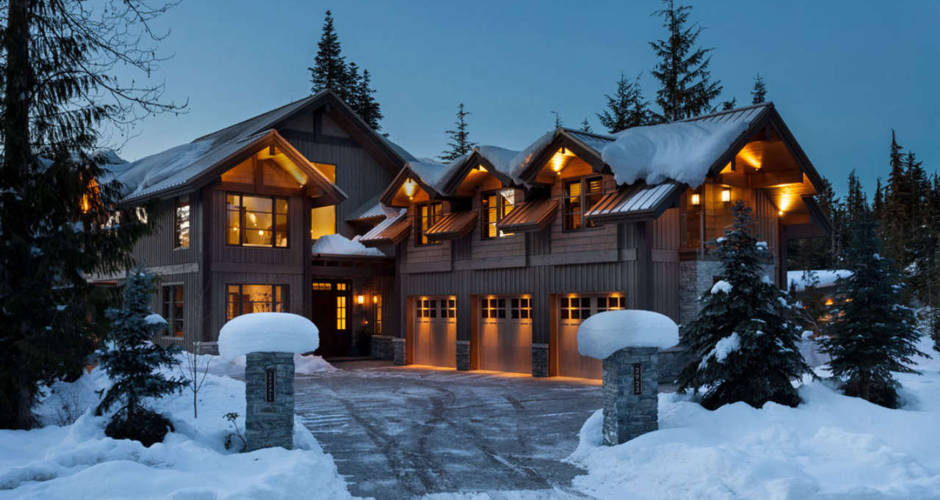 ---
Related Topics
Accommodation Accommodation local guide activities Alta Vista axe throwing Bears bobsled campout contest children christmas christmas activities christmas in whistler climbing Creekside dining In Whistler dog sled tour escape room fall activities Fall in Whistler family family activities family apres family fun holiday guide holidays kid friendly dining local guide neighbourhood neighbourhood guide Nicklaus North romantic getaway skiing Spring Activities Summer in Whistler Thanksgiving Thanksgiving activities Thanksgiving in Whistler Upper Village Whistler Bike Park whistler sliding centre winter activities winter family fun Winter in Whistler zipline ziplining