Planning a Whistler family vacation with your teenagers? It's a tough age and they can be hard to please but fear not – Whistler is fun for everyone! There is no shortage of things to do in this world-renowned ski town at any time of the year. From outdoor adventure tours to ziplining to skiing and snowboarding lessons, Whistler has something for everyone. In this blog post, we will explore some of the best summer and winter activities aside from spending time in the Whistler Village for families traveling with teenagers. So, whether you're looking to hit the slopes or have an adventurous vacation, read on for our guide to Whistler vacations with teens!
Things to do in Whistler with teens in the summer
Whistler is an outdoor paradise and there are plenty of activities to keep teenagers entertained throughout the summer months. From adrenaline-pumping adventure tours to more relaxed canoeing and kayaking, there won't be any dull moments. Here are some of the fun things to do in Whistler with teens in the summer:
ATV Tour
Off-road and behind the wheel of an ATV, you can explore Whistler in a whole new way. The forests, bush trails, and dirt tracks of the backcountry come alive as you and your teens zip along enjoying incredible views of the rugged coastal mountains and valleys. This is an adventure not to be missed! Drivers must be over 19 or older with a valid driver's license.
Jeep 4×4 tour
Your teens will be excited to leave paved roads behind and explore Whistler like never before. On this guided 4×4 tour, you and your teens will venture up Blackcomb Mountain, past glacier fed rivers, climbing 6000 feet for some serious elevation gain. Take in the beautiful views, breathe in the fresh alpine air and keep an eye out for wildlife during the ride. It's an adventure they won't soon forget!
Summer bobsleigh ride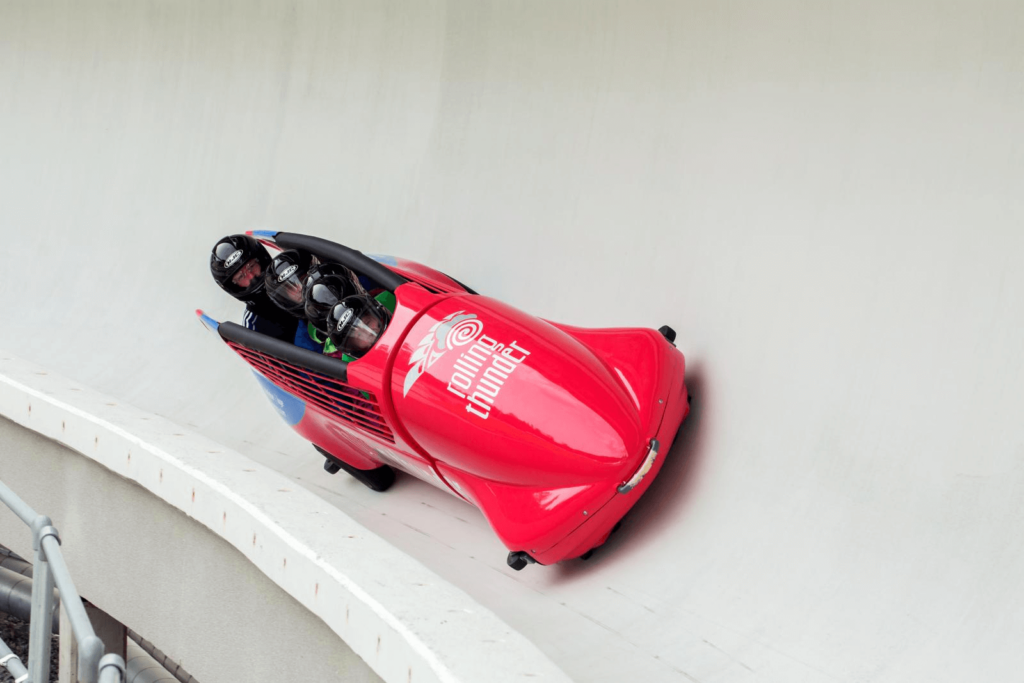 The summer bobsleigh in Whistler is not only one of the most unique things your teens can do but also a super fun activity for everyone in the family. You don't need to have any experience driving bobsleighs as the trained pilots will be in the driver's seat. The Whistler Sliding Centre will also provide orientation and a tour of the 2010 Olympic Winter Games site.
The wheeled bobsleighs can go up to 90km/hr so you will be able to enjoy the track's twists and turns at a high speed. Summer Bobsleigh runs rain or shine, so it's the perfect addition to your Whistler itinerary, whatever the weather
Mountain biking
Mountain biking is a great way to get outdoors and enjoy the fresh air while getting some exercise. It can be a fun activity for the entire family. Whistler is a great place to go mountain biking with its many trails and scenic views. The Lost Lake Trail network is one of the best trails for beginner and intermediate riders. But if you and your teens are experienced mountain bikers, definitely visit the Whistler Mountain Bike Park for the ultimate gravity-fed downhill biking experience.
Ziplining
Whistler has some of the most amazing ziplines in the world, and is even home to the longest zipline in North America! There are few things more exhilarating than ziplining through the scenic mountain valleys and forests. On the tour, you will zip from tree to tree on a series of cables while taking in incredible views of Whistler and Blackcomb Mountains. There are also a few suspension bridges and boardwalks that you will be able to cross. In between ziplines, you and your teen will learn fun and interesting facts about the local natural environment from your knowledgeable guide.
Whitewater rafting tour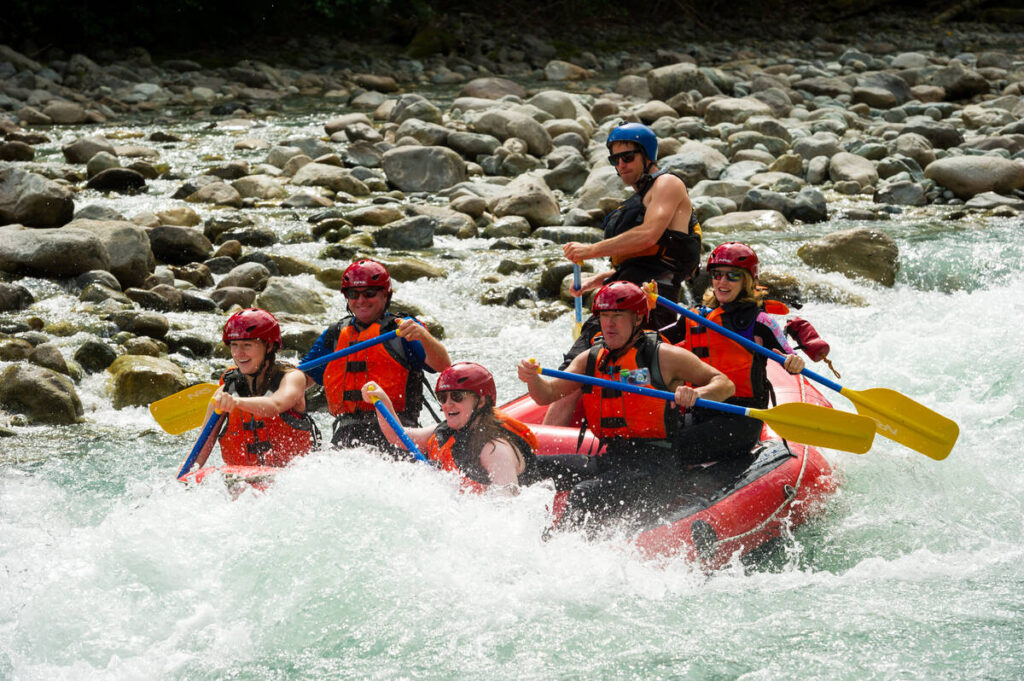 If you and your teens enjoy spending time in the water then signing up for a whitewater rafting tour is a must! Whistler and the surrounding areas are well-known for some of the best whitewater rides and rafting terrains.
River rafting trips range from rides that give you a rush, to trips that are fun for the whole family. Many whitewater rafting tour companies also offer free pick-ups from your accommodation so everyone can just sit back and prepare to get wet!
Canoe or kayak on a lake
Take in the stunning scenery of Whistler from the water as you paddle around one of the many lakes. Canoeing and kayaking are great ways to relax and bond with your teens in a calm and quiet environment. It's also a chance to see wildlife like beavers up close.
Hike or bike one of the many trails
Whistler is home to an extensive network of walking and biking trails that wind through forests, meadows, and mountains. There are trails suitable for all levels, so everyone in the family can enjoy a hike or bike ride together.
Things to do in Whistler with teens in the winter
Just like summertime, there are many fun things to do with your teens in the winter too! Here are some of the best activities that they will love:
Snowmobiling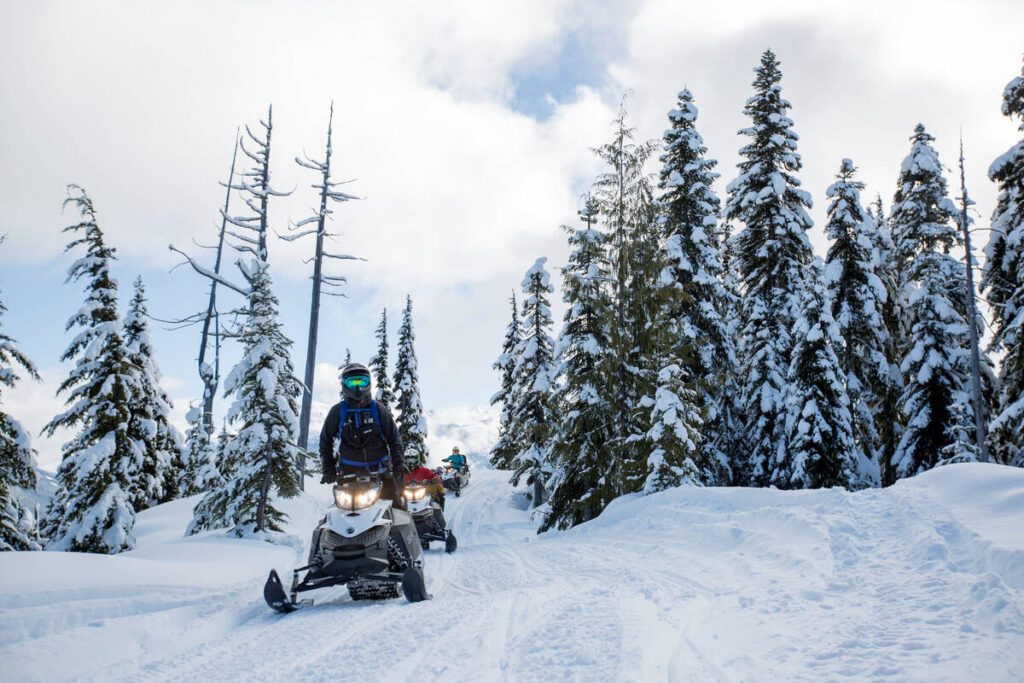 Snowmobiling is a great way to explore the backcountry in winter. Don't miss the opportunity to experience this treasured Canadian pastime!! Enjoy making the first lines through untouched snow or perfectly groomed trails as you journey through old-growth forest, passing frozen lakes to stunning viewpoints.
There are many different trails to choose from, and some snowmobiling tour companies run early morning and evening tours. You can easily pick one that suits your family's level of experience and schedule.
Ski and snowboard lessons
Whistler Blackcomb offers something for everyone and is a great resort to learn how to ski or snowboard. Whistler Kids Daily Lessons are tailored to teens between 13 and 18 years old for all levels. They can make friends and learn new skills at the same time. Private lessons are also available for families who want to learn to ski or snowboard together with their teens. This is a great way to spend quality time together while learning a new skill. Whistler has some of the best instructors in the world, so you can be sure that your family will have a great experience.
Ziplining in the winter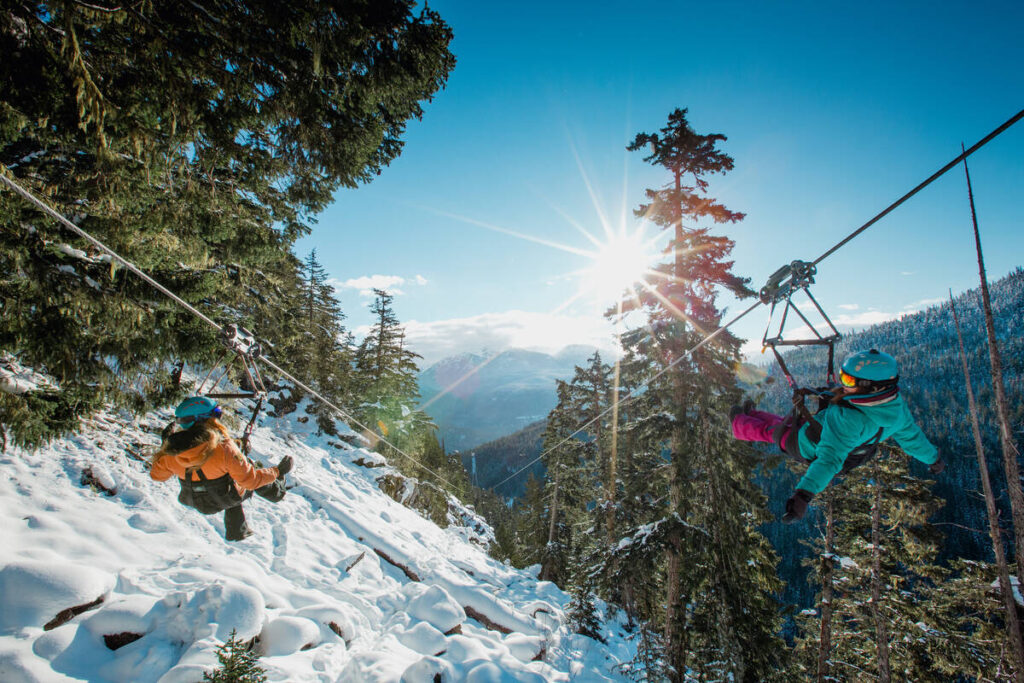 In the winter, the zipline courses in Whistler are a completely different experience. Soaring above the silent valley with the snow-covered trees and frozen rivers below is an unforgettable experience. You'll feel like you have been transported to a winter wonderland! It's an exciting way to spend a day above the snow, ziplining is definitely the activity for the whole family!
Snow tubing
Snow tubing is a great family activity to consider when everyone wants a semi-active day. It's a lot of fun and it doesn't require any skill or experience. All you need to do is sit in a tube and let the snow take you down the hill, with a conveyor lift waiting to take you back up to the top. Whistler Tube Park offers eight lanes of thrilling slides and is open into the evening. Why not take the family for a night adventure and try tubing under the lights?
Cross country skiing
A Nordic paradise, Whistler has over 150km of trails to explore and three destinations for cross country skiing. You will love how peaceful it is to glide through the snow-covered forests and meadows. It's also a great workout, and it's a great way to spend time with teens. There are many different trails to choose from, so you can find one that's perfect for your level of ability.
If your family is new to cross-country skiing, there are plenty of beginner-friendly trails. And if you're looking for a challenge, there are also black diamond trails that will test your skills. Whistler Olympic Park is a great spot to start, as it has many different trails of varying difficulty levels.
Snowshoeing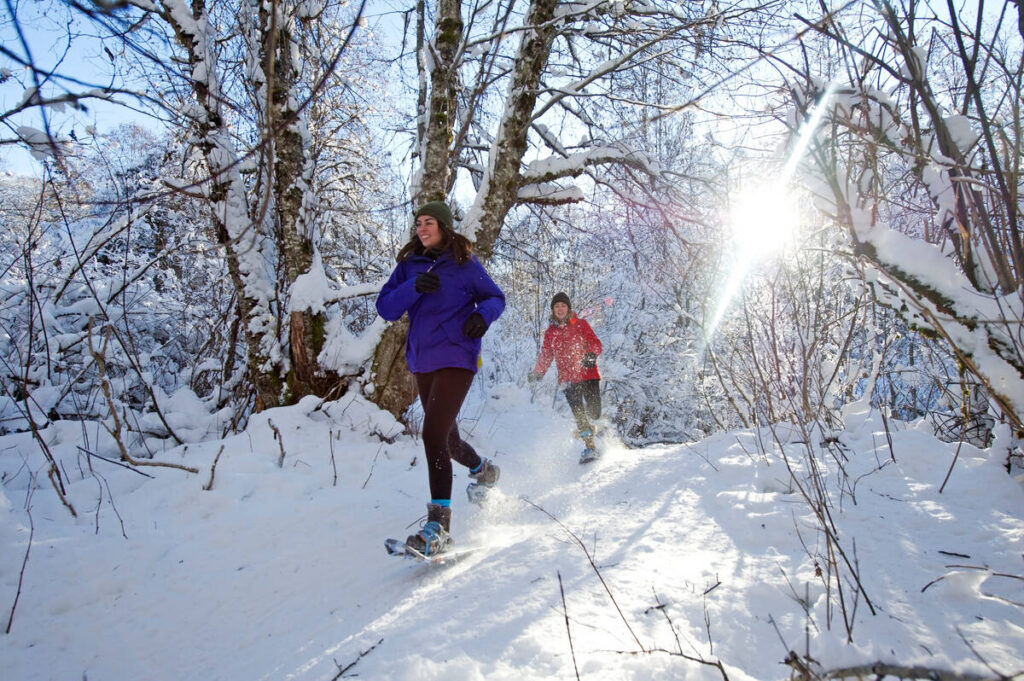 Snowshoeing is another great way to check out the Whistler winter wonderland. You don't need any special skills or experience. It's a fun and relaxing activity for the whole family. Just strap on a pair of snowshoes and head out into the snow! You can go at your own pace and explore at your own leisure. Whistler is a beautiful place to snowshoe, with plenty of trails to choose from.
For beginners or families who have never done snowshoeing before, consider joining a tour to learn more about this exciting and easy Canadian sport! The guides will take you on a walk and show you how to walk and use your snowshoes in different snow conditions.
There you have it, our guide to Whistler vacations with teens. With so many things to do in the summer and winter, your family will never be bored. It's time to get out there and enjoy all that Whistler has to offer.
Start planning your trip and book your Whistler accommodation today!
FAQs
How far is Whistler from Vancouver?
Whistler is about 120 kilometers (75 miles) from Vancouver, and it takes about 1 hour and 45 mins by car. The drive from Vancouver to Whistler is beautiful. The scenery is stunning and the roads are in great condition.
Where is the best place for families to stay in Whistler?
The best place for families to stay in Whistler is the Benchlands neighbourhood. The Benchlands is ideal for Whistler family accommodation because it's situated on Blackcomb Mountain and families will appreciate not having to go very far to have fun in the snow. In summer, families will enjoy nearby attractions and amenities such as 
tennis courts, the Chateau Fairmont Golf Course, the Valley Trail, and Lost Lake.
What is the best way to get to Whistler?
The best way to get to Whistler is by car, taxi/ride sharing, car rental or shuttle bus service with select stops in Whistler Village, Creekside and Blackcomb.
---
Related Topics
Accommodation Accommodation local guide activities Alta Vista axe throwing Bears bobsled campout contest children christmas christmas activities christmas in whistler climbing Creekside dining In Whistler dog sled tour escape room fall activities Fall in Whistler family family activities family apres family fun holiday guide holidays kid friendly dining local guide neighbourhood neighbourhood guide Nicklaus North romantic getaway skiing Spring Activities Summer in Whistler Thanksgiving Thanksgiving activities Thanksgiving in Whistler Upper Village Whistler Bike Park whistler sliding centre winter activities winter family fun Winter in Whistler zipline ziplining