Bird watching in Whistler BC has become a very popular activity and the town accommodates bird lovers from all around the world. With over 150 species of birds in the area, there is no shortage of feathered friends to spot.
With glaciated mountains on either side, it's easy to see why Whistler has been called the Valley of Dreams. This alpine paradise is home to countless bird species, including some higher-altitude specialities like Canada Jay, Clark's Nutcracker, and Ruffed & Sooty Grouse. Birding hotspots include Nesters Wetlands, Alpha Lake Park and Lost Lake Park. Bird watching is a year-round activity in Whistler, and with great accommodation available it makes this resort town a no-brainer for your next bird-watching vacation.
Birds you'll encounter in Whistler
Steller's Jay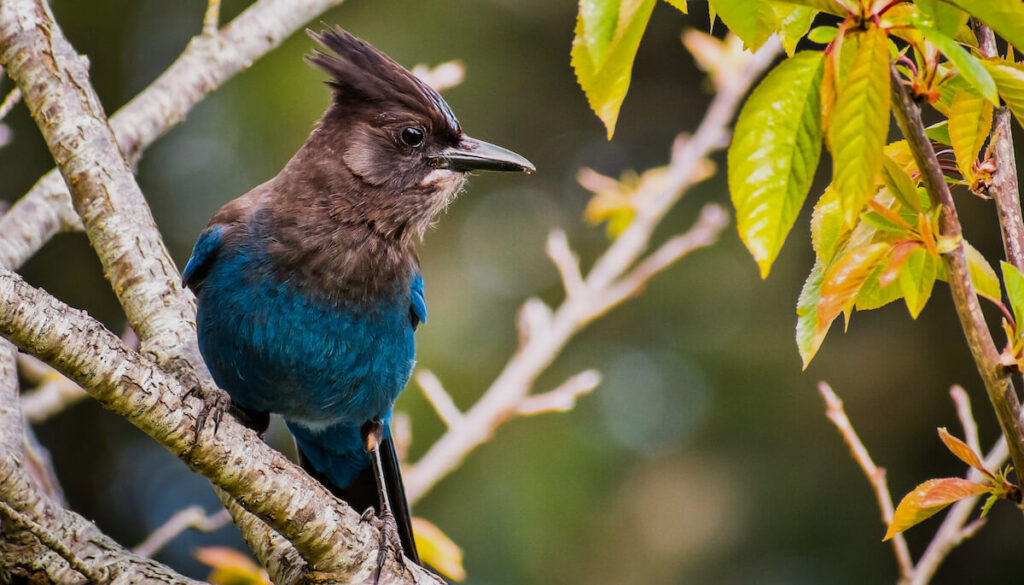 Steller's Jay is related to the friendly Canada Jay, also known as Whiskey Jack. Although not as friendly as their gray cousin, they are every bit as intelligent. These striking birds are half charcoal, and half blue in colour, making them easy to spot amongst the camouflaged background.
Steller's Jays spend much of their time exploring the forest canopy and coming down to the forest floor to investigate visitors and look for food. These birds love evergreen forests, so Whistler is their ideal home. They have a loud distinctive squawk making it easier to locate them.
Blue Grouse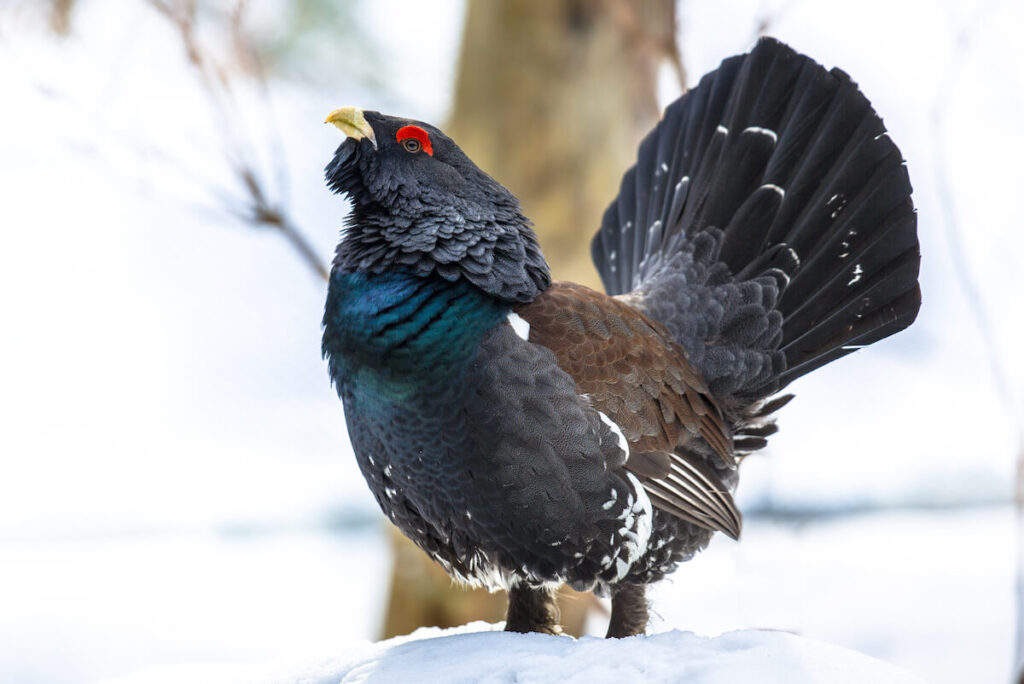 Blue Grouse is the general name given to the two subspecies – the sooty grouse and the dusky grouse, both of which can be found on your trip to Whistler. The Blue Grouse is the largest of the grouse that can be found in B.C, with males up to 55cm long and weighing 1.4kg. These unique birds are a treat to spot in the wild because of their distinctive air sacs on either side of their neck, which can range in colour from red, to yellow and orange. These quirky chicken-sized birds are found in the subalpine forests in Whistler and are easier to spot in Spring time.
Osprey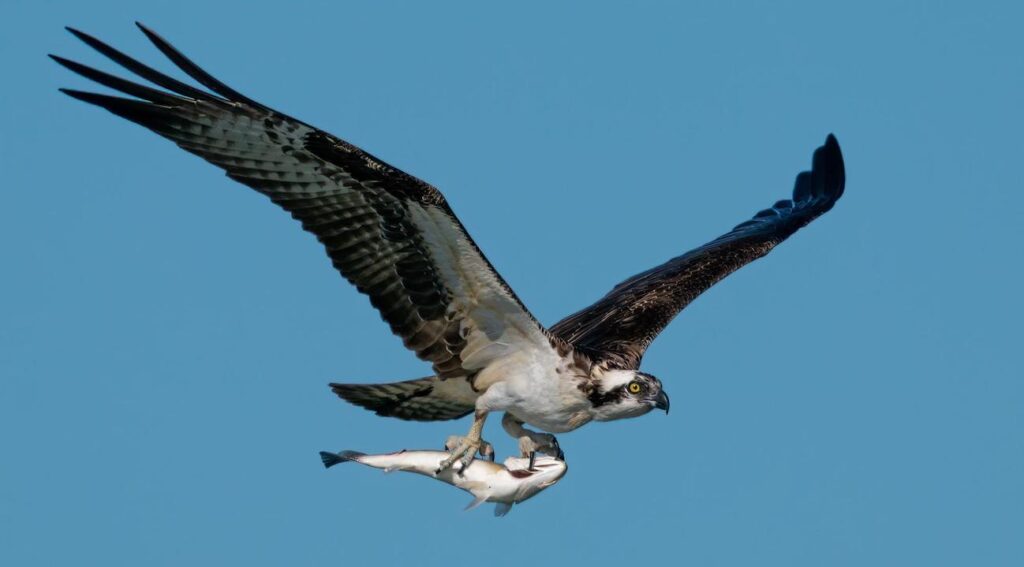 Ospreys have an impressive wingspan of 2 meters and can be difficult to spot due to their neutral colouring. Their dark brown topside and white underbelly make them blend easier into their surroundings. A distinctive feature to look out for is a brown stripe running through an Osprey's eye, almost like a mask. The Osprey's nickname 'fish hawk' stems from their incredible hunting skills. They have a set of enormous talons, which are used for gripping slippery, wriggling fish right out of the water. This makes Osprey an incredible hunter who never fails to make a catch, giving the bird the nickname 'fishing eagle' or 'fish hawk'. You do not want to get in the way of this speedy predator in hunting mode!
Ospreys are found close to large bodies of water, making nests near coastlines, rivers and lakes. Keep an eye out for enormous nests at the top of large trees near the water's edge. You might just have a reference photo of the osprey hidden in your wallet without your knowledge! The osprey was featured on the Canadian $10 bill for many years, being released in 1989 before being replaced in 2001.
Red-Winged Blackbird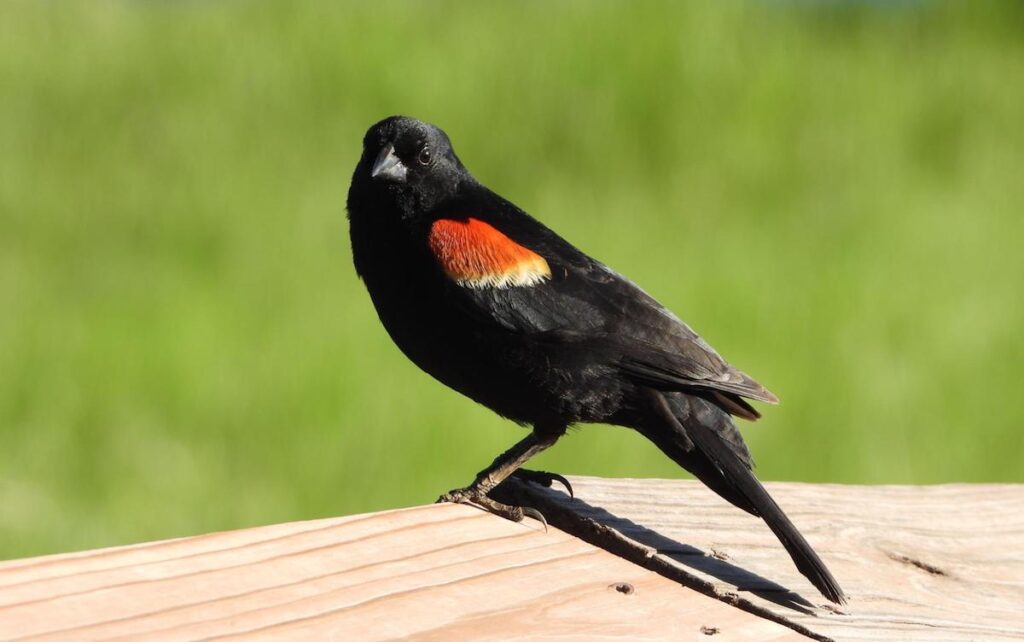 Exactly what it says on the tin, a Blackbird with a flash of red on its wing. Only the males are red-winged while the females are brown for camouflage. Luckily, red-winged blackbirds are abundant in numbers. They are easily found near the ground feeding or perched among the rushes on the north end of Alta Lake, at the source of the River of Golden Dreams in Whistler.
These feisty birds are known to be quite protective of their mates, as one male can have up to 10 females in his harem. They are known to defend their nests from predators with force by dive-bombing and swooping, so it is best to admire these handsome birds from afar.
Black-Capped Chickadee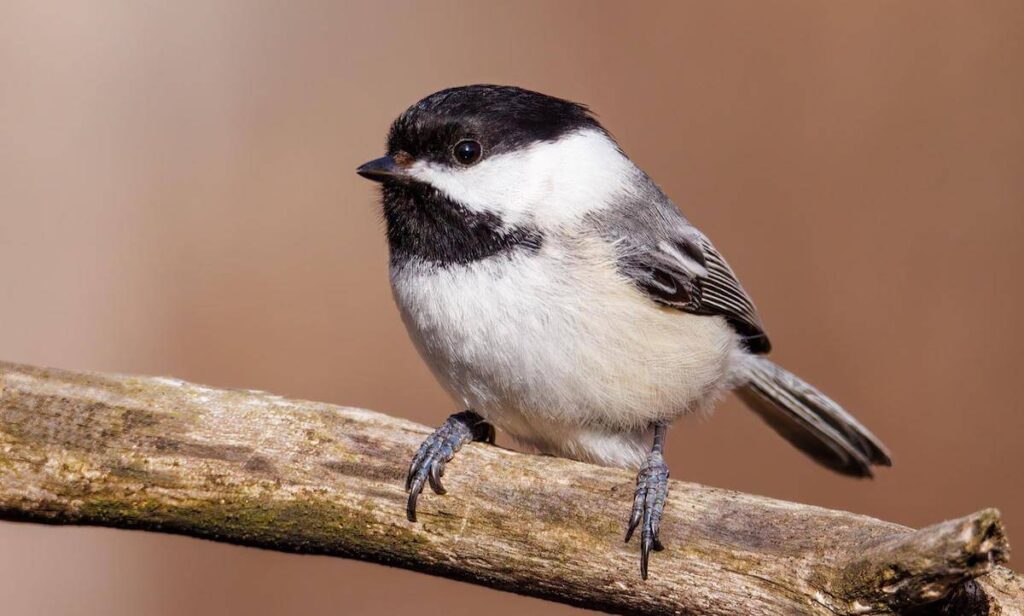 If you're feeling up to the challenge, the Black-Capped Chickadee can be a hard bird to spot. Whistler is home to multiple species of Chickadee, two being the black-capped chickadee and the chestnut-backed chickadee. These two birds can be hard to differentiate from afar as they are quite similar and tiny in size. However, with a keen eye and a good set of binoculars, you are bound to spot one of these little guys flitting from shrub to shrub around Whistler. This curious little bird is known for having little to no fear of humans, and it is famous for willingly, after a little "training," taking seeds and nuts from the hand.
Bald Eagles in Whistler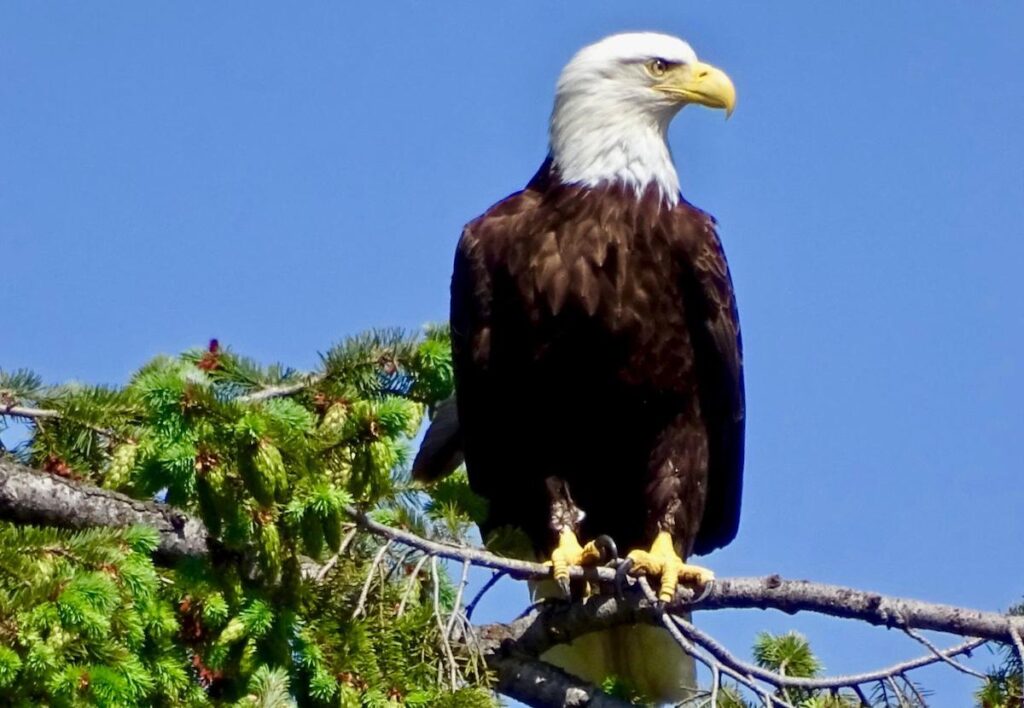 A little south of Whistler are the communities of Squamish and Brackendale. Branckendale inparticular is known as being home to one of the largest concentrations of bald eagles in North America. The local community is deeply committed to the conservation of their habitat and take part in educational activities to raise awareness about the importance of protecting these majestic birds. Resident volunteers help maintain nesting sites and keep watch over them throughout the year.
The Brackendale Eagles Provincial Park, located on the Squamish River, was created to protect one of the world's biggest populations of bald eagles. The park is open year-round and offers visitors the chance to explore the area, go wildlife watching, or take part in educational programs.
The annual Brackendale Winter Eagle Count takes place every January and provides important data on the local population of bald eagles.
Popular Bird-Watching Trails in Whistler
Whistler has a wide variety of hand-curated trails to assist you with your bird-watching experience. For more experienced bird watchers looking for a harder trail, there is the Iceberg Lake via 19 Mile Creek Trail which takes around 7 hours to complete.
For the more relaxed bird watchers looking for a laid-back trail, there are the Lost Lake and Brandywine Falls trails which only take an hour or less to complete. All the trails, whether long or short, tough or easy, still have some of the best bird-watching spots for you to experience on your trip.
Bird Watching In Whistler Is For You
With its wide variety of avian species, hand-curated trials, stunning views, and comfortable accommodation, Whistler is naturally becoming one of the most popular locations for bird-watching destinations. From rare birds like Steller's Jay to Red-Winged Blackbirds and common Ravens, Whistler has an extensive selection of birds that will make your bird-watching experience one to remember.
3 Commonly asked questions about Birding in Whistler
Can you feed birds in Whistler?
No, you can not feed the birds in Whistler as it often interferes with the wildlife's natural adaptation and can lead to overfeeding and dependence. Some birds do, however, enjoy feeding from the bird feeders in gardens and parks.
When is the best time to view bald eagles in Whistler?
The best time to view bald eagles in Whistler is between late November and early March.  Many bald eagles make towns such as Squamish and Brackendale their home for Winter.
What is the best month for bird watching in Whistler?
This depends on what birds you are looking to find. Springtime is popular, so in March until June as the weather becomes slightly warmer for tourists to enjoy hiking and outdoor bird watching, while also seeing some springtime birds such as swans and Ospreys.
---
Related Topics
Accommodation Accommodation local guide activities Alta Vista axe throwing Bears bobsled campout contest children christmas christmas activities christmas in whistler climbing Creekside dining In Whistler dog sled tour escape room fall activities Fall in Whistler family family activities family apres family fun holiday guide holidays kid friendly dining local guide neighbourhood neighbourhood guide Nicklaus North romantic getaway skiing Spring Activities Summer in Whistler Thanksgiving Thanksgiving activities Thanksgiving in Whistler Upper Village Whistler Bike Park whistler sliding centre winter activities winter family fun Winter in Whistler zipline ziplining