Spending holidays together is a wondrous time, and Thanksgiving in Whistler might just be our favourite holiday of them all. The crimson and amber fall foliage enrich the autumn palette and outfit the village in regal splendour. The alpine peaks surrounding the Whistler are once again snow-capped, and there's exciting energy livening the town as it prepares for the upcoming snow season.
And while enjoying a Whistler Thanksgiving might be a first for some, spending it away from home doesn't necessarily mean giving up all of its treasured traditions. The many Whistler residents that hail from out of province and overseas have developed their own special Thanksgiving traditions that they bring out every turkey day. Those can range from athletic to relaxing, culinary to crafty – all that matters is that the day is spent in the pleasure of friends and families' company.
We asked some of the locally-based Whistler Platinum team to share the events, dishes and experiences that make their holiday memorable. Adapt one or a few of them into your own celebration.
Enjoy a Thanksgiving Feast
A Whistler-based Thanksgiving celebration all but requires a few essential elements: a gleaming roast turkey (or plant-based alternative of your choice!), a few of your most cherished loved ones and a cozy setting to give thanks.
Our Owner Relationship Manager Erin hosts a 'Friendsgiving' dinner for her nearest and dearest every year. Regular features on her famous Thanksgiving menu include a slow-cooked turkey stuffed with apples, sage, onion and lemon, broccoli and cauliflower casserole and local smoked salmon on crackers with cream cheese for a starter. Yum! What makes her roast turkey dinner so special? Erin says her secret is wrapping the turkey in bacon before it goes into the oven. The crispy rashers are great for dipping in gravy and garnishing the casserole!
Hosting and cooking a Thanksgiving dinner with all of the trimmings in your Whistler Platinum home is a breeze. In your home, you'll find a fully equipped kitchen, seating for your guests and a fireplace to gather and share stories.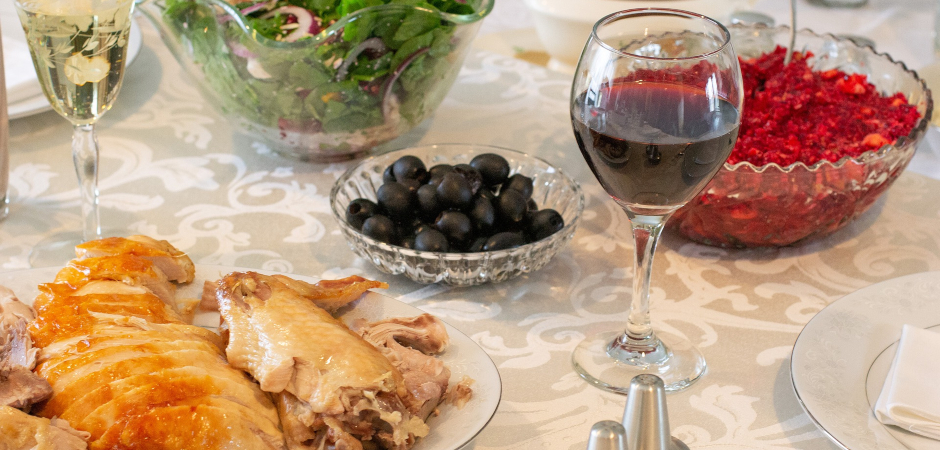 Feel like spending less time in the kitchen and more time with loved ones? Talk to our team about having delicious, ready-to-go meals and groceries delivered directly to your door. We can also help with restaurant recommendations and reservations for your Thanksgiving dinner in the village.
Get outside of Whistler Village
Enjoy the cool fall change and get some exercise before digging into the big meal. If you want to add a little challenge to your next walk in the park, or forest in Whistler's case, why not try frisbee golf? On a clear Thanksgiving Day, Maintenance Manager Jean-Sebastian, or JS, his wife and two kids take to the wooded course where they'll each take turns trying to land a frisbee-type disc into a basket with as few throws as possible. JS says frisbee golf is a free and fun activity that they can all enjoy together as a family. "It's a great way to spend time outdoors and a good excuse to get the kids away from smartphones and tablets."
Thanksgiving Monday also marks the final day of the Whistler Mountain Bike Park. Guest Services Manager Maddy will be making the most of the crisp autumn mountain air and hitting the trails in this world-class biking mecca! Maddy loves this time of year in the park because the jump trails are no longer dusty and the changing landscape from the dry summer to chilly autumn is breathtaking. "The view from Crank It Up trail is unreal this time of year. To watch the mountain peaks receive the first dusting of snow for the winter is truly special."
The fall months are a great time to experience riding in Whistler. The cooler temperatures provide respite from the hot sun and the lift lines and trails have emptied. Let us know your biking plans and Maddy and her team will be happy to share their favourite trails and help to organize bike rentals for pick up in the village or delivered to your Whistler Platinum home.
Attend a local event
Like the Bike Park, Thanksgiving also closes the chapter on the Whistler Farmer's Markets for 2021. Thanksgiving weekend will be your last chance to feast your senses and discover local vendors including a variety of delicious food and beverage offerings, local farms, and a selection of artisan craft-makers.
Our Accounting and Admin. Coordinator Victoria thinks the mushrooms she buys from the Farmer's market are culinary gold. "The guys there are awesome and they forage and grow the best mushrooms. The quality, the taste, everything. They're amazing." says Vic. She plans to take some to her parent's house for a Thanksgiving feast where she likes to cook them with garlic and butter and have them with veggies.
If you can drag yourself away from the dining table over the long weekend, the Whistler Turkey Trot is the latest exciting event added to the Whistler Thanksgiving event calendar. The family-friendly fun run leads runners through either a 5-kilometre or 10-kilometre course on Whistler's best trails in support of Crohn's and Colitis Canada.
Pick up a steal
Perhaps the hottest local Thanksgiving insight from this list comes from our Front Desk Supervisor Emily, who has made hitting the Turkey sidewalk sales part of her Whistler Thanksgiving weekend traditions. The Turkey sidewalk sale has become legendary in Whistler as the time and place to pick up huge pre-season savings on ski and snowboarding gear before the mountain opens.
After four seasons of snowboarding in Whistler in the same setup, Emily is looking for an upgrade. "I desperately want a new snowboard, bindings and boots for this season and I've been holding out for the Turkey Sale so I can grab a bargain!"
Our team had lots of fun reminiscing about their traditions, and hope you will have a great time sharing in them and making traditions of your own in our beloved town.
Reach out to our team if you need any more inspiration. We've been a part of the community for over 20 years and we've come to know Whistler and all of its hidden gems really well – and we'd love to share our secrets with you!
From all of us as Whistler Platinum, Happy Thanksgiving!
---
Related Topics
Accommodation Accommodation local guide activities Alta Vista axe throwing Bears bobsled campout contest children christmas christmas activities christmas in whistler climbing Creekside dining In Whistler dog sled tour escape room fall activities Fall in Whistler family family activities family apres family fun holiday guide holidays kid friendly dining local guide neighbourhood neighbourhood guide Nicklaus North romantic getaway skiing Spring Activities Summer in Whistler Thanksgiving Thanksgiving activities Thanksgiving in Whistler Upper Village Whistler Bike Park whistler sliding centre winter activities winter family fun Winter in Whistler zipline ziplining