There's something about Whistler that draws you in from the start. From its rich ski history to the panoramic snow-capped mountain backdrop to the Swiss chalet silhouettes lining the streets.
And, you'll soon realize that this former Olympic village is every bit as nostalgic as it first appears. But, it's much bigger than initially meets the eye. Whistler is a whole lot more than its picturesque town plaza. There are more than 20 distinct neighbourhoods in Whistler and the most frequented span 17 km (11 miles) between each other.
Before your arrival, you'll certainly want to know which neighbourhood offers the best places to stay in Whistler. So, let us spell it all out, allowing you to check in like a local and with the intel of an insider.
Where to stay in Whistler: 6 neighbourhoods to aim for
Whistler is filled with wild nature, fresh air, crystal water and alpine peaks. In this outdoor wonderland, there is seemingly endless space for the family to explore and no shortage of thrilling adventures to embark upon.
Once you've escaped the city crowds, it's up to you to choose the backdrop for your memories. Would you like to be in the heart of the village and experience the lively atmosphere? Or perhaps you're partial to lakefront living. Use this neighbourhood guide to measure the pros and pleasures of each place to stay in Whistler.
Whistler Village: Best spot for village immersion
Let's start with the hub, Whistler Village, as it's often thought of as the most desirable place to stay in Whistler. This isn't surprising since it's cradled at the base of both Blackcomb and Whistler mountains. Plus, it's the centre of the action, laced together by an extensive pedestrian zone. In other words, it's the pulse of Whistler, where all mountain lovers unite off the slopes.
Whistler Village Main Attractions
The Whistler Village Gondola for sightseeing and ski and bike park access on Whistler Mountain
Marketplace, boutique shopping, fine art galleries, and spas
Bars & clubs like Bar Oso, The Raven Room, and Garfinkel's make Whistler Village the most happening nightlife spot
The Olympic Plaza, established during the 2010 Winter Olympic Games hosts a variety of events and activities during both winter and summer
If you're looking for Whistler Village accommodation, be sure to check out this 2-bedroom 2-bathroom condo in Hearthstone Lodge. It offers guests spacious living, a private hot tub and a cozy fireplace.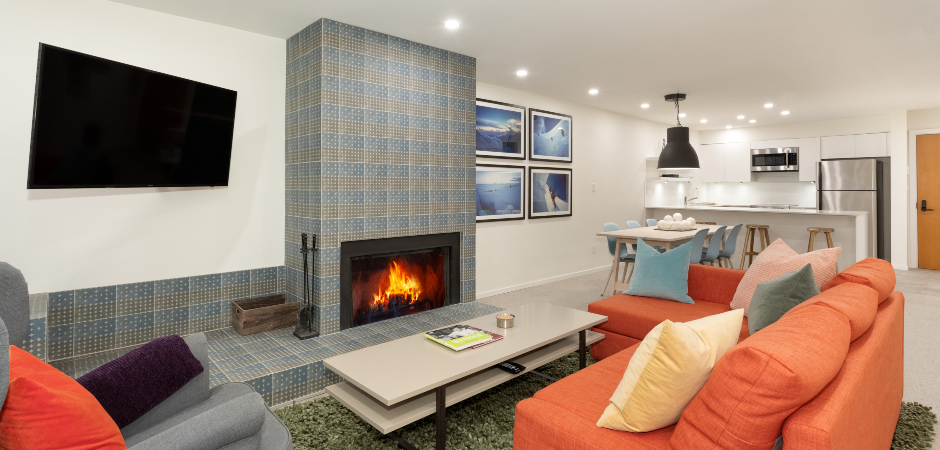 Creekside: Best for those who want to live like a Whistler local
Creekside is removed from the village centre and is about a 5-minute drive from Whistler Village. It's a quiet, residential area with a bit of historic flair, as Creekside is responsible for writing the opening lines of the Whistler ski story. It was here that the town opened to the rest of the world with the first lift to service Whistler Mountain, which has now been replaced with the Creekside Gondola, providing fresh tracks for skiers during the winter and mountain bikers during the summer. Creekside is an area loved by all for its quiet living and easy access to outdoor adventure.
What to do in Whistler's Creekside Village
Ride up the peaks in the Creekside Gondola
Explore the Valley Trail: a 40 km paved non-motorized pathway that reaches the surrounding neighbourhoods, parks, lakes, and forests
Access a host of ski runs and mountain biking trails
Eat at the vibrant cafes, lounges, diners, and pubs.
If Creekside is calling your name, we recommend this luxurious 4 bedroom ski-in and ski-out home. It boasts incredible views and a private hot tub to help soothe those muscles after a big day on the slopes.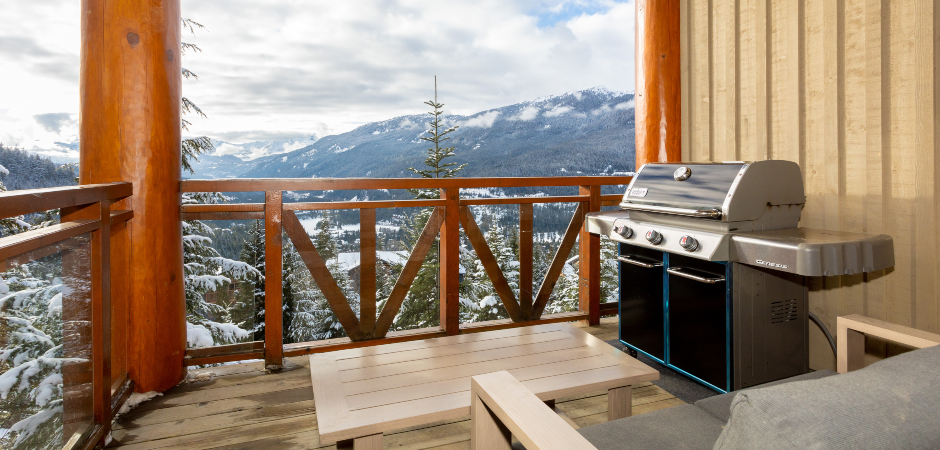 Upper Village: Best for skiers seeking direct mountain access
Upper Village is on the eastside of Whistler Village and is the slightly higher elevation sister of the main hub. The Upper Village offers direct access to the slopes and is ideal for those who want to walk out the door with their skis on. The locals refer to this as ski-in ski-out access. And while the Upper Village offers alpine seclusion, it's still just steps from the hustle and bustle of Whistler Village.
What to do in Whistler's Upper Village
Ride the Peak 2 Peak, a record-breaking lift that connects Whistler and Blackcomb mountains and gives an epic aerial perspective of Whistler during the 4.4km (2.7 miles) ride
Rent a bike from the many rental stores at the base of Blackcomb mountain and explore Whistler's famous trails
Highly regarded restaurants including Sidecut, Milestones, and Legs Diamond offer an unforgettable dining experience
Numerous bars from the laidback Fitzsimmons Pub to the more refined Mallard Lounge offer everything from après craft beers to espresso martinis in the Upper Village.
If heading to the mountains for you and your small group means getting as close to them as possible, we recommend staying in the Upper Village, and in this Pinnacle Ridge 5 bedroom Whistler townhome, below.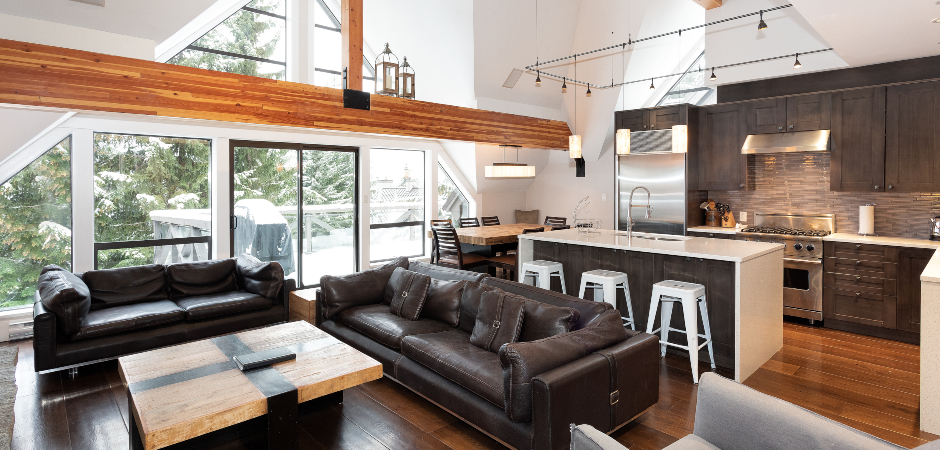 Nicklaus North – Best for those wanting green space
The peaceful neighbourhood of Nicklaus North is just north of Whistler Village and is a community centred around the world-renowned Nicklaus North Golf Course. It's popular with golf lovers who enjoy having the Jack Nicklaus designed course at their doorstep in the summer, and in winter can hit the vast network of cross country trails at Lost Lake. Nicklaus North is home to spacious and luxurious accommodations, great for groups or families and is an ideal year-round location as it is only a short 5-minute drive, bus, or taxi ride to the ski lifts.
Things to do in Nicklaus North, Whistler
Unwind at Table Nineteen, Whistler's best patio as voted by locals
Explore Whistler from a Float Plane that takes you over ancient glaciers, rugged mountain peaks, and lush alpine meadows
A pamper day at the Scandinave Spa should be included in any Whistler trip itinerary
Visit the sandy beaches at Green Lake as you gather the courage to take a dip in Whistler's coldest lake!
This 4-bedroom Nicklaus North townhome (below) is perfect for someone wanting space, luxury, modern amenities and convenient access to the famed Nicklaus North golf course.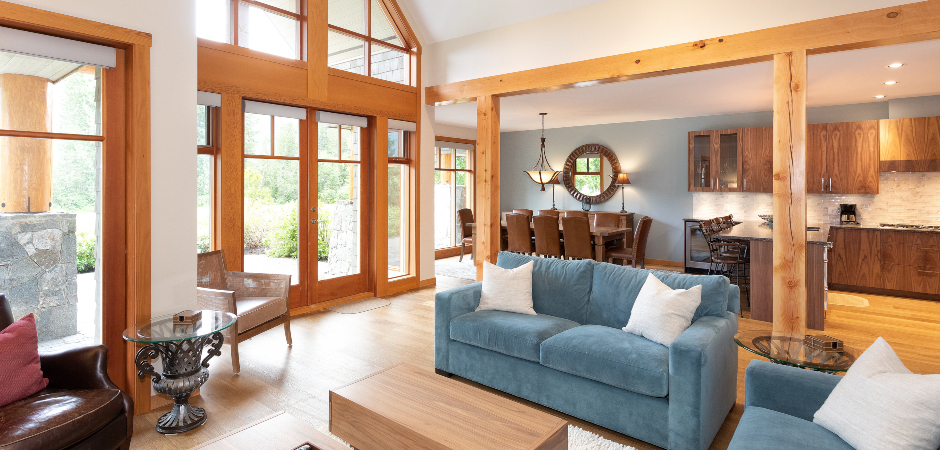 Blackcomb Benchlands – Best for those wanting to get away from it all
One of Whistler's most sought-after locations, Benchlands is nestled above the Upper Village on Blackcomb Mountain. Some of Whistler's best trails and ski-in ski-out runs start from Benchlands, but if you're more inclined to drive, the main attractions of Whistler are only a few minutes away. While Benchlands appeals to those with an appetite for adventure, the peaceful forest surroundings let visitors slow down the pace and breathe in the fresh mountain air.
Main attractions in Benchlands, Whistler
In this true ski-in-ski-out location, do as the locals say and ski-in-ski-out!
Hike the Blackcomb Mountain Ascent Trails and wander amongst beautiful old-growth coastal rainforest terrain
Enjoy easy access to the Lost Lake trails for hiking, biking, cross country skiing when the snow falls, or even lay out at Lost Lake Beach
Take the free shuttle to the Squamish Lil'wat Cultural Centre and experience a guided tour through the museum followed by a delicious meal with a First Nations twist at the Thunderbird Cafe.
Woodrun Lodge is one of the most popular ski-in and ski-out accommodations in the entirety of Whistler Blackcomb – and this 2-bedroom condo will not disappoint! Enjoy a heated outdoor pool, parking, and a slopeside location.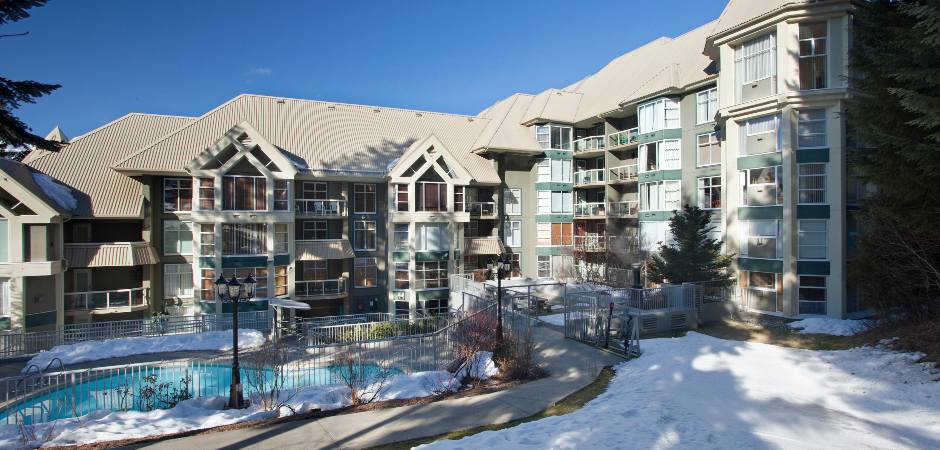 Alta Vista: Best for those wanting lake access
Arguably one of the most luxurious spots in Whistler, Alta Vista is nestled between Whistler Village and Creekside. It's the stuff epic views are made of with many properties boasting water vistas of Alta Lake out one window, Blackcomb out the other, and the glistening lights of the village centre from afar. Alta Vista is the spot to be if you just want nature and would rather skip the rest of resort village life.
How to spend your time in Alta Vista, Whistler
Go to the alpine waterfront parks along Alta Lake, they are the main attraction in Alta Vista
Get on the water with boating, kayaking, and paddleboard rentals at Wayside Park
Visit the sandy beaches at Lakeside Park or jump off Blueberry docks
Hike or bike along the Valley Trail.
Stunning views and incredible open-concept design await you at this 3-bedroom Alta Vista Vacation Rental townhome. Enjoy a private hot tub and easy beach access.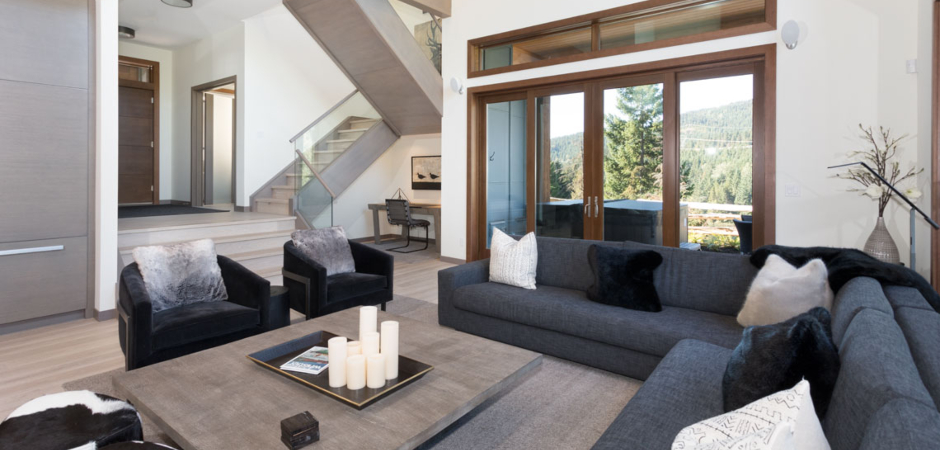 Once you've settled on the right place to stay, let Whistler Platinum find you the perfect Whistler accommodation to match! Fortunately, each neighbourhood has something special to offer you and your group, making it impossible to go wrong.
---
5 Common questions about places to stay in Whistler
1.) Where to stay in Whistler on a budget?
To stay in Whistler on a budget, even during the peak winter season. One option is to stay in a Whistler condo that allows you to cook your own meals rather than eat out all the time. Another is to look for Whistler accommodations that offer deals and packages for guests who book early or even stay longer.
2.) How far away is Squamish from Whistler?
Squamish is about 45 minutes away from Whistler by car. This drive takes you along the Sea to Sky Highway, which is a beautiful drive in itself.
3.) How far away is Whistler Creekside from Whistler Village?
Whistler Creekside is about 4 kilometers away from Whistler Village, which is around 7 min by car. This is a relatively easy walk of an hour or a bike ride of 27 minutes if you want to explore.
4.) Is there public transit in Whistler?
Yes, there is public transit in Whistler. The local bus system is run by BC Transit and offers service to many areas of Whistler, including the village and Creekside. There is also a regional bus that runs between Vancouver and Whistler.
5.) Where can I buy groceries in Whistler?
There are several places to buy groceries in Whistler such as The Whistler grocery store, and Nesters Market, which is located in the village. There are also smaller markets scattered throughout Whistler, including Creekside and Marketplace, and a Shoppers Drug Mart in the village.
---
Related Topics
Accommodation Accommodation local guide activities Alta Vista axe throwing Bears bobsled campout contest children christmas christmas activities christmas in whistler climbing Creekside dining In Whistler dog sled tour escape room fall activities Fall in Whistler family family activities family apres family fun holiday guide holidays kid friendly dining local guide neighbourhood neighbourhood guide Nicklaus North romantic getaway skiing Spring Activities Summer in Whistler Thanksgiving Thanksgiving activities Thanksgiving in Whistler Upper Village Whistler Bike Park whistler sliding centre winter activities winter family fun Winter in Whistler zipline ziplining