Yes, we all know and love Whistler for its world-class skiing and snowboarding, however, the fun doesn't end once the snow melts. Whistler offers some great beach spots during the warmer months with lots of fun summer activities. Though it's not a coastal town, the nearby lakes and rivers provide plenty of opportunities for swimming, sunbathing, and so much more. Plus, with so many luxury vacation homes with great amenities like outdoor hot tubs available, where else would you want to be? Here are some of the best beach spots in and around Whistler.
Love Whistler to the Beach and Back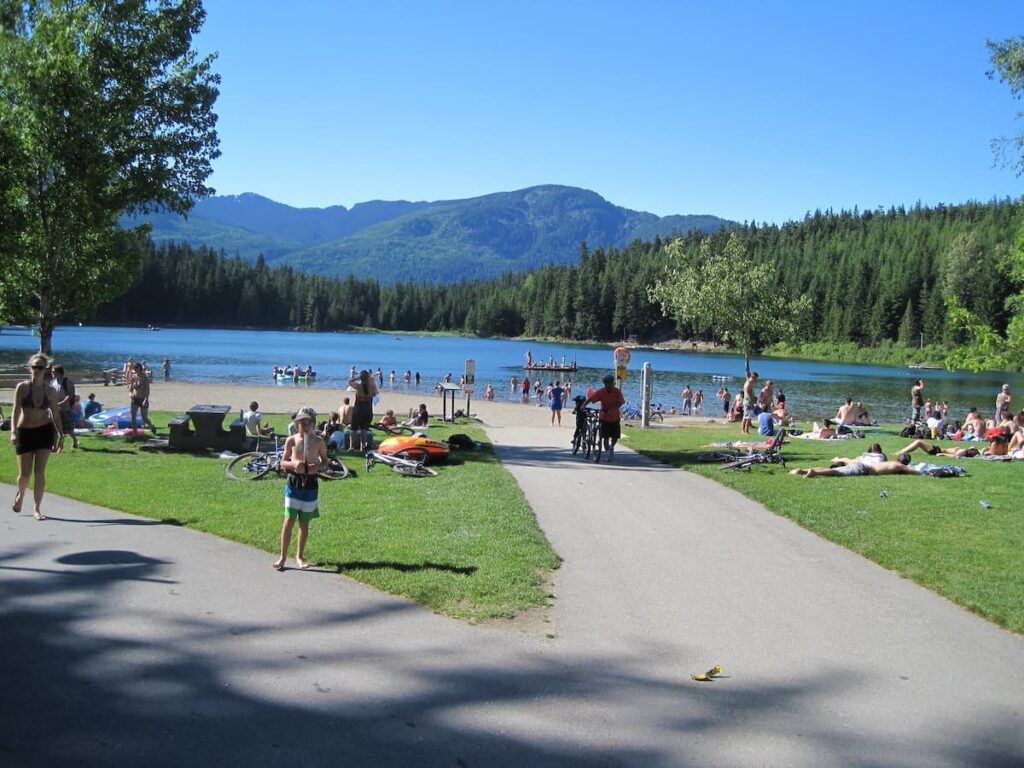 Lost Lake Park
A short walk or bike ride from Whistler Village, Lost Lake Park is a hidden gem surrounded by lush forest. Only a seven minute drive from Whistler Village, this sandy beach is great for sunbathing, while the clear waters are perfect for swimming and paddleboarding. There are also walking and biking trails around the lake.
Dogs are also welcome here, with a nearby off-leash area provided. If you get peckish, there is a concession stand on site, plus public washrooms and picnic tables with built-in barbeques for the public's convenience.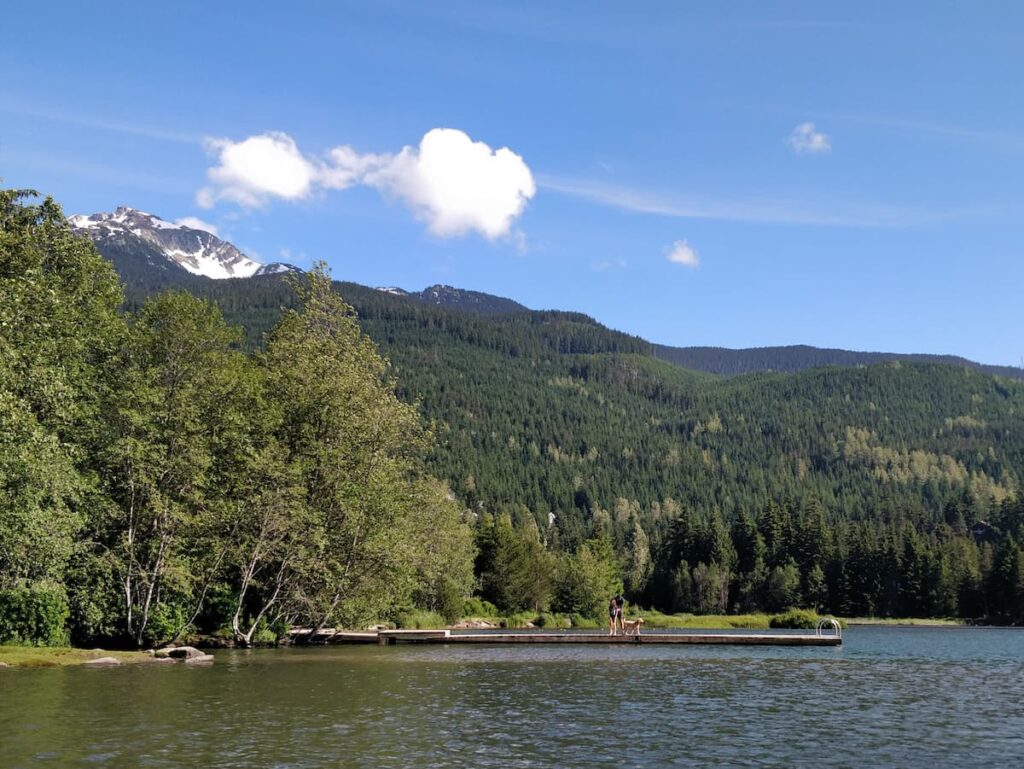 Alpha Lake Park
Situated in Whistler's Creekside neighborhood, Alpha Lake Park offers a more secluded beach experience. The park features a sandy beach, a swimming dock and tennis courts. It's a great spot for families or those looking for a quieter beach day. For the more energetic kids, Alpha Lake also has a great playground for kids, known as the 'Owl's Nest'. If you're planning on bringing your furry friend along for the day, the park has a nearby dog park called 'Afra Park' where your dog can mingle and sniff to their heart's content.
Wayside Park & Lakeside Park
Wayside Park is another beach spot located on the shores of Alta Lake. Although smaller than its neighbor Rainbow Park, Wayside Park is a smaller beach spot, perfect for those seeking a more intimate setting. With picnic tables, a BBQ area, and a swimming dock, it's ideal for a relaxed beach day with friends or family.
Lakeside Park is another beautiful beach spot located on Alta Lake. This small, quaint beach offers visitors sandy shores, a swimming dock and a picnic area. It's perfect for those looking for a quieter beach to sit, relax and take in the spectacular mountain views. Lakeside also has canoe and paddleboard rentals available during the summer months. An advantage of Wayside and Lakeside park is that when the sun sets on its larger, busier neighbor Rainbow Park, the sun continues to shine on the beaches of these smaller beaches.
Green Lake
Green Lake, named for its breathtaking aquamarine hue and framed by towering mountains, is one of the largest lakes in Whistler. While there isn't a designated beach area, you can find several access points along the shoreline. It's a great spot for water activities like kayaking, paddleboarding, and swimming. You can even take a boat out and throw a line to fish, you're promised spectacular views of emerald green forests and Blackcomb Mountain.
Alta Lake – Rainbow Park
Located on the shores of Alta Lake, Rainbow Park is a popular spot for both locals and visitors. With stunning mountain views, a sandy beach, and a large grassy area, it's perfect for sunbathing and picnicking with friends.
Rainbow Park is a popular spot for locals to come and soak up the sun, and it also offers great water sport opportunities like kayaking, canoeing and stand-up paddleboarding. The park also has beach volleyball courts and a dog-friendly area. From the comfort of your beach towel, you'll have spectacular views of Whistler and Blackcomb Mountains.
Note: Rainbow Park will be closed in 2023 for the Rainbow Park Rejuvenation Project and is due to reopen in June 2024.
Enjoy a Summer of Fun in Whistler
Although not located on the coast, beaches in Whistler clearly still have so much to offer. From the buzzing Rainbow Park beach, the local favorite Lost Lake beach to the stunning and picturesque Green Lake beach, Whistler's shores are the place to be this summer. Whether you're seeking a laid-back, chill day of sunbathing, or a fun-filled day on the water kayaking or paddleboarding, Whistler beach spots have so many exciting activities for you to enjoy.
Check out our incredible portfolio of Whistler vacation rentals so you can have a fabulous home to go wash the sand off and relax in the evenings. So, pack your swimsuit, sunscreen, and a sense of adventure, and experience Whistler's best beach spots for yourself. You may just find a new favourite summer destination nestled among our majestic mountains.
Some Questions About Whistler Beach Spots
What are the best lakes and beach spots in Whistler?
Some popular lakes and beach spots include Lost Lake, Alta Lake, Green Lake, Alpha Lake, and Nita Lake.
Are there any water activities available at these lakes?
Yes, you can enjoy activities such as swimming, paddleboarding, canoeing, kayaking, and fishing.
Are the beaches and lakes in Whistler pet-friendly?
Many of the lakes have designated dog-friendly areas, but it's important to check the rules and regulations for each specific location.
When is the best time to visit Whistler's lakes and beaches?
The summer months (June to September) typically offer the best weather for enjoying outdoor water activities in Whistler.
---
Related Topics
Accommodation Accommodation local guide activities Alta Vista axe throwing Bears bobsled campout contest children christmas christmas activities christmas in whistler climbing Creekside dining In Whistler dog sled tour escape room fall activities Fall in Whistler family family activities family apres family fun holiday guide holidays kid friendly dining local guide neighbourhood neighbourhood guide Nicklaus North romantic getaway skiing Spring Activities Summer in Whistler Thanksgiving Thanksgiving activities Thanksgiving in Whistler Upper Village Whistler Bike Park whistler sliding centre winter activities winter family fun Winter in Whistler zipline ziplining