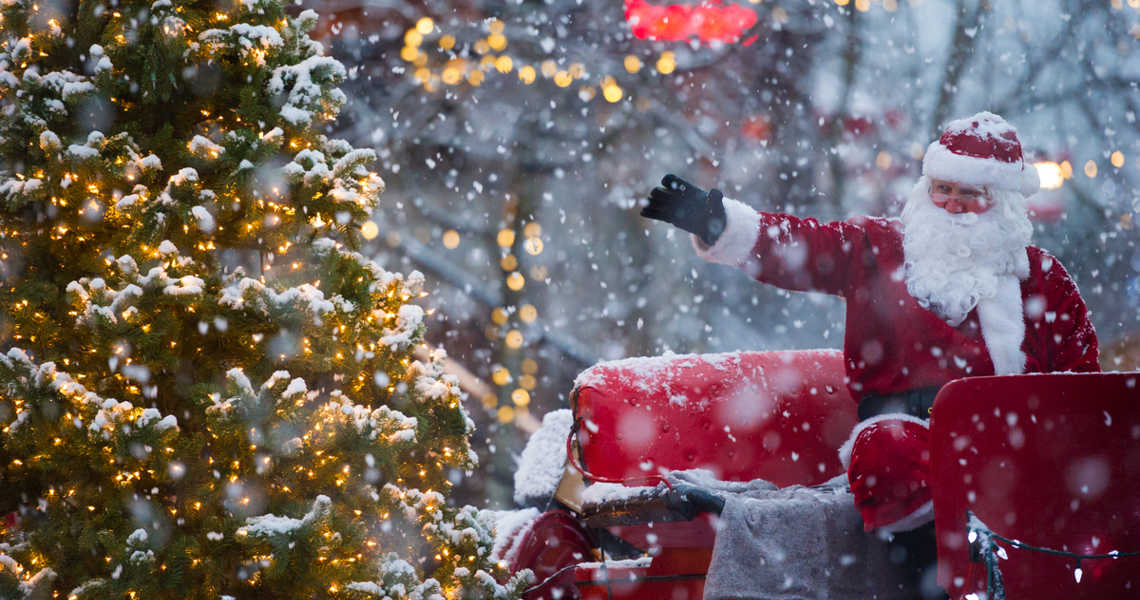 Christmas in Whistler 2023: A Magical Holiday Season Guide
As the snow blankets the rugged peaks and the village streets begin to twinkle with decorative lights, there's a certain magic in the air that can only be found during Christmas in Whistler. This world-renowned winter wonderland, nestled amidst the breathtaking Coast Mountains of British Columbia, is not just a haven for snow sports enthusiasts, but also a festive paradise for those in search of the quintessential holiday experience. Whether you're planning to race down the slopes or merely relax by a roaring fireplace, Whistler Christmas vacation rentals offer the perfect backdrop for an unforgettable festive season. Step into a world where yuletide joy meets natural beauty, and discover why Whistler in 2023 is the Christmas destination of your dreams.
Christmas Festivities in Whistler
Whistler, with its stunning snowy landscapes and vibrant village atmosphere, makes for the ideal winter wonderland backdrop for your family's Christmas getaway. Every year, both locals and tourists participate in an array of festive activities. Whether it's watching Christmas films by a roaring fireplace, drinking hot chocolate at the Christmas markets or shredding the slopes, Whistler has it all. Here are some of the traditional Christmas festivities that take place in Whistler;
Festive Events in Whistler
Skating at Whistler Olympic Plaza
This open-air rink in the heart of Whistler Village is a favorite among locals and tourists during the festive season. The surroundings, adorned with lights and festive decorations, add to the charm. The open-air rink often features special themed nights or performances on the ice. Perfect for visitors of all ages, ice skating at Olympic Plaza is a must-do festivity that can be enjoyed day and night.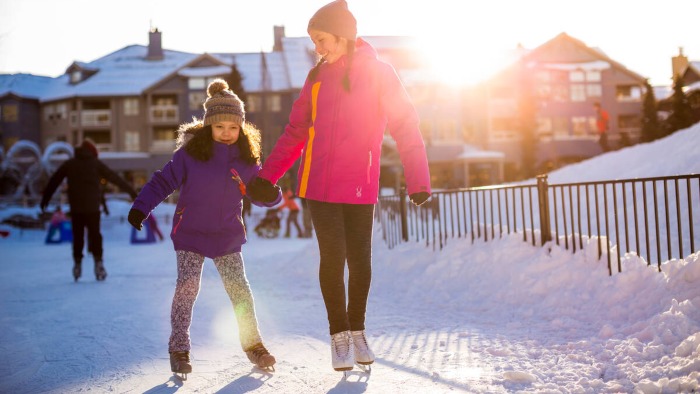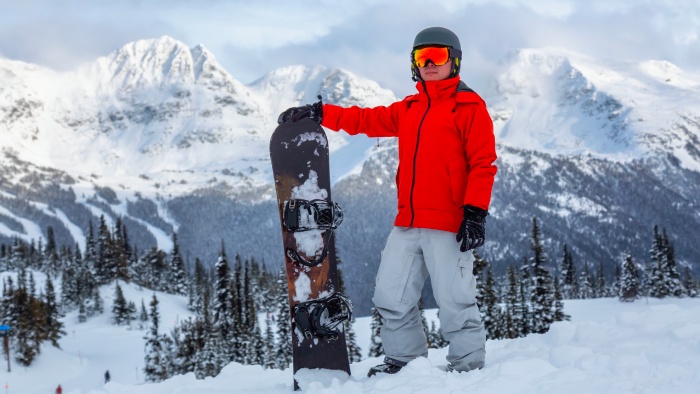 Hitting the Slopes
During Christmas time, Whistler becomes a haven for winter sports enthusiasts, boasting some of the world's best skiing and snowboarding terrains. The majestic mountains come alive with a shimmering blanket of snow, offering a range of slopes catering to beginners, intermediates, and professionals alike. The world-class gondolas, such as the Peak 2 Peak, provide not only easy access to these slopes but also panoramic views of the snowy expanse below.
Renowned for its consistent snow quality, Whistler promises powdery delights and well-groomed runs, ensuring an unparalleled experience for all who carve their way down its slopes. The crisp mountain air, contrasted with the scent of pine and the distant sound of carolers from the village below, makes every descent feel like a journey through a winter wonderland.
Wintersphere
Wintersphere, an enchanting winter wonderland, awaits both travellers and locals in the heart of the mountains.
Children and their families can meet Santa Claus, enjoy captivating entertainers, savour delicious seasonal treats at the holiday café, and witness the creativity of young minds at engaging kids' crafts. And don't forget to explore Wintersphere's signature holiday maze, a thrilling adventure filled with fun and surprises.
This delightful pop-up event is quickly becoming a favourite for families during the holiday season, drawing both locals and visitors to its seasonal charm and engaging activities. If you're planning your holiday festivities, be sure to include Wintersphere in Whistler Village. Join the fun and create lasting memories for your little ones.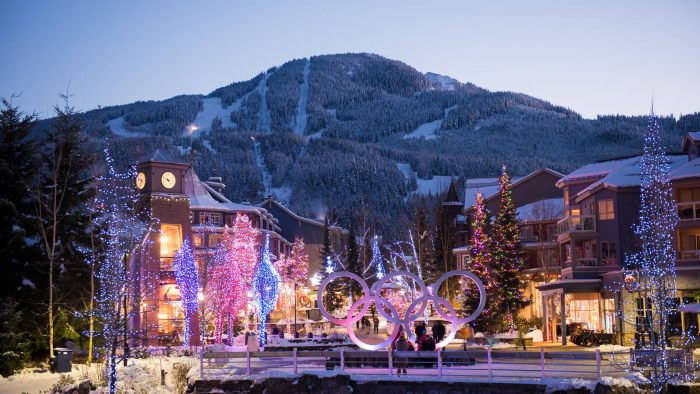 Christmas Caroling
During the festive season in Whistler, the air is filled not just with snowflakes but also the harmonious melodies of Christmas caroling. Whistler Village and its surrounding areas become alive with the sound of carolers, from local choirs to groups of residents and visitors, sharing the joy of the season through song. Traditional carol services are held in various venues, bringing together people of all ages to revel in the timeless spirit of Christmas.
Attend the Fire and Ice Show
The Fire and Ice Show in Whistler is a dazzling fusion of athleticism and spectacle, offering the audience an unforgettable experience during the Christmas season. Set against the frosty backdrop of the mountains, this free event showcases talented skiers and snowboarders as they leap through rings of fire, displaying an array of gravity-defying tricks and maneuvers. As the name suggests, the fiery elements of the show are juxtaposed with the icy sheen of the ski slopes, creating a visual and sensory extravaganza.
Coupled with music, fireworks, and fire spinners, the Fire and Ice Show is not just a testament to the skills of the athletes but also a celebration of Whistler's vibrant winter culture, making it a must-see event for anyone spending Christmas in this snowy paradise.
Luxury Festive Services
This holiday season, hop on Santa's sleigh to discover how Whistler Platinum can create magic for you and your family in Whistler. Let us bring you time-honoured traditions and new sources of holiday cheer in this winter wonderland.
Please note that all our services are subject to availability.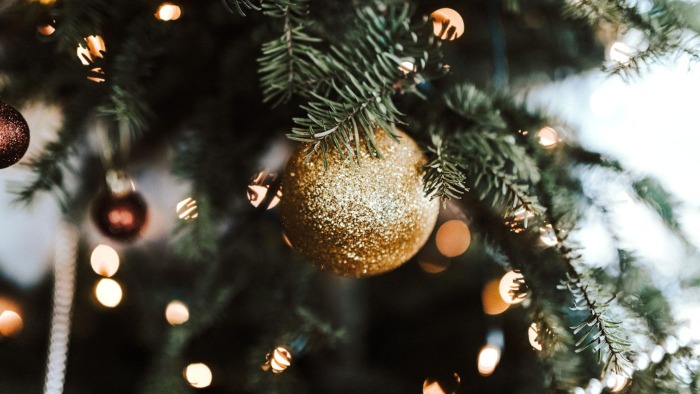 Deck the Halls
Here at Whistler Platinum, we offer Christmas Trees and Festive decorating packages to get you in the Christmas spirit the minute you enter your luxury vacation rental. So, let us spruce things up and you can arrive at a beautifully decorated home, adorned with festive lights and a Christmas tree in your living room, making you feel more at home while you are on vacation. Forget about the fuss and leave it up to us to create your ideal holiday home this Christmas season.
Christmas Dinner
This Christmas, leave the stress and fuss at home and let someone else do the cooking! Have your pre-cooked Christmas dinner delivered, complete with simple re-heat instructions or book your Christmas dinner at one of over 90 restaurants in Whistler. Call us at 1.877.932.1777 to book.
Experience Christmas in Whistler
With its snowy mountains and the festive lights decorating the village, Whistler beckons all craving a Christmas experience unlike any other. Whether it's the thrill of swooshing down pristine slopes, the allure of festive markets, or the simple joy of a sleigh ride through a winter wonderland, this charming town has a magic that's hard to resist. This year, make memories that will last a lifetime and let Whistler be the backdrop to your perfect Christmas story. Come, experience the magic.