Surrounded by stunning mountain views and filled with endless adventures, Whistler is the perfect destination for couples looking to create unforgettable memories. Escape to Whistler for a romantic getaway that will see you connect deeper with your special someone and the phenomenal nature whistler is known for. Whether it's for a Valentine's Day celebration, an anniversary celebration, or simply a getaway for two, this mountain town has everything you need for the ultimate romantic escape that will leave you feeling refreshed and rekindled.
There are endless indoor and outdoor activities to enjoy in this beautiful town. Here are the top romantic things to do in Whistler.
Take a Scenic Gondola Ride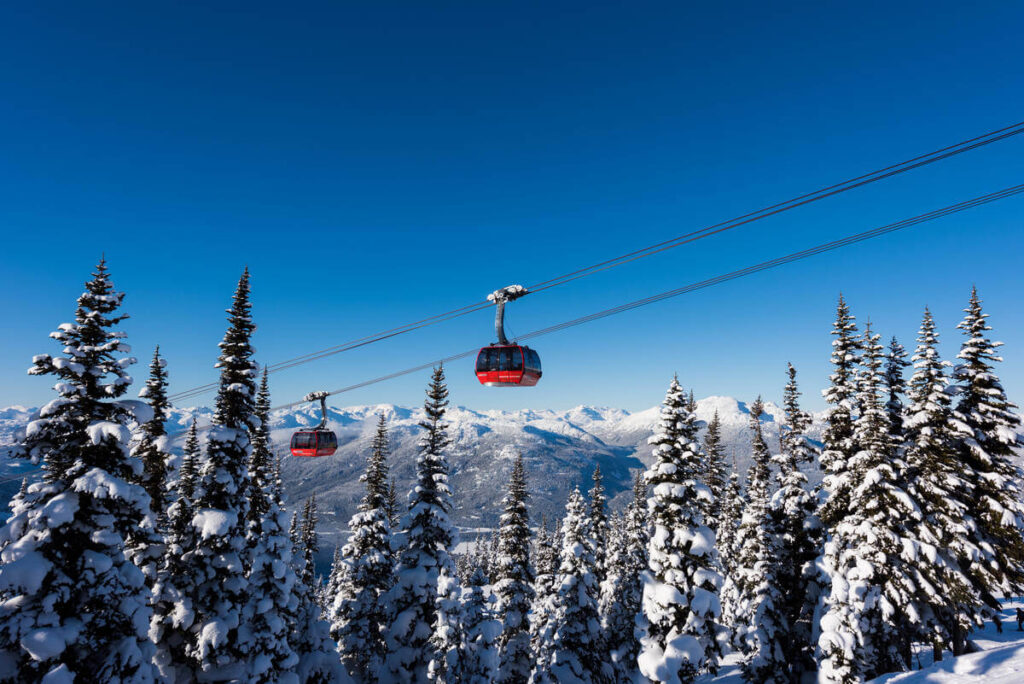 What better way to start off your romantic getaway than with a scenic PEAK 2 PEAK 360 Experience gondola ride from the top of Whistler mountain to the top of Blackcomb mountain? As you swap stories and take in the stunning beauty of Whistler below, your trip will only become more special as the breathtaking views of the Coastal Mountains surrounding you unfold.
Spend quality time together surrounded by majestic landscapes while breathing in that unique mountain air. Capture your special moments on camera as souvenirs, and then jump off at the summit to start your own adventure.
Rejuvenate and Recharge at Whistler's Scandinave Spa
Unwind and recharge at the scenic Scandinave Spa in Whistler. Surrounded by stunning mountain views, this spa offers the ultimate in relaxation with invigorating hot tubs, cold plunge pools, soothing massages, and rejuvenating experiences that will leave you and your partner feeling refreshed and revitalized.
Snuggle Up for a Dog Sled Ride in Whistler
Nothing screams romance more than an exciting dog sled ride in Whistler! As you glide through the snow-covered hills, feel your heart racing with pure joy as you take in the fresh mountain air. Hold each other close as you share an adventure like no other.
With an experienced guide at your side to narrate your journey, you can sit back and relax together and admire the beautiful landscape around you, or for an added thrill, try mushing your own team.
Dine with Amazing Mountain Views in Whistler
Treat your special someone to a romantic dining experience in Whistler with sweeping mountain views. Enjoy the finest cuisine while admiring the breathtaking panoramas. Treat your senses to an incredible, unforgettable dining experience.
Walk Hand-in-Hand by Lost Lake
Take a peaceful and romantic stroll hand-in-hand at the serene Lost Lake in Whistler. Feel the embrace of the tall trees and snow-clad mountains as you bask in this tranquil setting with your beloved. Let time stand still as you relish this moment, capturing the beauty and tranquility of nature.
Cosy up During Mountain Evenings Surrounded by Nature
Cuddling up together in the night with a magnificent vista of mountains is just as romantic and inviting as it gets. Renting a Whistler condo lets you both enjoy the beauty of nature from your very own private balcony while still feeling immersed in the vibrant culture of this charming ski resort village. Let calming sounds of nature wash away all of your troubles.
Transform your time together with your partner into everlasting memories by organizing dinner parties, movie nights, and spending quality moments in the most awe-inspiring natural backdrops. There will be a lot of chances to talk to each other and get closer while feeling completely at ease and at home.
Sip Champagne in a Private Outdoor Hot Tub
Whistler is full of luxurious vacation rentals with a private hot tub, so if you are searching for the ultimate romantic getaway, why not find one that adds a special touch?
Picture yourself and your partner indulging in a romantic evening in your very own hot tub while sipping champagne. Whether you're watching the sunset or counting shooting stars, taking a dip together is sure to ignite some romance! Lounge in the warm, bubbly water, cozy up together under the starry skies, and let your worries slip away.
Go on a Scenic Hike Through the Whistler Wilderness
For some outdoor adventure and quality time together, why not explore the lush forests of Whistler with a romantic hike? Enjoy the serenity of nature, cascading waterfalls, and snow-covered peaks of the area.
Get your blood pumping while taking in the beautiful sights together. Absorb the atmosphere around you and let it bring you closer together as you wander through trails filled with natural beauty.
Surprise Your Partner with a Whistler Helicopter Tour
Take your romantic getaway to the next level by surprising your partner with a once-in-a-lifetime experience: a helicopter tour of the breathtaking Whistler landscape. From this vantage point, you both will witness the beauty of the mountains in a whole new way, so make sure you take lots of pictures!
Enjoy a Romantic Evening of Stargazing
End your romantic getaway with a special evening of stargazing at Whistler's dark sky preserve. Cosy up beneath the stars and marvel at the night sky that is free of light pollution and full of beauty. As you gaze up in awe and admire the endless twinkling stars above, let them remind you of how special your relationship is and how lucky you are to have one another. Let the night sky bring you both closer together.
Whistler is the perfect destination for couples looking to reconnect, explore, and create special memories together. With its stunning landscapes, diverse activities, and luxurious amenities, it provides the ideal setting for a romantic getaway. So why wait? Book your Whistler romantic getaway today and fall in love all over again!
Some commonly asked questions about a romantic getaway in Whistler
What is the best time of year for a romantic getaway in Whistler?
Whistler is a romantic place to visit any time of year because each season has its own beauty. Winter offers snow-covered landscapes for outdoor ice-skating followed by cozy hot chocolates, while summer brings scenic hikes and picnics.
What are some tips for planning a romantic getaway in Whistler?
When planning a romantic getaway in Whistler, be sure to start planning early so you can snag the best accommodation and activity deals. You can research the area ahead of time so you know what to see and do.
Can I plan a romantic getaway in Whistler on a budget?
Yes, a romantic getaway in Whistler can be planned on a budget. Look for affordable accommodation options, such as a mountain condo rental. Plan free activities like scenic hikes, picnics, and exploring the town. Look for affordable dining options or opt to cook a romantic dinner together in your condo's kitchen.
---
Related Topics
Accommodation Accommodation local guide activities Alta Vista axe throwing Bears bobsled campout contest children christmas christmas activities christmas in whistler climbing Creekside dining In Whistler dog sled tour escape room fall activities Fall in Whistler family family activities family apres family fun holiday guide holidays kid friendly dining local guide neighbourhood neighbourhood guide Nicklaus North romantic getaway skiing Spring Activities Summer in Whistler Thanksgiving Thanksgiving activities Thanksgiving in Whistler Upper Village Whistler Bike Park whistler sliding centre winter activities winter family fun Winter in Whistler zipline ziplining