Whistler has long been known as an international mecca for skiing and snowboarding. More recently, however, the resort has also come into its own as an international destination for biking. Over the summer, seasoned pros and newcomers alike will be gearing up for a summer on the roads, trails, and mountains. Here at Whistler Platinum, we've put together the Whistler Summer biking guide to help make sure you don't miss out on any of the action in road cycling, cross country biking, and downhill mountain biking.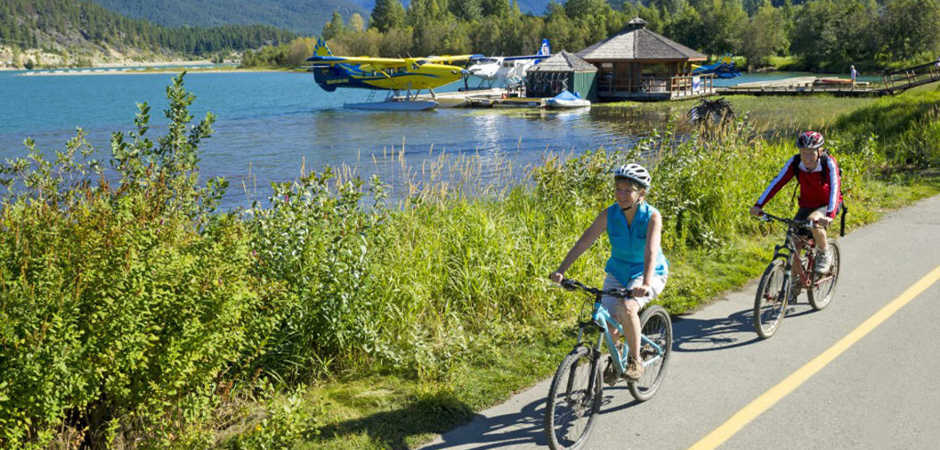 Road Cycling/Valley Trail Biking
Road cycling takes you along smooth paved roads and trails and is pretty much where everyone starts off on two wheels. Whistler is a great destination for road cycling for all ages and abilities, with over 40km of easy-to-ride valley trails across the resort that will keep you off the roads and highways. Rent a road or trail bike (or bring your own) and start exploring the lakes and valleys either on your own, or with a guide.
Road cycling also gets pumped up to a whole new level on September 12 during the annual GranFondo race. During the race, cyclists travel a total distance of 122km and climb over 1800m along the Sea-to-Sky Highway from Vancouver to Whistler across the Howe Sound and Coast Mountain Range. Whether you're ready to take part yourself or cheer on competitors as they cross the finish line, it's a great event to experience.

Cross Country Biking
Delve into the backcountry and take to dirt tracks for cross country biking. This type of biking is best suited for those with previous road cycling experience and the stamina to handle hilly terrain. In the summer in Whistler, the cross country ski trails around Lost Lake transform into bike routes, with something for everyone from beginner to expert.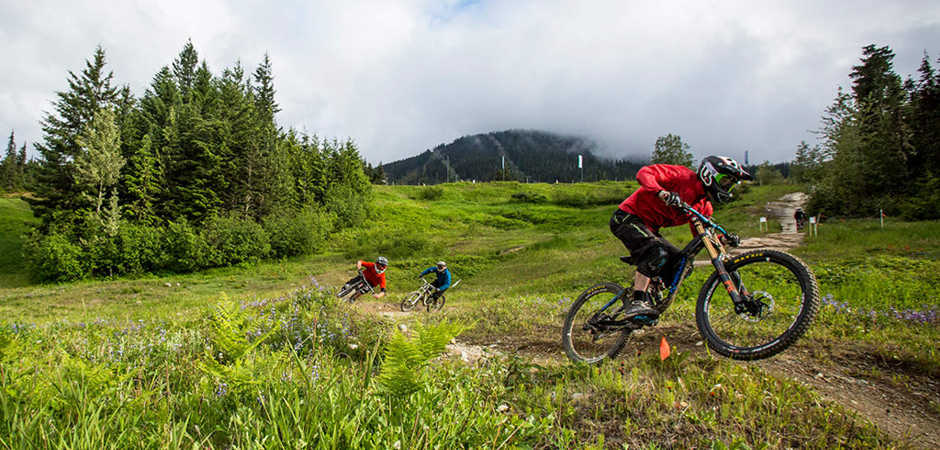 Downhill Mountain Biking
Perfect for those looking to add some extra adrenaline to their biking routine, Whistler is quickly becoming a top international destination for downhill mountain biking. Whistler Mountain is home to the largest lift-access downhill bike park in the world and Whistler Blackcomb offers a wide variety of lessons. Beginners can learn the basics in Bike Park 101 and kids to experienced adult riders can refine their skills in a daily group lessons.
Crankworx
Whistler also hosts the largest mountain biking festival in the world, Crankworx.
This year, the festival takes place from August 7 – 16 and will bring together the world's top downhill, slopestyle and enduro talent. Take part in the events yourself, or watch the pros put their skills to the test.
Regardless of your biking style, you'll want a comfortable place to spend the night after a full day of pedaling. At Whistler Platinum, we have a wide selection of vacation rental properties with something for every taste and budget. In addition, our reservations team can arrange a custom packaged holiday with lift tickets and bike rentals to make sure you get the most out of your trip to Whistler!
---
Related Topics
Accommodation Accommodation local guide activities Alta Vista axe throwing Bears bobsled campout contest children christmas christmas activities christmas in whistler climbing Creekside dining In Whistler dog sled tour escape room fall activities Fall in Whistler family family activities family apres family fun holiday guide holidays kid friendly dining local guide neighbourhood neighbourhood guide Nicklaus North romantic getaway skiing Spring Activities Summer in Whistler Thanksgiving Thanksgiving activities Thanksgiving in Whistler Upper Village Whistler Bike Park whistler sliding centre winter activities winter family fun Winter in Whistler zipline ziplining