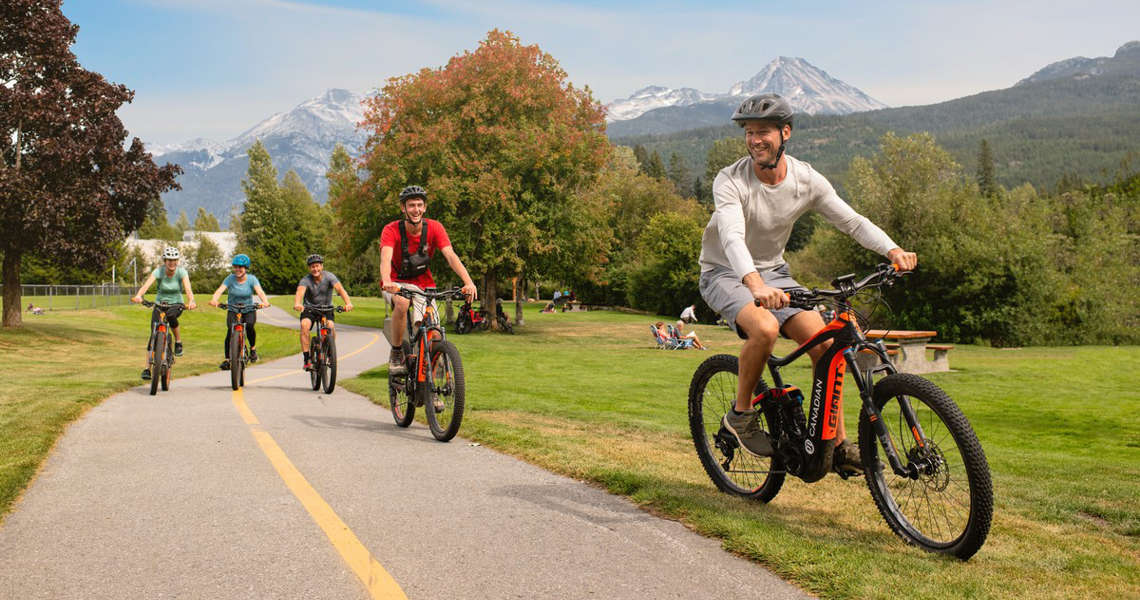 Electric Biking
Electric bikes or e-bike are equipped with a motor and battery pack for assistance with pedalling. The use of an e-bike allows you to travel further using less energy in a given day.
E-bikes are a great way to explore Whistler Village and the Valley Trail network. They are also a great form of transportation if you choose to leave your vehicle at home during your stay. The use of an e-bike can easily double your speed, making for quick trips and travel around town.
Some other e-bike ideas:
Exploring the entire Valley Trail network
Visiting Whistler's lakes, beaches and parks
Pick up supplies at the Whistler Farmers' Market then heading to a park for a picnic
Check out the patios, cafes and shops in Creekside and Function Junction
E-bikes for mountain biking
Given our location in Whistler, e-biking has also transcended into the mountain bike community. Full suspension e-bikes are available for assisted touring on Whistler's large mountain bike trail network. The e-bike allows you to see more terrain and saves your legs during hilly ascents.
E-biking Etiquette
E-bike users should be extra cautious when using public trails as these bikes are capable of reaching faster speeds than a regular bicycle. Please note when using a public trail be mindful of your speed and obey trail etiquette protocols.