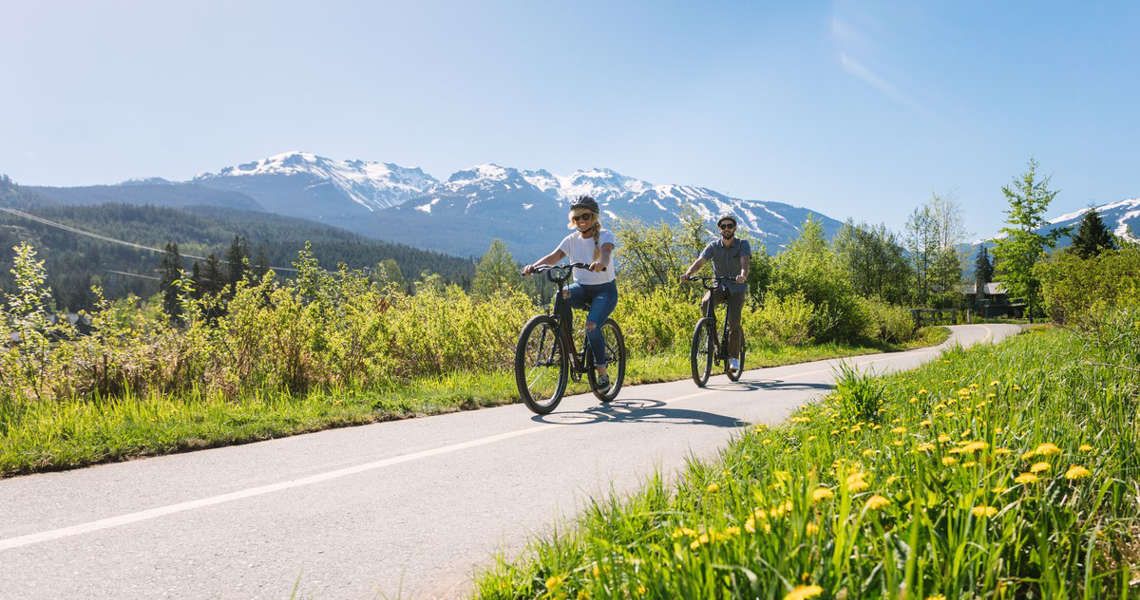 Recreational Biking
One of the best ways to explore Whistler during the summertime is by taking a pedal-powered tour along the Whistler Valley Trail. Stretching 40 kilometres along the Valley floor, the paved trail connects Whistler's local neighbourhoods, lakes and parks.
Cruising along the valley trail on your bike is the perfect opportunity to explore Whistler's hidden areas and take in the scenic views of the surrounding mountains. The Valley Trail is suitable for every level of rider, regardless of age or ability.
View the Whistler Valley Trail Map.
Valley Trail FAQ's
What type of bike should I rent?

Pretty much any type of bike is suitable for the Whistler Valley Trail. However, you may find a cruiser bike or trail bike the most comfortable for the ride. If you're planning to cover a lot of ground, an electric bike is a great alternative.
Is the Valley Trail Family Friendly?

It sure is! The Valley Trail is accessible for all ages and skill levels.
Where does the Valley Trail start?

There is no official start or end to the Valley Trail. The route is made up of a series of trails throughout Whistler. Your best bet is to find the closest access point and start your journey from there.
Is the Valley Trail Dog-Friendly?

Yes, you can bring your dog along the Valley Trail. However, guests are encouraged to keep their dog on a very tight leash. Retractable leashes are hard to see, and the trail doesn't provide enough room for your dog to run far ahead. Doggy bags and bins are located along the path – please use them and pick up after your dog.
Valley Trail Tips and Etiquette
The Valley Trail is a multi-purpose trail built for recreational cyclists, walkers, runners, dog walkers and skateboarders. Cyclists should maintain an appropriate speed and be aware of fellow pedestrians.
Keep Right
The Valley Trail follows the same rules as the road – keep right of the centre line to avoid oncoming traffic.
Pay Attention
Just like the road keep your head on a swivel when overtaking pedestrians, crossing the trail or merging.
Watch For Bears
You may occasionally come across a bear or wildlife on the Valley Trail. Keep your distance and back away slowly if you encounter wildlife.
Clear the Trail
If you need to look at your map or get directions, please pull off to the side and keep the trail clear for others.