Nestled among the majestic Coast Mountains, Whistler is a world-renowned outdoor paradise that attracts adventure-seekers from all around the globe. While the region is best known for its superb skiing and snowboarding, Whistler's vast wilderness offers a diverse array of hiking experiences for all abilities. Check out the fun summer activities that Whistler has to offer.
From scenic strolls to heart-pounding ascents, there's no shortage of trails to explore. Plus, with some great accommodations in Whistler available for you to call home, there's no better place to rest after an adventure-filled day. Here, we've compiled a list of the best local hikes around Whistler, British Columbia, to help you discover the natural beauty this region has to offer.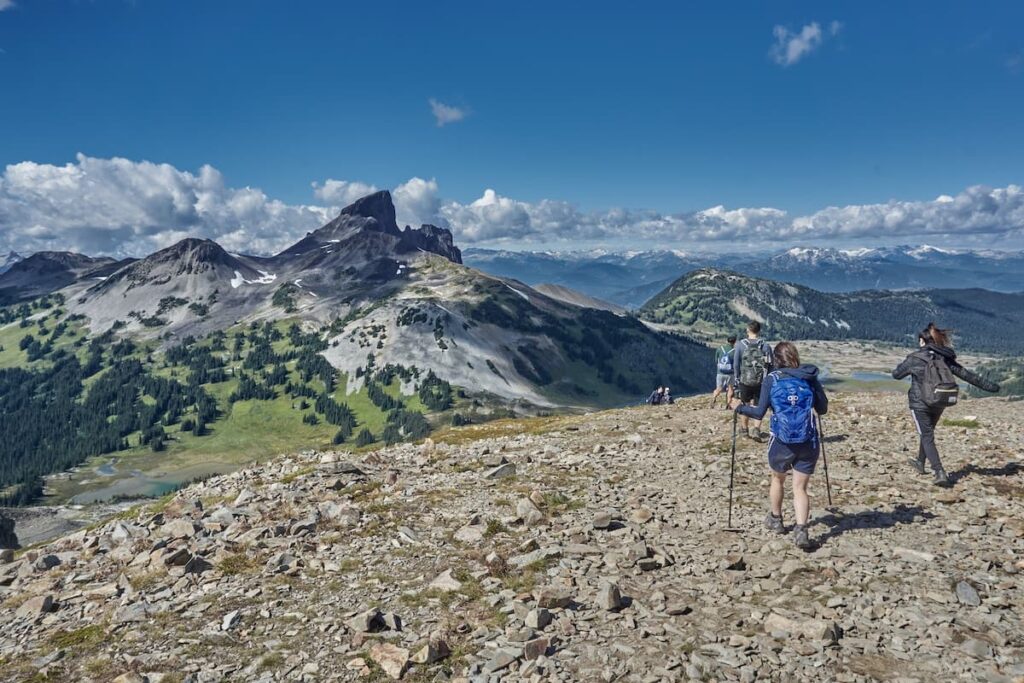 Hit The Whistler Trails
Here are just some of our most recommended hiking trails in Whistler;
1. Cheakamus Lake Trail
For a serene hike through the old-growth forest, the Cheakamus Lake Trail is hard to beat. The relatively flat trail takes you on a 14km round trip along the picturesque Cheakamus River, leading to the stunning Cheakamus Lake, where you can take in the breathtaking views of glacier-fed turquoise waters. With minimal elevation gain, this hike is considered relatively easy and is perfect for families and casual hikers.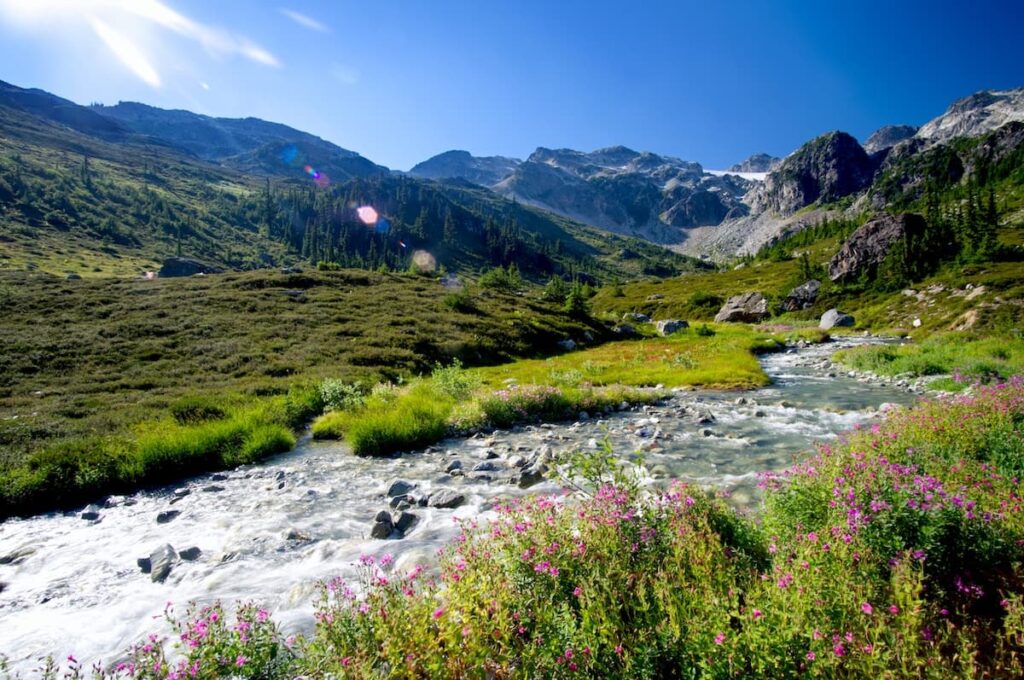 2. Brandywine Falls Trail
Located just a short drive south of Whistler, within the Brandywine Falls Park, there is a must-see natural wonder. This short 2 km round trip hike is easy, but leads to a spectacular 70-meter waterfall, cascading into a deep, basalt-lined pool below. The well-maintained trail offers several viewpoints to appreciate the falls and the surrounding valley. Dogs are welcome on this trail but must be leashed.
Brandywine Falls Park has a few scenic hikes of all lengths and skill levels that are definitely worth checking out. The Brandywine Mountain trail, The Brandywine Meadow trail and the Brandywine Falls Via Suspension Bridge are just a few we recommend.
3. Black Tusk
If you're seeking a more challenging adventure, the iconic Black Tusk hike is an unforgettable experience. This steep trail is a 29 km round trip and takes you through alpine meadows, past the stunning Garibaldi Lake, and finally up the volcanic rock spire known as the Black Tusk. This trail is quite challenging, so expect to scramble and climb as you reach the summit, but the panoramic views of the Garibaldi Provincial Park make the effort worthwhile.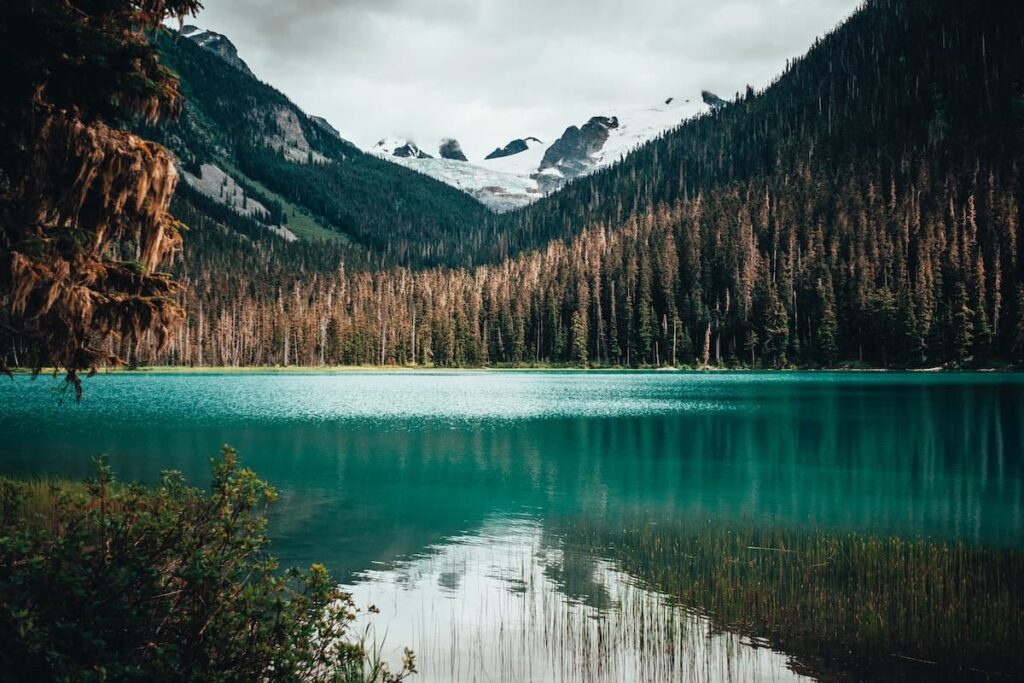 4. Joffre Lakes Trail
Joffre Lakes Trail is an immensely popular hike that features three striking turquoise lakes, each more beautiful than the last. The trail is a 10km round trip and winds through dense forest and rocky terrain, with a moderate elevation gain. The final destination, Upper Joffre Lake, is framed by the magnificent Matier Glacier, making it a perfect spot for a well-deserved rest and a photo session. The trail is quite moderate, not too challenging but you'll definitely work up a sweat with great scenic rewards at the end.
5. Panorama Ridge
For a truly epic hike, Panorama Ridge is an outstanding choice. This challenging, 30 km there-and-back trail offers some of the most breathtaking views in the region, showcasing Garibaldi Lake, Black Tusk, and the surrounding mountains. Be prepared for a full-day adventure, and don't forget to pack plenty of water and snacks as you take on this rewarding hike.
6. Lost Lake Loop
A favorite among the locals and tourists, the lost lake loop trail is a 5km round trip trail that takes you around the picturesque lake. The trail is easy and the path is well maintained. This fun hike is not only beautiful, but offers opportunities for swimming, picnicking, and wildlife spotting. The trail is also popular for mountain biking and trail running. A perk about this trail is when hikers are around 3 km in you'll come across some public washrooms – handy for when nature calls!
7. Rainbow Lake Trail
This 15.6-km out-and-back trail near Whistler is generally considered a challenging route, and takes an average 5 h 48 min to complete. This is a very popular area for camping, hiking, and snowshoeing, so you'll likely encounter other people while exploring. The best times to visit this trail are July through October. You'll need to leave pups at home — dogs aren't allowed on this trail.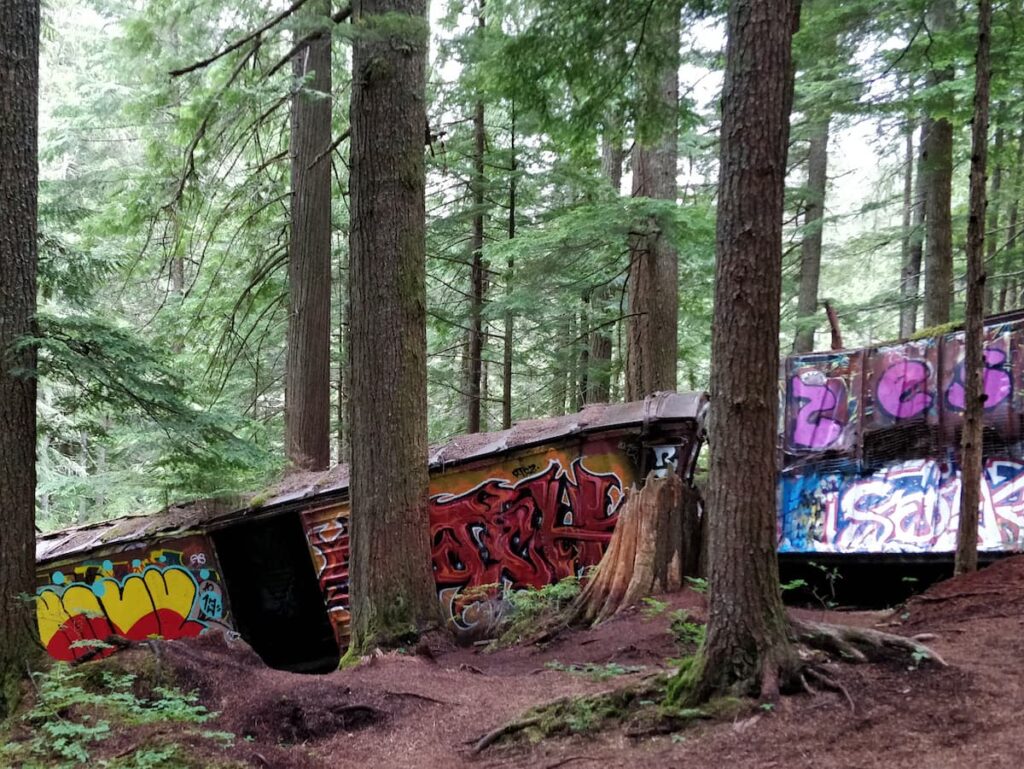 8. Whistler Trainwreck and Miller Creek Trail
Enjoy this easy 5.8km out-and-back trail near Whistler. Generally considered an easy route, it takes an average of 1 h 24 min to complete. This unique hike features the remnants of a derailed train from the 1950's, with old boxcars still remaining scattered along the trail. Now covered in graffiti, the train wreck trail has become a popular hike for locals and tourists.
The trail also offers spectacular views of the Cheakamus River and some short but very powerful waterfalls of the pristine glacial runoff waters. If that wasn't enough, the trail also includes includes a fantastic suspension bridge connected to the Sea to Sky trail on the other side of the Cheakamus River
This is a very popular area for hiking, mountain biking, and running, so you'll likely encounter other people while exploring. The trail is open year-round and is beautiful to visit anytime. Dogs are welcome, but must be on a leash.
Happy Hiking!!
Whistler, British Columbia, is a hiker's paradise, boasting an array of trails that cater to all experience levels. Whether you're searching for hiking trails for beginners or experts, Whistler has something to suit all skill levels. From tranquil lakeside strolls to awe-inspiring mountain vistas, the region's natural beauty is sure to captivate your heart. When planning your trip, check out some of our luxury vacation rentals in Whistler. So, lace up your hiking boots and venture out into the wilderness for an unforgettable adventure in Whistler's great outdoors.
Commonly Asked Questions about Hiking in Whistler
When is the best time to hike in Whistler?
The best time to hike in Whistler is typically from June through September. During these months, most trails are free of snow, and the weather is generally mild and pleasant. However, high-elevation trails may still have snow, so it's essential to check trail conditions and weather forecasts before heading out.
Are there any permits or fees required for hiking in Whistler?
Most trails in Whistler and the surrounding areas are free to access. However, some trails within provincial parks may require a day-use fee or a camping permit if you plan on staying overnight. Always check the regulations and requirements for the specific trail or park you plan to visit.
What wildlife should I be aware of while hiking in Whistler?
Whistler is home to various wildlife, including bears, cougars, deer, and smaller animals such as squirrels and chipmunks. While encounters with large predators are rare, it's important to know how to react if you come across one. Make noise to alert animals of your presence, carry bear spray, and never feed or approach wildlife.
Can I hike to the Whistler and Blackcomb Mountain summits?
Hiking to the Whistler and Blackcomb Mountain summits is possible but can be challenging and requires proper preparation. The High Note Trail on Whistler Mountain and the Blackcomb Ascent Trails on Blackcomb Mountain are popular options. Both require a gondola ride to access the trailheads, and tickets can be purchased from Whistler Blackcomb.
---
Related Topics
Accommodation Accommodation local guide activities Alta Vista axe throwing Bears bobsled campout contest children christmas christmas activities christmas in whistler climbing Creekside dining In Whistler dog sled tour escape room fall activities Fall in Whistler family family activities family apres family fun holiday guide holidays kid friendly dining local guide neighbourhood neighbourhood guide Nicklaus North romantic getaway skiing Spring Activities Summer in Whistler Thanksgiving Thanksgiving activities Thanksgiving in Whistler Upper Village Whistler Bike Park whistler sliding centre winter activities winter family fun Winter in Whistler zipline ziplining